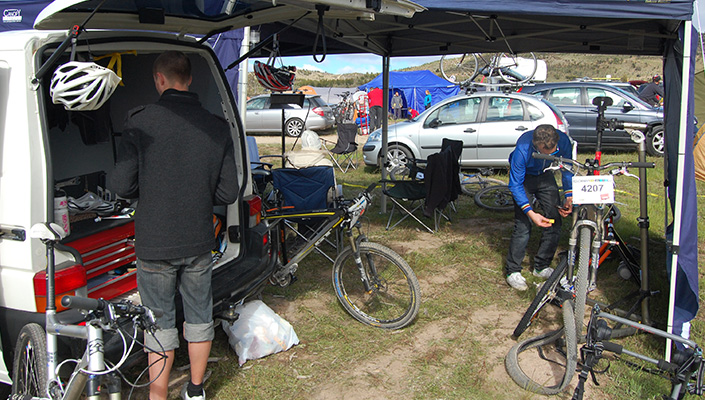 Getting everything ready for a big weekend racing.
Those who refer to their wedding as "The Big Day" have clearly never done a Mountain Bike Stage Race. When you take a step back and look at the amount of planning that goes into you participating in a stage race or 12-24hr endurance event, it's easy to draw a comparison between the two biggest days in most people's lives. But let's not muddy your wedding dreams with thoughts of mountain biking - let's go over what you should pack for a full weekend of racing, and how to make future events a whole lot easier!
Admittedly this is a fairly professional approach to racing, but you can never be too organized. If some ideas within this piece are above your level of interest, then just use the ideas that are relevant to your level of riding.
THE TOOL BOX
---
It's high time you bought yourself a toolbox for your bike. In this toolbox will be all the essential items you could ever need. If you pack tools you can't use, it doesn't mean someone else can't help you by using your tools to fix your problem!
The toolbox doesn't have to be massive, maybe around 50cm x 20cm in dimension. The reason for the extra length is that some tools are quite long in the handle. You can purchase your toolbox at the local hardware store or even at your bikeshop. If you do buy a toolbox from a bike shop you can find some pre-filled with all the essential goodies.
TOOLBOX CONTENTS: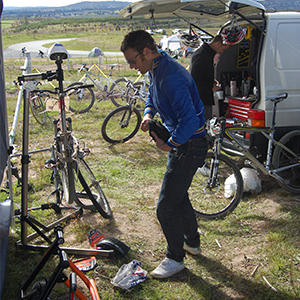 Chain Whip, Cassette Removal Tool, Spare Tubes, Tubeless Sealant, Tire Levers, Tubeless Valves, Allen Key Set, Latex Gloves, Brake Bleed Kit, Pliers, Scissors, Spare Cables, Cable Ends, Crank End Cap Remover, Razor Knife, Spoke Key, CO2 Canisters, Spare CO2 Valve Head, Phillips Screw Driver, Flat Screw Driver, Wet Lube, Dry Lube, Grease, Electrical Tape, Spare Headset Bearings, Spare Bottom Bracket Bearings, Cable Ties, Shock Pump
Some of these contents may seem completely unnecessary but it's worth having them with you. After all, you could be risking a race entry, accommodation, fuel and expenses simply because you felt you didn't need bottom bracket bearings. Unless, of course, you're the gambling sort...
FILL EVERY SPACE
---
Once you've packed the toolbox, it's time to look at what else you should lug around with you at a mountain bike race. It's too late to turn back now; you may as well fill the car with everything! Don't feel guilty excluding any passengers in exchange for a spare wheelset - this isn't a taxi service!
TIRES
No matter whether they're tubeless or normal, carry at least one spare tire for your weekend away. What could be worse than doing a warm-up ride at the event only to slice your tire on a rock! It does happen. Make sure the tire is the correct size for your wheels, seeing as MTB bikes have three wheel sizes to choose from nowadays.
WHEELSET
If you're fortunate enough to have a spare set of wheels lying around take them with you. Again it might seem overkill, but it happens far too often that a spoke breaks while riding to the race start, ultimately ending your hopes of taking part. This spare wheelset will also have a spare cassette on it and possibly some tires. So it's a whole heap of spare parts - all in one.
WORKSTAND
It's impossible to not tinker on your bike when you're away for a full weekend of racing! Whether you're changing tires, adjusting gears or fitting your race number - it's always nice to have a workstand on hand. Most bike shops will have access to them so inquire within for more information. They're cheaper than you think and they fold up nice and small.
FLOOR PUMP
Nobody wants to use a miniature bike pump to inflate their tires. That little pump on your bike is for emergencies... A decent floor pump is absolutely the way to go. These floor pumps all have pressure gauges on them, allowing you to see how hard your tires are. No more pressing and squeezing trying to guess whether they're hard enough.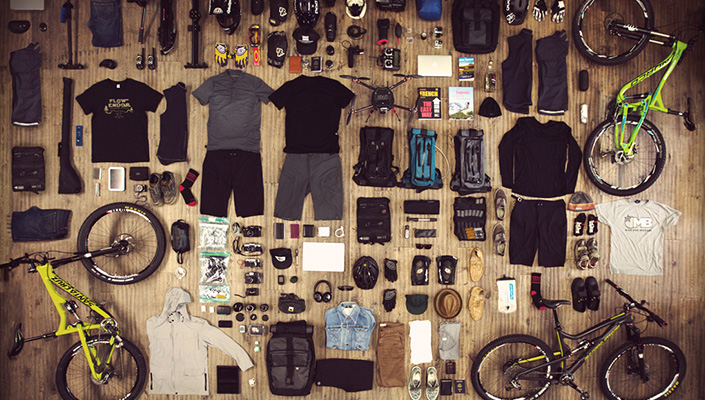 Don't forget to bring EVERYTHING!
Photo: Mission Workshop
SPARE CLOTHING
Always assume the worst will happen and prepare accordingly. You might think you have enough socks for three stages of racing over two days. But the weather could turn and you'll wish you packed ALL your socks! Here's a list of clothing you should always pack, even if the forecast is "sunny with a coastal breeze".
Rain Jacket: It might only be used while you warm up but a rain jacket is worth a small fortune when the weather turns for the worst.
Spare gloves: If you're doing a multi stage event it's also worth packing spare riding gloves. You might lose your other gloves to poor weather, or even a small crash. Having a spare pair means you can soldier on regardless.
Spare jersey and knicks: Whatever number of tops and knicks you need, pack one more set. The same reasoning applies as with the gloves and socks. More. More. More. Take it all!
Arm and leg warmers: More associated with road riding than mountain biking, these warmers come in handy on cold mornings or during endurance races when the night air drops temperature quickly.
Hopefully you'll be covering all bases when you pack the above mentioned items! It's hard to imagine a scenario where you'll be left in the lurch because you forgot something behind. A handy idea is to make yourself a list of things to pack for your next MTB race. As you learn from experience you can add new items to your list. It's inevitable that a day will come for each tool in your box and for every spare part in your car. Pack it, and be ready to fix your bike on the go...