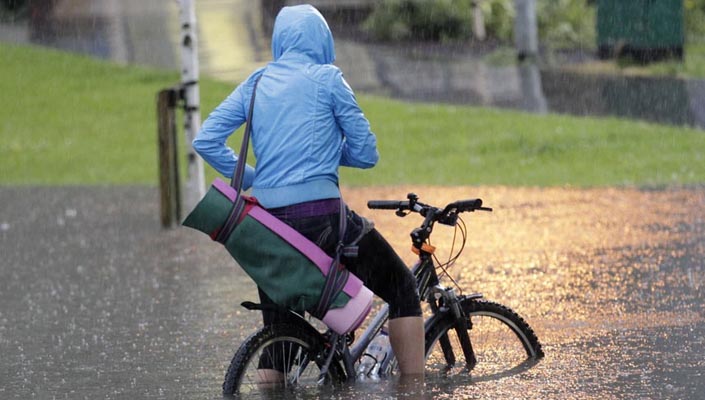 You can ride in and survive wet weather
Regardless of the time of year nothing dampens a ride more than the rain. A bad pun perhaps, but still a good point worth considering. It's not that riding in the rain is always unpleasant - more a matter where being unprepared can leave you wishing you were warm and dry.
Keeping warm in the wet isn't always an uphill struggle, especially if you invest in good clothing and accessories - ones that can be stored and used year after year. We're going to take you through a list of 'must haves' just in time for the festive season. Maybe this is the year you spoil yourself!
1. Rain Jacket
---
The first and most obvious item on our list. A good rain jacket is your best investment, so spend all you can on it. Quality rain jackets are waterproof, (not just water resistant), and lightweight - which will allow you to fold or roll it up and stow while on the bike. Look out for other features such as external pockets, reflective designs and a snug fit that can conform to your body shape.
It is crucial for a waterproof jacket to be breathable otherwise you will end up wet - not from the rain, but from your own sweat. Technical fabrics like Goretex are the best materials for weather proof breathability, and while expensive, make worlds of difference when riding in the wet.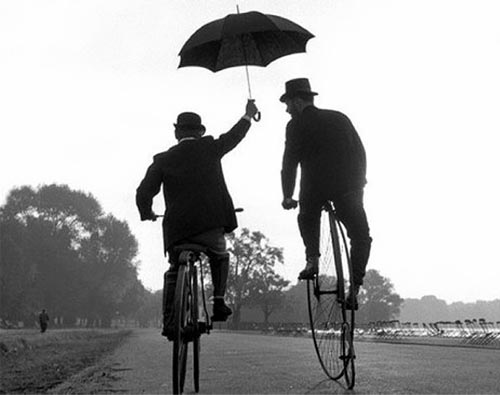 Bring and umbrella?
2. Mud Guards
---
These don't have to be the biggest ones in the shop, but a good set of mud guards can really change your ride for the better. It's not so much when you're actually getting rained on, but more after the rain when the spray from your tires leaves streaks all over you! If you're riding to work or riding on the weekend, eliminating that wheel spray is going to make you and your butt happy! If you're riding a road bike with no mounting bolts then ask your local bike shop for 'quick fit' elasticised models.
3. Overshoes
---
Shoe covers, overshoes, duck feet... whatever you want to call them. If you've ridden with these you'll know they also keep your feet warm during winter. Shoe covers are either cold resistant or water resistant covers that fit very tightly over your cycling shoes. They keep the majority of the water out when you ride and also keep your warmth in! Cycling shoes have a lot of ventilation, so blocking these vents is the key to keeping warm in winter.

TIP: Put a small piece of tape over the hole in your shoe soles. Blocking this air vent keeps your feet dry. Brands such as Shimano and Bontrager have these vent holes under the shoe.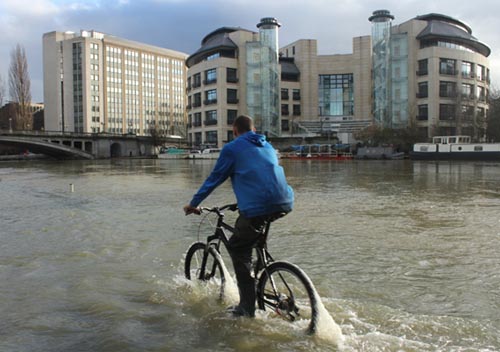 4. Waterproof Gloves
---
Most riders can cope with the cold and wet okay, until it's their fingers and hands that become saturated and freeze up from a cold wind. To avoid getting soggy and numb hands, look at a pair of waterproof gloves for your next wet ride. Although not overly suited to mountain biking (where 'feel' is needed more for shifting and braking), these gloves are awesome on the road and path. Waterproof gloves are also insulated from the cold and feature a tighter seal around your wrist for maximum water repelling effect. These gloves usually feature the same gel padding in the palm area, so you're not trading off comfort for functionality.
5. Clear Sunglasses
---
Some brands of glasses offer interchangeable lenses so you can choose different lenses for different conditions. It may sound a bit soft, but changing your lenses has a huge effect on your ride. Different lenses can enhance clarity, reduce shadowing and protect your eyes from anything imaginable. If you don't like changing lenses, get some Photochromatic lenses - these change tone while you ride, depending on UV light and shade etc. They can go from completely clear to almost black in a matter of seconds. Wearing clear sunnies in the rain will keep water out of your eyes, which now also contains grit and road grime.
You might think you know it all, but here are a few pro tips for your next ride - things you learn over time, or the hard way:
No Leg Warmers
If you intend going on a wet ride and it's not too cold, consider leaving the leg warmers at home. The fleece lining on leg warmers holds onto water, which sucks the warmth from you. Once the rain stops, you stay wet for hours! Try smearing a layer of baby oil onto your legs instead. The oil traps your warmth under it, and also repels the water while you ride. Be aware of a slippery shower when you get home!
Zip Lock Bags


Pro tips for the rain

Put your phone into a zip lock plastic bag. This will keep it dry while you ride and you can even use the phone through the bag. You can put other items in there too, like cash or your house keys for ease of access when your fingers freeze.
Softer Tires
To prevent that unnerving squirming when you ride in the wet, drop your tire pressure a tad. Losing 5-10 PSI per tire is ample, depending on your weight. The drop in pressure allows more rubber to contact the road which offers more grip and stability.
Extra Tube
If you're riding in the wet, always carry two tubes as spares. The wet roads allow dirt and debris to stick to your tires, giving one piece of debris hundreds more chances of puncturing your tire.
Extra Layers
If you do plan on riding in the wet, some extra layers will help keep you warm. You might feel a bit warmer than normal, but it's always better than being cold. Consider wearing an undershirt, your cycling top, a gilet and a rain jacket when it's really chilly, as well as arm warmers under the rain jacket. Once it dries and warm up, you'll be able to remove the rain jacket and still be warm enough!
If you don't have many of the items we recommended, drop in to your local bike store and try some stuff on. It might seem like quite an expense, but it's worth it in the long run. Make sure you try the jackets on with the clothing that you ride in, otherwise you may end up with a loose or overly tight jacket... Happy shopping, and delete that weather app. You don't need it anymore!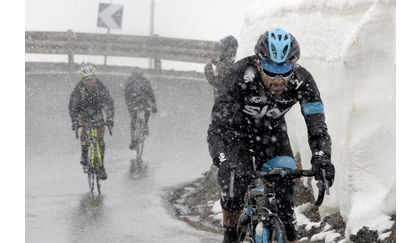 There is nothing worse than being cold on a bike. There is nowhere to hide from the freezing wind - let alone rain, sleet or snow. You can't...
READ MORE