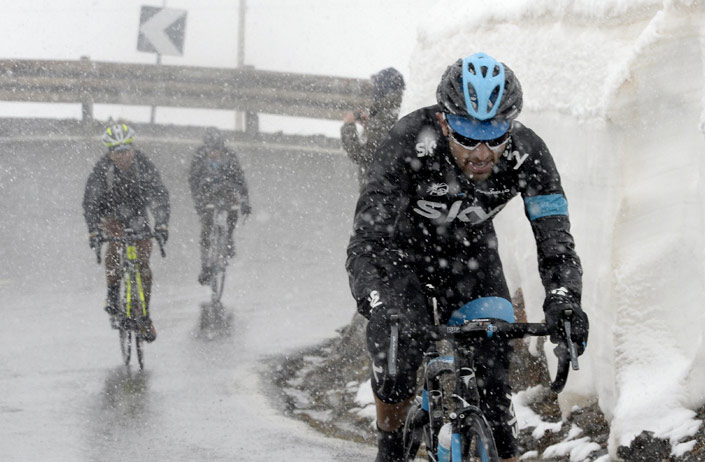 Doing the hard yards in the winter chill!!
There is nothing worse than being cold on a bike. There is nowhere to hide from the freezing wind - let alone rain, sleet or snow. You can't curl up in a ball or sit on your hands to warm them under your bum - it is a "wish it would end soon" experience. Some cyclists enjoy the cold, then again some people also dig colonic irrigation...different strokes....
But if you are like me and find little pleasure from cold weather cycling then follow these easy steps to keeping warm and avoiding frostbite.

NOTE: It is always cold somewhere in the world, but even if that isn't where you are right now, remember sometimes the best time to get your gear sorted is out-of-season. You could score a bargain from your local bike shop, so get your kit on NOW!
1. Layers
---
Some great advice from the team at GCN
Layering is crucial, remember that! When my job meant a 3am start working outdoors in winter, the most important item of clothing wasn't a heavy jacket, it was a cotton singlet (this was before technical apparel!) Layering for cycling means you can wear the clothing close to the skin, trapping heat before it dissipates. It also allows you to strip off as the day warms up, regulating your body temperature and comfort.
How cold it gets where you live will obviously influence how many layers and what type you need to wear - but keep in mind the images from this year's Giro. The cyclists were riding through canyons of snow and ice and many were reduced to wearing standard kit plus arm and leg warmers. It was only when it started sleeting that the jackets came out.
It is important to remember when rugging up that temperatures rise during the day and if it is freezing in the morning when you start, chances are the temperature will rise by several degrees as the day moves on. Sometimes it is better to tough out the cold start to be more comfortable for the long haul as the ride goes on and you warm up.
| Above 10°C (>50°F) | 0-10°C (32-50°F) | Below 0°C (<32°F) |
| --- | --- | --- |
| Standard all year riding gear. Bib knicks, jersey plus arm and knee warmers, gloves and a windproof gilet. Anything that can be easily stowed in a jersey pocket as you warm-up. | Standard bib knicks, thermal baselayer, short sleeve jersey, ear warmers or skull cap, leg warmers, arm warmers, windproof full finger gloves and a windproof insulated vest or jacket. | Insulated Bib tights or leg warmers, merino (or equivalent) baselayer, jersey, ear warmers or head covering, insulated arm warmers, windproof full finger gloves, insulated wind proof vest or jacket, booties. |

DID YOU KNOW? Many types of winter riding gear incorporate water proof qualities into the various garments, jackets, gloves and booties. These are great when it rains, but be careful: Even breathable waterproofing can get very sticky when you're working hard on a bike. It is a horrible feeling to replace getting wet from rain with getting wet from condensed sweat that can't escape. The purpose of multiple layering is partly to help avoid wearing a single non-breathable jacket from hell.
2. Head wear
---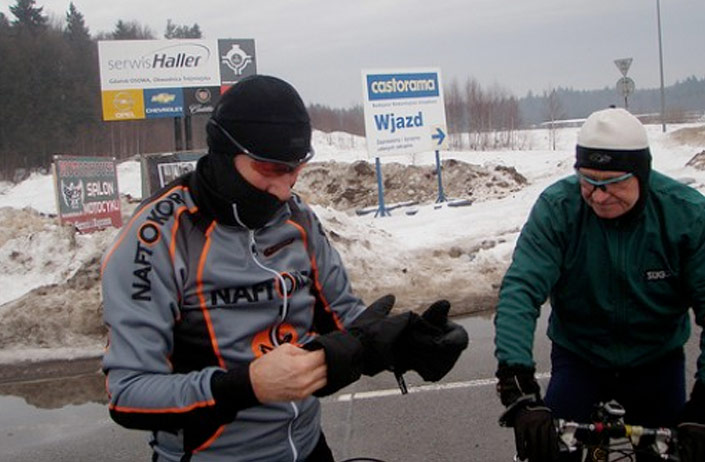 Headwear and thick gloves - protect the extremities.
We lose lots of heat through our noggins so keeping your head warm is a good idea. In extreme cold go for a complete covering. If you are riding in moderately cold weather you may only need an ear covering. My preferred option is an ear warmer band - it keeps my head and ears warm but doesn't allow me to overheat.
3. Shoe covers
---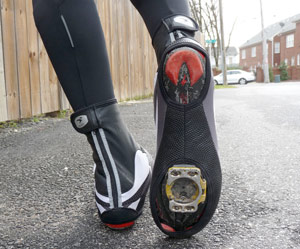 There is really nothing quite like riding with freezing numb feet: It sucks big time! Your feet are the body part furthest from your warm core and as such they tend to feel the effects of cold before anything else. Shoe covers or booties are good at keeping water out, but can also be very handy at insulating your toes from cold wind. These will completely change your cold weather riding comfort levels!
4. Gloves
---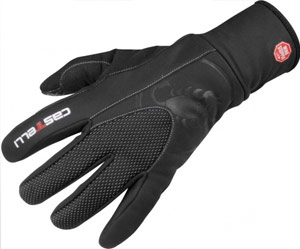 The other exposed body parts are your hands and fingers. Again it comes down to how cold it gets. You could go for a thick full mitt when the weather really ices up. They are bulky and make bike control a bit more difficult but sometimes it is the only way to make winter riding bearable. For those in not quite so cold a climate you can get a thinner, yet insulated full-finger glove with or without water proofing.
5. Avoid the rising sun
---
Ever noticed that the coldest time of day is when the sun is just rising? This is because it takes time to reverse the flow of heat loss to heat gain as the sun rises. In some places also the gradual uneven warming of the local environment causes shifts in temperature until the atmosphere stabilises. The result is that for an hour after the sun is visible in the sky the temperature is still dropping. So what does this mean? It means if it is a clear night in winter stay under the bed covers and wait for the hour to pass and the earth starts warming again before jumping on your bike.
This is probably a moot point if there is a foot of snow on the drive, in that case stay in bed all day and start making plans to move house.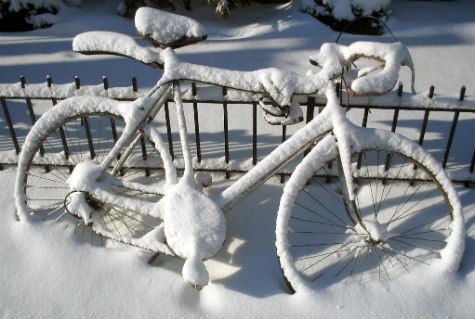 Stay in bed!