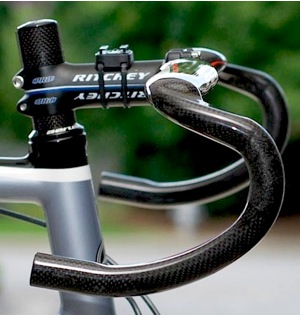 Photo: bike198

Handlebar upgrades can dramatically change the way your road bike feels, can alleviate comfort or body position issues and ultimately make spending time in the saddle more enjoyable. Handlebars are one of the three main contact points between you and the bike; the others being your saddle and show/pedal interface.
You don't have to 'make-do' with the handlebar that came with the bike, although often an ill-fitting bar isn't noticed until some time is spent riding. The ideas surrounding handlebar fit should be taken as a "rule of thumb" because this is not a precise science and everybody is different. In saying that, each option has its qualities that should be investigated when preparing to upgrade to a different shape, size or material.
---
Materials
Aluminium is inexpensive, stiff and durable. Its only drawback is that it doesn't dampen vibration quite like carbon fibre and as a result can feel a little harsh. Carbon handlebars are lightweight, can be moulded into nearly any shape but can also be quite expensive. Unlike alloy, carbon bars can reduce discomfort from vibration and road 'chatter', while still retaining stiffness.
---
Shape
From a distance road bars look very similar, but take a closer look; there is a huge array of variations in size and shape. These differences are referenced using the values associated with width, reach and drop. Here is a quick rundown on the pro's and con's regarding drop bar uprades:
THE GOOD
Alloy bars are inexpensive upgrades
Carbon bars reduce weight
Shallower drop to increase comfort and aid reach to controls
Ergonomic shape to increase hand comfort and position
Wider bar for better bike fit, handling and control
Narrow bar for better aerodynamics and fit
THE NOT SO GOOD
Good carbon is expensive
Risk of going "too far" with a completely different setup
Deep drops may hinder comfort and ability to reach controls
Aero tops can be uncomfortable on long rides
---
Selecting Width
The traditional way to measure correct handlebar width was by simply measuring across AC joint to AC joint (outermost part of your shoulder) and choosing a bar with corresponding centre to centre dimensions (usually 38-48cm). The only problem with this is that people are not robots and as a result the best upgrade does not always follow the rule of law.
It may be said that (as with a mountain bike) a wider bar results in better control and leverage, and with your hands resting on the hoods, can open up your chest for easier breathing, particularly when climbing. Narrower bars may feel a bit more nervous in the steering department, yet they are more aerodynamic and can ease pressure on your shoulders and back.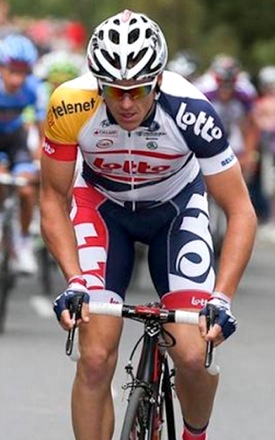 DID YOU KNOW? Lotto pro rider Adam Hansen runs 38cm bars on his race bike even though he is a pretty big chap! He says it is more aerodynamic and probably allows him to squeeze through gaps while fighting for position in the sprint train. Check out his shoulder width compared to his bars. Rules are made to be broken.
As with anything regarding bike position changes, don't do too much too fast. Even if it is a better fit, your body, joints and muscles will need to adapt.
---
Drop and Reach
These go together as they both relate to proper bike fit in a similar way. Having a bar with too long a reach forces you too continually stretch forward out of the saddle. The result: too much weight is added to your hands, arms and shoulders rather than your sit bones.
Similarly for drop. If the handlebar drop is too deep than you end up stretching forward, sliding out of your saddle and ending up in a far from optimal position. You may have difficulty reaching the gear/brake levers and the low position will put extra strain on your neck. Many modern road bikes feature not only compact gearing but tall headtubes and shallow 'cafe' style drop bars to cater for the majority of riders.
Drop shapes can vary greatly as well. The traditional classic curve is still available in some brands and is often a favourite with pro road riders. This shape isn't always ideal for the amateur or recreational cyclist. Fortunately there are options. Ergonomic or anatomic drops allow for multiple hand positions and may help with reach to the levers, especially for riders with smaller hands.
When you're not spending hours in the saddle every day like a pro you want a bar that is instantly comfortable. Ergonomic shapes can help you get comfortable quickly.
Regarding drops: When in doubt, go shallow!

Image: Zipp
Feeling really DIY adventurous? Have a go at making your own bars! Pick up a PHI Tube Bending Machine and get to shaping some aluminum, steel, or titanium tubing for custom lengths and curves.
---
Tops
The place our hands spend the most time is on the hoods or on the 'tops'. This is the horizontal section of bar adjacent to the stem. With the introduction of carbon fibre many years ago we started seeing interesting shapes appear. Flat 'wing' sections became available with the idea of more comfort and improved aerodynamics. They aren't everyone's cup of tea!
To set up a handlebar, a good guideline is to make the tops and the base of the hoods horizontal. This puts your hands in a comfortable position when on the top and also allows for easier reach to the levers when riding in the drops.
---
Any questions? Ask BikeRoar or contact your nearest bike shop.