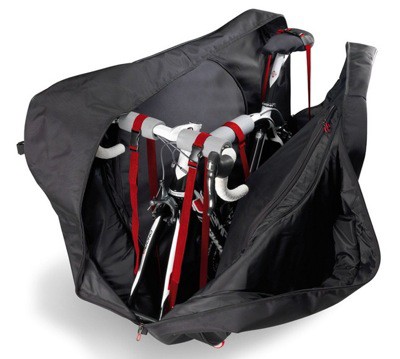 Bike strapped & packed in the Scicon AeroComfort 2.0 TSA
There are few things more logistically challenging than travelling on a plane with a bike. When I was a child my father would regularly bubble wrap and pack his surfboards in huge padded bags and we would then help him carry/drag them to the airport for his Indo surf trips. I thought that was difficult until I started cycling...
Bikes are a challenging object to break down and pack safely. The best outcome from this mission is for the bike to be relatively stress free to pack, to be easily moved around once packed and ultimately to arrive at your destination undamaged. Wheels, handlebars, pedals and derailleurs make this a troublesome assignment!
There are typically three options:
1. Cardboard box
Get a box from your local bike shop and deconstruct your bike to fit. The problem is that the box will probably have to be discarded at the destination, it is a pain trying to drag the thing around, and unless you pack really well chances of damage are high...and you will need tools to rebuild your bike once unpacked.
2. Bike box
These are great for travel. They will guarantee your bike remains undamaged and can be easy to move around, but they are extremely bulky and heavy. Logistically this can be a pain.
3. Bike bag
The bike bag comes in a variety of shapes, sizes and capabilities. The cheaper types are really just a bag that a bike fits (hopefully) into. Less expensive models may offer questionable protection for your bike and often require some type of deconstruction, like removing handlebars/pedals to fit.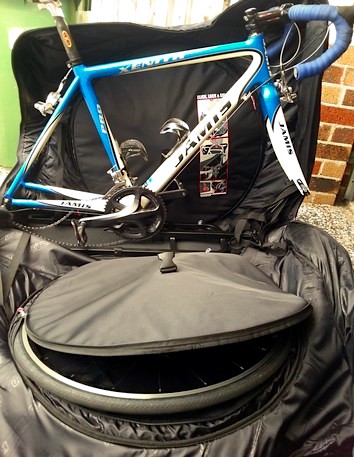 This is where we come to the Scicon AeroComfort 2.0 TSA bike bag.
When I first opened the drawstrung bag the AeroComfort arrived in I admit to being a little daunted by what I saw. Opening the bike bag proper and there is a collection of straps, foam tubes, a metal framework and a loose trolley wheel. My first thought was "I don't have time for this right now!"
But with the deadline looming I dived in and what a surprise. Within a few minutes I had taken the wheels off my bike and attached the dropouts to the metal framework at the base of the bag via the supplied quick releases.
The wheels were stowed in the two separate large internal pockets, the rear derailleur encased in a protective neoprene pouch and all the straps in place to secure everything. Haven't finished my coffee yet and it's still warm.
The bag also comes with foam tubes to protect the frame of your bike. One feature I love is that you can leave everything (apart from wheels) in place. The handlebars sit proudly in position as you zip the shaped bag over them.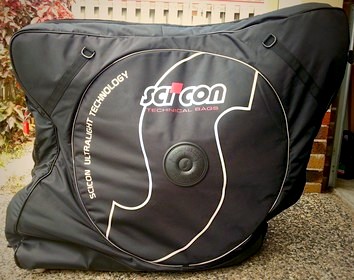 Once completely packed the bag seems smaller with the bike in place and is easy to move around with the 4 castor wheels. Another great feature is the inclusion of a combination TSA lock. This enables customs to easily inspect your bag, hopefully speeding up airport time!
The bike is very well protected and I would trust my most precious equipment to it, even on long-haul flights.
Total weight of the empty bag (with fittings) is claimed to be 7.7 kg (17 lb) which is impressive for a bag with this level of features and protection. It can also be folded down when empty to a size that will easily fit in the corner of your wardrobe or under a bed.
Overall this is a top product that I was very impressed by. It is quick to pack, offers superb protection, is reasonably light and oozes quality from every pocket. A must have product for travelling cyclists.
Now if they could just design one for surfboards.....