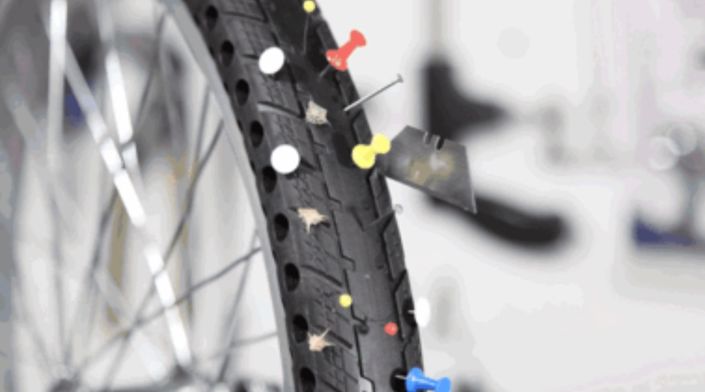 A typical tire and tube aren't this puncture resistant, but there are things you can do.
The one consumable on my road bike that always needs replacing are my tires, and it makes sense: No other part of my bike cops as much abuse physically from the road, and emotionally, from me, when I start cursing the damn thing for going flat AGAIN!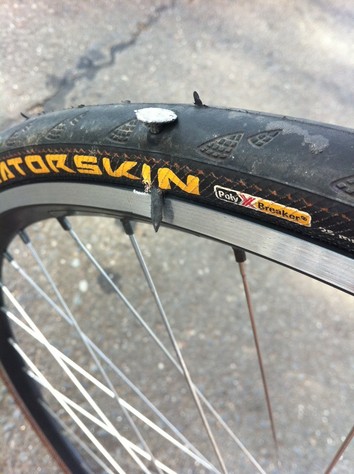 In the shop, we were constantly removing nails, screws, pieces of wire, glass, and metal fragments from road bike tires. And then there are the "snake bite" pinch flats. I once hit a bolt on the road — I swear was the size of a soft drink can (well maybe that's an exaggeration, but you get the idea...God knows how I didn't see it). My reckoning for this is:
1. The water washes all the debris to the side of the road towards the gutters (where cyclists usually ride).
2. The debris clings to a wet tire and works its way through the casing after several revolutions. In the dry, the object would just fling off.
There are probably other reasons as well, but the lesson is: one way to avoid a flat is to not ride in the rain!
Unfortunately, for many of us it is not possible to hang up the bike every time it rains, and doing so is no guarantee of avoiding a flat or worse - a tire-destroying tear from a piece of metal. (Yep, it happened to me. A beautiful sunny day riding week-old tires, one of which ended up in the bin).
So, for all the regular cycle nuts, commuters, bicycle couriers, or people who just love the sodden misery of wet weather riding; which tire lasts longest and provides the best protection from punctures?
Like every bike component there is no single "best" product, but there are some qualities to look out for when purchasing a tire.
One common misconception is that a high TPI (thread per inch) tire will be more robust and last longer than a low TPI tire. This isn't true.
A bicycle tire casing is made from cloth, usually nylon, attached at each end to the bead. In high TPI tires, the threads of this cloth casing are much thinner and result in a tire that is lighter weight, more flexible and designed for racing. These tires will be much more prone to flats from penetration or pinches because of the thinner overall structure, versus a low TPI tire with thicker casing threads.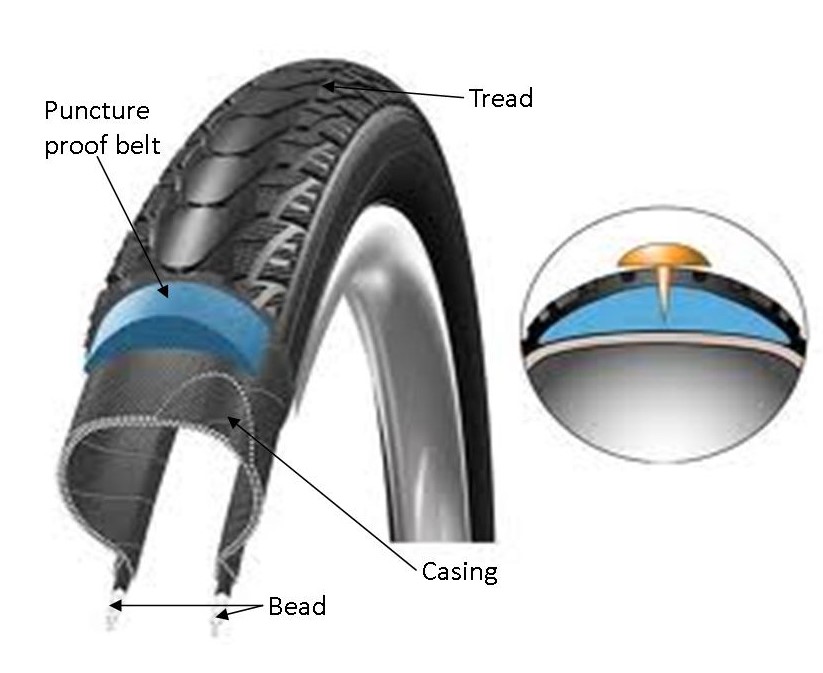 A puncture-resistant tire will provide an extra layer of protection between the casing and the outer tread. Brands create fancy names for their individual take on this technology like PolyX Breaker by Continental, MaxxShield by Maxxis, and SmartGuard by Schwalbe, to name a few.
The purpose of these technologies is to prevent piercing related punctures and also to toughen the side wall to reduce the chance of a pinch flat.
As for longevity, this depends on the rubber compound that the tread is made from. Racing tires often use soft rubber compounds for improved grip and reduced rolling resistance, but can be severely lacking in the longevity stakes. Not only does the tread wear through to the casing quickly, they are also prone to being "cut up" by road debris.
Touring and training tires are constructed from harder compounds and have a much longer lifespan. The biggest drawbacks of this rugged construction is the negative impact on rider comfort and an increase in rolling resistance.
Some tires are puncture proof and will last 20,000 miles, but what you save on tires could go towards several visits to the chiropractor!
Here are some recommendations for good all round tires featuring puncture proof qualities: Continental GatorSkin, Maxxis Refuse, Vittoria Zaffiro and Bontrager Hard-Case Lite TLR. There are many more (search tires), but this will get you started.
There are a whole range of products designed to make your tires and tubes bomb proof, but most are probably more suited to 26" or wider 700c tires as found on commuting bikes. There are tire liners available, which sit between tube and tire, heavy-duty tubes made from super thick rubber, and a whole range of sealant products that can be injected into the tire or tube to seal any holes. The drawback to most of these is an increase in weight, a decrease in the flexibilty of the tire, and a resultant dead, slow feeling when riding.
There is always a balance to be kept in the world of bicycles and puncture proofing your tires is a good example of this.
May all your rides be flatless.
Editor's Note: This article was originally published Sunday, Mar 17, 2013, and has been revised with lead image, new product links, and minor editing.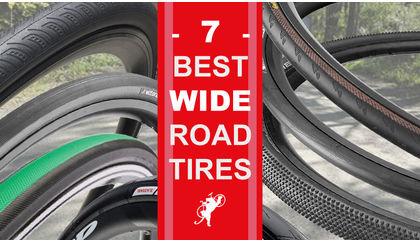 There are several benefits to running wider road tires including better traction and comfort. Here's more information about going bigger and some of the best wide tires available...
READ MORE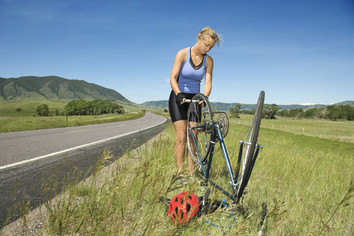 Ok, the inevitable has happened: you are riding along, minding your own business and doing something great for yourself and the environment when "BANG" -- you have a blowout, flat, puncture.
READ MORE