Mountain bike categories can be confusing, and as even more new models come out for more and more specific purposes it ain't getting any easier to choose a new bike.
BikeRoar has put together a list of general categories and some ideas about why you might want to make that particular type of MTB your next bike.
---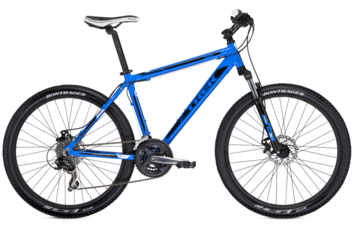 General purpose (recreational) - 80-100mm (<4") travel.
The recreational MTB is more a bike in the "style" of an MTB rather than in function. Typically these bikes will feature less than 4" travel with a welded fork bridge (as opposed to a one-piece lower) and non-performance level components. These bikes may handle smooth trails, but are out of their depth when the riding goes truly "off-road". Ask BikeRoar or check with your local shop before purchasing a cheap MTB.

Who's it for?  Every bike has a purpose, the challenge of course is getting the right bike for you. General purpose MTB's are for bike paths, smooth forest trails and family riding. These are a great bike for introducing a young child into mountain biking or as an inexpensive way to kit out the whole family with wheels.
---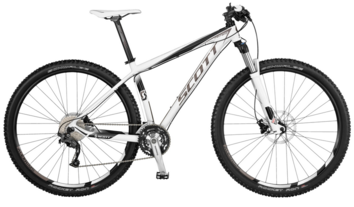 XC Hardtail - Up to 100mm (4") travel. 26-29" wheels
Cross country hardtails are the lightest weight and sport the least travel of all performance mountain bikes. Typically a fork of 80-100mm travel will be found, also tighter geometry and twitchier handling; useful when racing on narrow singletrack.
Race hardtails are becoming more common in a 29er wheel size because of the obvious advantages of this platform when riding fast XC race tracks.

Who's it for?  The steeper frame angles, narrow flat bars and focus on lightweight materials points this type of MTB in one direction - racing. An XC hardtail can be a fun trail bike but may be a little unforgiving to the newbie.
---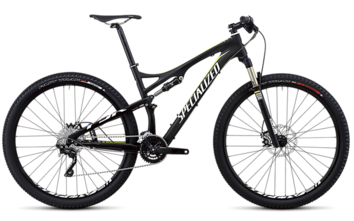 XC Dual-Suspension - Up to 100mm (4") travel. 26-29" wheels
Dual-suspension bikes improve grip, tracking and braking as the rear wheel follows the contours of terrain more efficiently. They are also more comfortable to ride! Short travel dually's are perfect for speed on rough and technical trails. As with the XC hardtails just mentioned, these bikes are great for technical, tight terrain, climbing, fast acceleration and of course racing XC and endurance events.

Who's it for?  An XC dually can be an expensive proposition. If you really want to race, climb without limits or ride fast singletrack you will want the lightest bike you can afford. This makes the hardtail THE value for money option. But, if you have the funds to invest in a quality XC dual suspension MTB, they simply are the best option race bike going.
---
Trail Hardtail - 120mm (5") travel. 26-29" wheels
With more relaxed geometry than a pure bred XC bike and a fork with up to 120mm travel, trail bikes are a great tool for all day singletrack riding. The longer wheelbase and slacker geometry on many trail bikes leads to greater stability and confidence on rougher, steeper trails.
---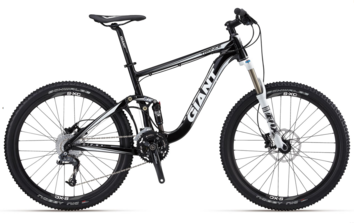 Trail Dual-Suspension - 120mm (5") travel. 26-29" wheels
Similar to the XC dual suspension bike, but the trail bike will have more relaxed, less aggressive geometry and greater travel. Typically sporting 120-130mm (5") travel front and rear, these bikes have become the go-to tool for all round riding. They won't go uphill like an XC bike, or down like an all-mountain, but tend to be well capable of both.

Who's it for?  Whether in hardtail or dual suspension guise, the trail MTB is the perfect companion for fun, all-day trail and singletrack riding, and at the upper end, some enduro and 12-24 hr format racing. The capabilities will be limited only by the component level of the bike you purchase and your MTB skills. This is a great place to start when new to MTB riding. This is also a very popular category so call in at your LBS and see if you can get a deal!
NOTE: For a complete description of the advantages and disadvantages of wheel sizes, check out our 26 vs 29 and "Introduction to 650b" (coming soon) articles.
---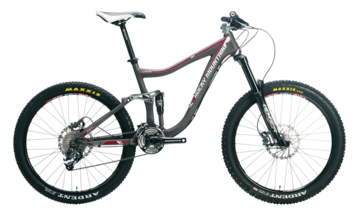 All-Mountain - 140-150mm (5-6") travel
With advances in suspension design and technology, as well as carbon frame materials, the all-mountain bike is becoming the new "jack of all trades". Front/rear travel will be around 150mm (6") making these bikes great for rough, technical riding on steep downward trails, yet they can also have the capability to be pedalled upwards.

Who's it for?  If you want to ride a bit harder and if you love the downhill run more than climbing, the all-mountain MTB is for you. These bikes will chew up really rough terrain smoothly and allow you to ride fast when it gets steep. This is also a good option for the bigger guy who can deal out punishment on lesser equipment. A perfect bike if you like to hit it hard, yet also want to be able to pedal over nearly everything.
---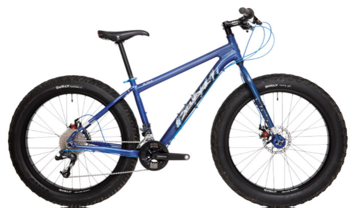 Fat Bike - Usually full rigid
The fat bike has been around for a while, but has recently seen a burst of popularity as people look for "something new, something different". The fat bike is designed for riding in places other bikes can't go: beaches with soft sand, snow, mud, water, anywhere that the flotation provided by the 3.8" tires is an advantage.

Who's it for?  This is a specific bike for specific conditions which are described above. On typical trails these bikes are out of place and would ride like a dog!
---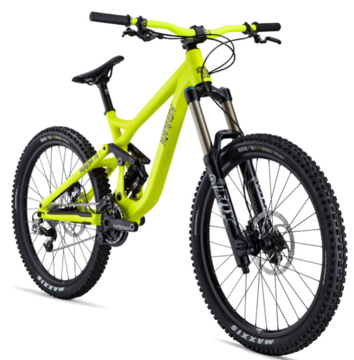 Freeride - 180mm (7") travel
Freeride usually involves large drops, jumps and manmade obstacles. Travel of around 180mm (7") is common, though usually with a single crown fork. These bikes are as tough as a downhill rig yet they have steeper headtube angles and shorter wheelbase for low speed manoeuvrability and stability on technical trails.

Who's it for?  You probably ride 'cause you love having your wheels off the ground, technical innovative trails, like north shore, jumps and drops, are your home. You are hard on equipment and know how to put an MTB through its paces. Freeride bikes are for extreme MTB cyclists!
---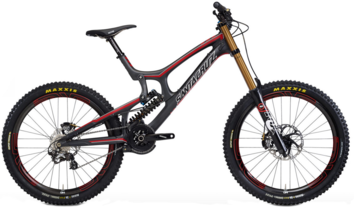 Downhill - 200mm (8") travel
A downhill bike will commonly feature approximately 200mm (8") travel front and rear, with a triple crown fork. These bikes will have very slack head tube angles (66 degrees or less) and long wheelbases for high speed stability, and will accommodate the use of up to 3" wide knobbed tyres.

Who's it for?  You get your mate to drive the shuttle up the mountain then launch at high speed down the trail. Downhill bikes are for downhill riders. You know who you are.
---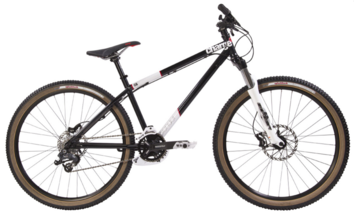 Dirt Jump, 4X - 100-140mm (4-5") travel fork.
Typically a short travel hardtail designed for aggressive handling, agility, fast acceleration and jumping. Often featuring an alloy gusseted frame, aggressive slope top tube, high spec wheels, single chainring/bash guard setup and minimal gearing, these bikes are used for riding on purpose built race tracks and dirt jump trails.

Who's it for?  As stated in the description, these MTBs are for riding purpose built dirt jump trails and 4x race tracks. They are also a good choice for street riding (just add smooth tires). This is what the BMX rider may buy when they grow up! (no offence intended)
Any questions? Drop BikeRoar a message or add your comments below and we will happily answer any purchasing queries and try to steer you in the right direction.