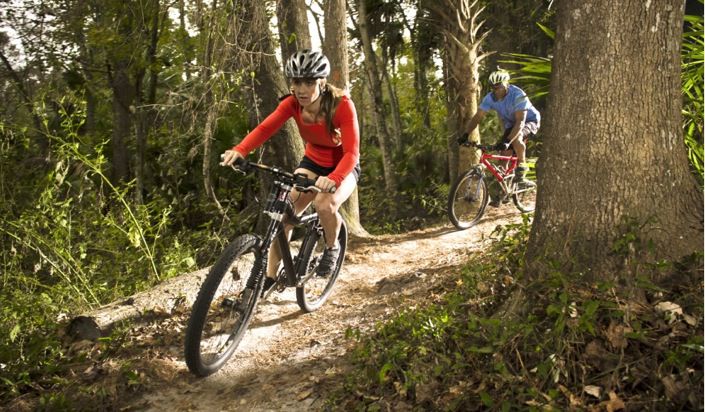 You can have plenty of fun riding singletrack on a cheap bike, but there are advantages to spending a bit more money! Photo: Ninja Mountain Bike Skills
One of the regrets I have about taking up cycling as a sport is the cost of the equipment. To be involved in mountain biking at anything more than a very meagre recreational level does often go hand in hand with an empty wallet. And it's not just the bike: you also need accessories like specific clothing, shoes, gloves, socks, helmets, a computer, bottle cages, sunglasses....it all adds up!
After years spent riding, racing and selling mountain bikes, I came to the unfortunate conclusion that if you want to get serious about mountain biking or even just experience real enjoyment on the trails, you can't afford to be a tight-ass! Listen to your local bike shop and buy the bike that will enhance your experience and be durable enough to make for a good investment.
As covered in our previous article, "10 reasons to invest $1000 on your first mountain bike", there are many reasons not to hold back when it comes to purchasing a mountain bike, but if you insist, there are some options that hopefully won't break the bank.
Where do cheap bikes fall down?
---
Weight
The first drawback to a cheap bike is weight. Mountain bikes well under the $1,000 sweet spot suffer from performance issues because of the amount of weight you have to pedal around. Acceleration suffers, it's hard to manoeuvre them, and wait till you hit a decent climb.
Suspension
Another troublesome area on a budget mountain bike is the suspension. Even if it isn't just elastomer, the damping and rebound are so bad on cheap forks and shocks that it's like riding a pogo stick. You are better off on a full rigid bike.
Durability
Overall durability suffers. This is probably the main reason I would spend a bit more money. Cheap bikes are not actually designed for rigorous off-road riding even if they are marketed as mountain bikes. Buy a cheap one and you will regret it in the long term.
Hardtail options
---
A hardtail (no rear suspension) is your best bet for budget buying. You generally get more bang for your buck than from a dual-suspension bike and riding a hardtail is the best way to learn some skills like being able to ride singletrack smoothly and pick good lines. They are also less complicated when it comes to servicing which helps if you don't yet know you're way around the tools. Also the frames carry less weight, so for newbies who haven't got the legs yet, a hardtail is the best place to get them!
Here are some options:
---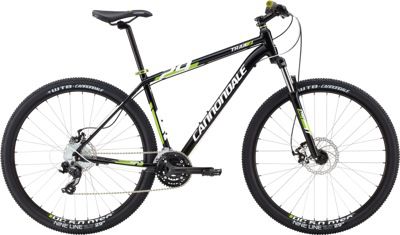 These two Cannondale models are for beginners and represent both the old standard 26" wheel size up to the 29er. I definitely recommend trying both wheel sizes, which is much easier these days with 29ers now becoming available at very inexpensive price points.
---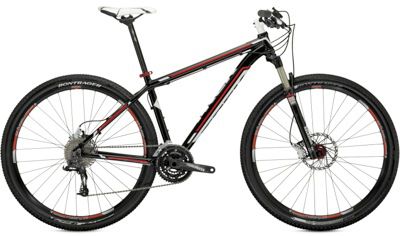 The Trek 3700 is an 'old faithful' for budget buyers the world over. It represents the pinnacle of what can be built on a very, very, very tight budget! Don't get me wrong, this is a fine bike, although it is somewhat limited in its off-road ability. The X-Caliber is Trek's 29" opener and is regarded as a capable starting point for those with little cash.
---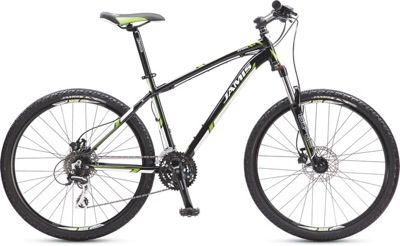 The Jamis Trail is another cheap mountain bike with some off-road capability. It is a fine bike for general purpose duties but also demonstrates the drawback all these bikes share, namely: weight. The Jamis tips the scales over 14kg (31lb), and that means you gotta haul all that around...
---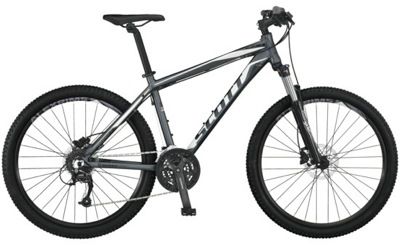 Scott makes beginner bikes in both wheel sizes as well. The Aspect is a good starting point for budding mountain bike enthusiasts.
---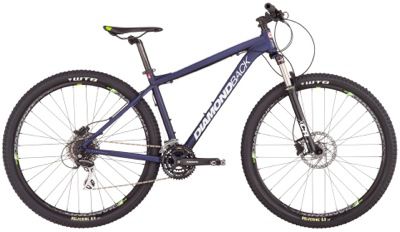 The Overdrive is a great looking bike, proving once again that Diamondback make a damn fine entry level machine. Similarly to the other bikes here, the components, such as derailleurs and suspension, are truly of recreational quality and would not last long on the trails.
Dual Suspension options
---
If you have a very tight budget, it's best to get advice before buying a dual-suspension bike. Cheap duallies are heavy and can be a forgettable ride because of their bad suspension forks and shocks. The bike nerds of BikeRoar all agree that if you want a good dual-suspension bike, save at least $1,500, and even then, be aware that the best brands only start making duallies at this price point. Personally I wouldn't touch one until the $2,000-$2,500 price range...I would just buy a hardtail instead and enjoy a great ride!
Here are a couple of bikes anyway to check out:
---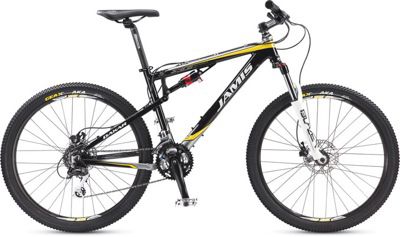 Jamis have been making the Dakar for over a decade. This is the brand's entry level XC dual-suspension mountain bike. Although very cheap as far as duallies go, the frame is the same as the higher end models, so benefits from the same quality geometry and design.
---
Diamondback are well known for making a good quality entry level bike and the Recoil is no exception. There are component issues as expected when sneaking a bike under $1,000 (especially a dual-suspension mountain bike), and weight is a problem. As with the Jamis, these component choices will limit the lifespan of the bike unless regular servicing and replacement is carried out. This would be a real pain if you intend to get out on some real singletrack trails.
Great bikes for the money but for how long?
---
My purpose here is to outline firstly that there are cheap bikes available that will do the job, that benefit from the forward march of technology and will offer a lot of enjoyment to the budding recreational cyclist. These are all great bikes that will offer years of pleasurable cycling.
Secondly, if you want to actually get down and dirty on singletrack I would recommend not buying any of them! Talk to your local bike shop about upgrading to a bike with off-road capable derailleurs and forks. They are your best resource when it comes to bike buying decisions.