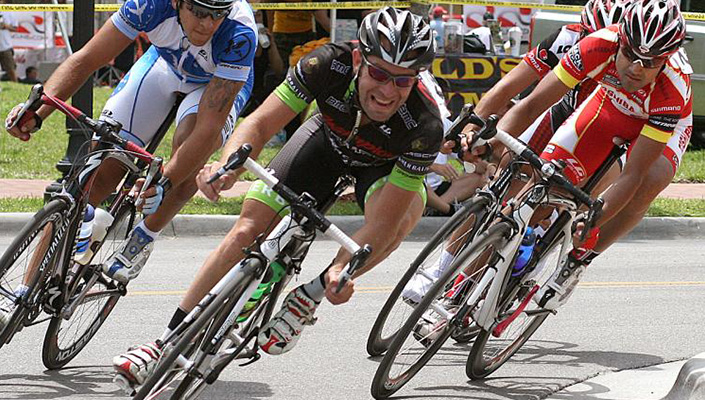 Photo: The Epoch Times
Just about any half decent road bike can be used in a criterium. The chances are that you will be starting off in a low grade, even if you are fit and strong, as there are many skills involved when riding in a fast bunch that you will first need to learn. It may actually be a good idea to start out on a relatively inexpensive alloy bike. In road cycling disciplines criterium's are probably the races where crashes are most common. It would be a shame to ruin that brand new carbon frame crashing out riding the tight corners of an early outing.
You can find some basic hints for your first criterium race here: "Top ten tips for criterium first timers". But what about equipment, namely, your bike? What are some of the qualities of a good crit bike?
Four tips when buying a criterium race bike:
Material. When starting out get an alloy bike. Alloy is cheaper and easier to repair than carbon. The nature of crit tracks means there is little need for a super lightweight carbon road bike so get something that is moderately light, feels stiff under pedaling and has solid flex-free wheels.
Fitting. One of the most consistent realities of the crit circuit is tight corners. The bike you ride needs to be the correct size. Making sure your bike fits well is crucial because you will be throwing it through corners at high speed, manoeuvring through the bunch and making sudden changes in direction. It is important that the bike feels as "natural" to you as possible
Gearing. It is an unusual crit track that has any decent climbs to speak of. Sure some tracks have a healthy rise or undulation, but these are usually ridden over on top of the gears at speed, rather than sitting and tempo pedaling. Criterium's rarely last longer than 1 hour so it will be close to full gas for much of the race. For this reason look for a full size crankset (53/39 tooth) and a tight cassette to match. The cassette would rarely need any cogs bigger than a 23 tooth.
Geometry and handling. This is so important to a good criterium bike. With the advent of "fondo" and compact bikes it is easy to get a road bike that feels comfortable. When racing a crit comfort is not as important as handling and precision. It is hard to stay on top of the gears when changing direction and speed simultaneously if you are on a bike with a relaxed posture from that foot long head tube. Crit bikes have steep steering angles and short wheelbases and are real race bikes. Keep the fondo machine for riding with your mates, not for the criterium!
While we have said to use an inexpensive bike for the learning process, these three bikes assume you have left kindergarten and are ready to fire up in a local club criterium. The bikes included here are a mix of alloy and carbon with a blend of Shimano 105 and Ultegra components.
The reason we chose these three is because each model has been well received by nearly every review performed. The specifications may be entry to mid-level for a race bike but the bloodline is pure thoroughbred.
Look here for a three bike comparison.
---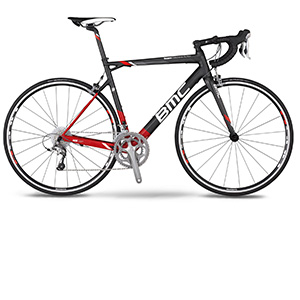 Let's start at the top. The Team Machine is the Tour de France winning race bike. This bike is a great all-rounder and one may argue that the Impec may be more suited to short track races, but the price of an Impec frame alone puts it in too distinguished a company for the average cyclist.
The SLR02 features all the advanced technology of its more expensive counterpart but comes in at an affordable price thanks to a different manufacturing process and the use of 105/Ultegra components. The SLR02 is a stiff frame with excellent handling and ride dynamics making it stable and confident through hard cornering. Its excellent acceleration is perfect for sudden changes in pace and it holds speed and momentum well.
This is a great bike to push the envelope while remaining within one's own abilities as a rider.
---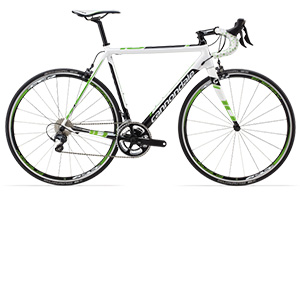 Cannondale claim the CAAD is "The most sophisticated, highest performance aluminium race bike ever made" and while I'm not sure how true this is, one thing is definitely certain: If I was going to buy an alloy race bike it would be a CAAD.
The beauty of CAAD10 is it borrows much of its geometry from Cannondale's more fancied SuperSix road bike frame; expect an aggressive riding setup made for dynamic racing situations. The handling is sharp and acceleration bang on for a criterium steed. Just don't expect too much forgiveness if you neglect to show this bike the respect it deserves.
---
Bike number three is a legendary criterium race bike and the only one here specifically designed for aerodynamics (let's face it Cervelo basically invented the category). Once again we are looking at a high performance top end frameset with more budget conscious components to make it affordable to the average criterium racer (and to minimise costs when things go awry).
The Cervelo S2 features the aerodynamic profile we've come to expect from the brand with hair thin seatstays to improve compliance. Cervelo road bikes are renowned also for their excellent handling and ability to get down low in corners confidently and then shoot out the other side. This is helped by excellent levels of stiffness in the bottom bracket and headtube area. It is a very honest ride.
Once again we have a neat collection of 105 components which is really the minimum for a serious race bike. Interestingly the Cervelo and BMC share the same Shimano R501 wheelset. This is a solid set of hoops for an amateur rider, but for racing wheels are always the best upgrade. Use these stock wheels for training and get some deep dish wheels for race weekend when the budget allows for an extra level of performance.