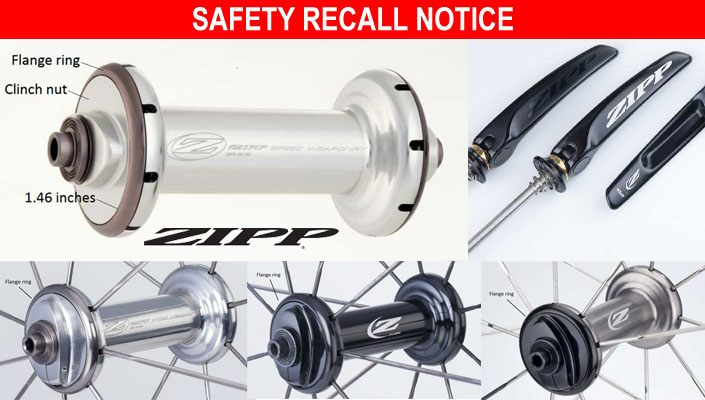 SRAM has issued a recall notice for about 57,000 ZIPP front wheel hubs and a separate recall notice for about 6,400 quick release levers, both due to crash and injury hazards.
The hub recall is for several editions of ZIPP 88 aluminum front hubs of which flange failure can lead to wheel collapse. This recall is an extension of a February 2015 recall spurred by the same issue in first edition hub models. The models of hubs affected by this recall are ZIPP 88v6, 88v7, and 88v8. The hubs come in black, silver and falcon grey, and have a printed Z logo. The diameter of the clinch nut is approximately 1.46 inches. Some of the hubs were sold as part of wheel sets installed on new bicycles. SRAM will post a list of affected bicycle brands and models on its website.
Hubs and wheels built with the hubs were sold in the U.S. and Canada at speciality bicycle stores from May 2010 through January 2015. Front hubs sold for about $215 and complete front wheels with the hubs sold for between $1,035 and $1,325. The front wheel was also sold as a wheel set with a rear wheel for between $2,300 and $2,950.
Consumers should immediately stop using bicycles equipped with the recalled front hubs and contact SRAM or local bicycle dealer for a free replacement hub.
ZIPP Quick Release (QR) Recall
---

ZIPP bicycle wheel quick releases recalled, but only quick releases

without

a marking at the center of the underside of the lever are included.
The SRAM ZIPP QR recall involves ZIPP stainless steel or titanium quick releases that can fail to engage in the closed position and pose crash and injury hazards to riders.
Quick release skewers were sold as aftermarket components or as part of the 202 DB V2, 303 DB V2, 404 Firestrike V2, 202 Firecrest V3, 303 Firecrest V3, 404 Firecrest V3, 808 Firecrest V3 or 808 NSW wheel sets. The quick release has a curved, black lever and 'ZIPP' appears on the lever. Only quick releases without a marking at the center of the underside of the lever, below the ZIPP logo, are included on the recall.
Consumers should immediately stop using any bicycles equipped with the recalled quick releases and contact SRAM or their local bicycle shop for a free replacement quick release.
Contact SRAM about ZIPP recalls
---
Contact SRAM (USA) at 800-346-2928 from 9 a.m. to 8 p.m. ET Monday through Thursday and from 9 a.m. to 6 p.m. ET on Fridays, or visit www.sram.com or www.ZIPP.com and click on 'Recall Notice' for more information.
More recall information:
---
:: 'Safety & Recall' on SRAM website.
:: HUBS Recall Notice on the CPSC website.
:: QRs Recall Notice on the CPSC website.
:: HUBS Recall Notice on the Health Canada website.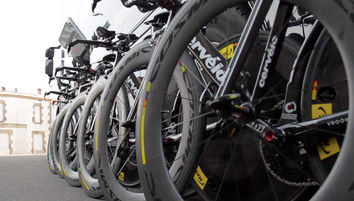 Upgrading to aerodynamic wheels is the most effective, and definitely the most popular, way to improve the performance of your bike. You're not just reducing the weight of your bike, but you're also benefiting from a lower rolling resistance and better aerodynamics. But it's not all champagne and cheese...
READ MORE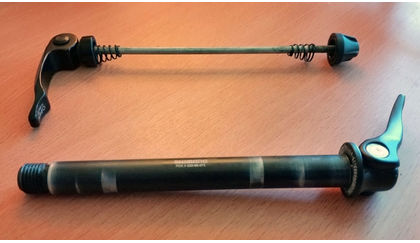 Here at
BikeRoar
we all agree that kids should learn how to ride a bike. A main reason being that cycling is simply the best kind of exercise we know – and definitely the best you can do in skin tight clothes (sorry, ballet fans)...
READ MORE