How much stuff do you have hanging off the handlebars on your mountain bike? This is valuable real estate and is becoming more crowded as new accessories, designed to make our cycling easier or more fun, come out. "At your fingertips" is sort of a necessity when riding singletrack at speed, but at what cost?
I wanted to look at a set of bars and see what's on offer...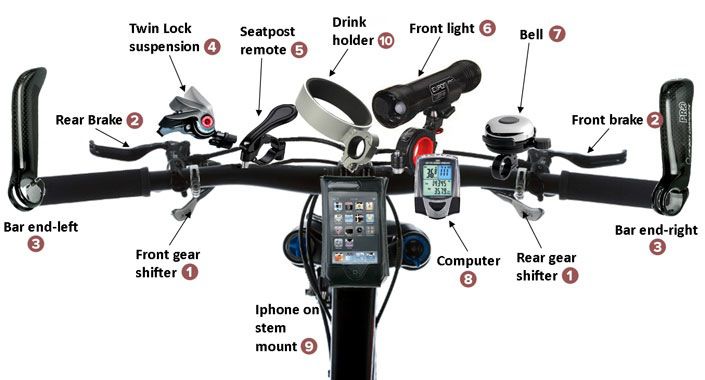 Gear shift pods: They are sort of necessary (more on that later). Front and rear derailleurs means two switches for each hand.
Brake levers: Also necessary. We put our front brakes on the right, but regardless of layout, having both front and rear is not up for debate.
These are the only compulsory controls needed on a typical mountain bike, although with a 1x10 or 1x11 setup you ditch the front derailleur shifter, and on a single speed you only need brakes. This is far from the end of the story though. What else can we squeeze on there?
Bar ends: They are a bit '90's but bar ends can give you some extra hand space so you can cram more stuff on your bars.
Suspension adjuster: This is the Scott TwinLoc system but there are many others. This places suspension damping controls at your fingertips
Seatpost remote: The lever remotely adjusts your seatpost height and replaces having a lever directly under your saddle.
Front light: For commuting or night riding
Bell: Everyone needs a good bell. An alternative option is an air horn.
Cycling Computer: This could be a simple speed, time and distance computer or you could get one with a HRM as well, or alternatively you could use a stand-alone HRM and separate computer...if you have room.
iPhone: Or any device on which you can run your cycling apps like Strava or Endmondo etc.
Cup holder: For an easy to reach drink.
Other options include a map holder for mountain bike orienteering or touring, another computer if you are riding a bike with electronic suspension, centre mounted tri bars if you are a bit of a tosser...
Here is a picture of my mountain bike bars:

Two brake levers and a rear derailleur shifter...do you really need anything else?