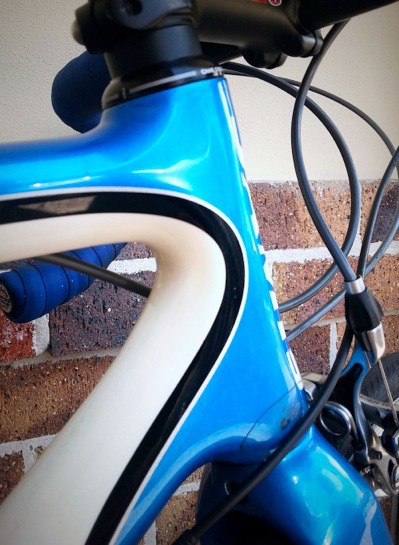 The front end of a carbon road bike typically features a hidden away internal headset. This is an 1 1/8" size threadless 'aheadset'.
Every time you ride your bike, there's a mechanical marvel at work. It's not your drivetrain, or your brakes. It's not even your suspension. It's your headset, and it's had one hell of an upbringing. Let's take a closer look at where your headset is, and what it actually does. You might be surprised to know it's one of the most complex pieces of kit on your bike, and yet you've possibly never seen it before!
WHAT IS A HEADSET?
---
The headset is a set of components on your bike that provide a "rotatable interface between the bicycle fork and the bike frame itself" - the short section of tubing on your bike in which your steering tube passes through is called the headtube. The headset is located within this headtube, and typically consists of two cups that are pressed into the headtube at the top and at the bottom. Within these two cups are bearings, which provide a very low friction between the bearing cups and the steerer tube. So when you turn your handlebars, your steerer tube turns the front wheel while the headset keeps everything smooth.
HEADSET SIZES
---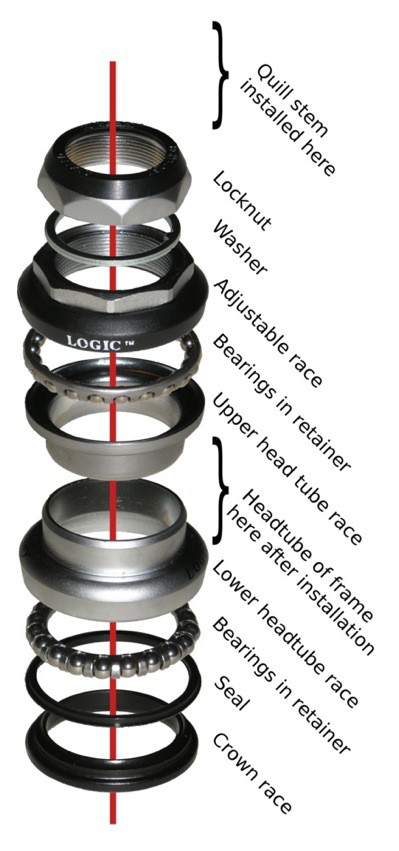 A threaded headset uses a quill stem. This is an old style now although can still be found on some childrens or inexpensive adult bikes.
If you just read the last paragraph and decided it was better to study Advanced Physics, you're probably right. But read on, because there's more to know about the humble headset. Headsets have evolved over the years to make things easier and (slightly) more uniform throughout the bicycle industry. The only problem is that these progressions overlap each other in their chronology - so you'll still come across some weird and wonderful headsets and associated numbers and measurements.
In the past, most bicycle steerer tubes were measured as 1 inch in diameter (25.6mm). This meant the headset and all its encompassed parts would have to be made to fit a 1 inch diameter steering tube. But common sense prevailed, and the typical steerer tube measurement was increased to 1 1/8 inch diameter. This was done to increase stiffness within the headtube, giving more responsive steering and a more direct feel with the bikes handling.

DID YOU KNOW? The standard or 'norm' 1 1/8" headset is the registered trademark 'aheadset' from Cane Creek.
There are multiple unique sizes within the range of headsets, but almost all major bike brands stick close to the 'norm'.
There has, however, been one recent development which in the past two years has really taken hold: A dual diameter steerer tube... To put it simply, this was done to improve the handling of their bikes while maintaining an industry norm.
An example of this can be seen from companies such as Trek and Specialized, who have adopted what is called a 'tapered headset', in which the headset accomodates a tapered steerer tube. This means the bottom of the steerer tube is 1.5 inches, and this decreases to only 1 1/8 inches at the top of the steerer tube to match existing stem interfaces (the part that attaches your handlebars to your bike). The increased base steerer diameter dramatically improves stiffness and handling, while the narrower top diameter keeps weight down!
HEADSET TYPES
---
Yes, there is more... Go get a coffee and come back. You ready? Headsets come in different types, not to suit certain styles of riding, but more as a result of a gradual evolution. But just because headsets evolved, it doesn't mean some bikes still don't need the older styles of headset.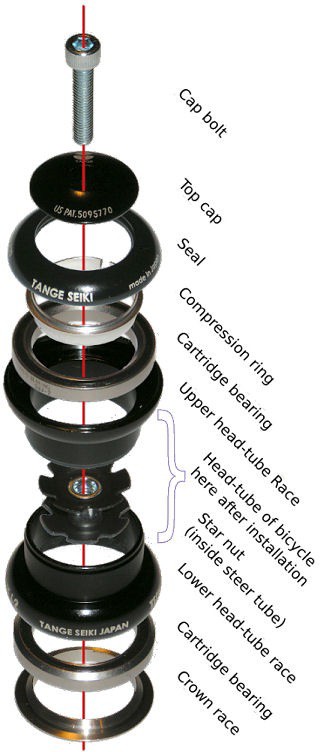 Threadless Aheadset. This uses a "star nut" which is inserted into the fork steerer tube allowing the top cap and stem to be attached above the headset assembly.
A threaded headset is a slightly more complex headset assembly made up of over 8 parts. From bottom to top, the threaded headset contains in order; crown race, lower bearings, lower frame cup, upper frame cup, upper bearings, upper race, a washer and a locknut. This system did the job for many years, and is still used on cheaper bikes. In fact you'll see it on most kids bikes in certain brands.
But in recent times, the threaded headset has been replaced with the above mentioned threadless headset, and for good reason. Firstly, bike manufacturers can make one sized fork and use it on most of their bikes, and simply cut the steerer tube down to size (as opposed to threaded, where each frame size needed a specific fork made for it). Threadless headsets are also much easier to install, and don't require as much mechanical knowledge. They allow the use of different size stems which can be easily swapped out. Last but not least, the threadless headset is much cheaper to manufacture, and easier to adjust with less tools.
INTEGRATED HEADSETS
More recently, integrated headsets have crept into the marketplace. Mostly found on high end bikes, an integrated headset does away with the upper and lower cups, instead seating directly onto the top and bottom of the headtube in direct contact with the frame! This again reduces parts, weight and assembly time. But there is argument against integrated headsets, with some saying it's less effective under load because the bearings are in direct contact with the bike frame itself. This means that the surfaces the bearings run on are not as accurately machined as what a threadless headset would be.
---
So there you have it, headsets simplified. But before you go tearing yours apart, keep in mind that headset bearings require a certain load or tension. If you want to find out if your headset needs adjusting, do the following at home:
Take your bike and firmly squeeze the front brake
Rock the bike forward and back very gently
If you hear or feel any clicking through the handlebars, it's the steerer tube moving within the bearing races of the headset.
The solution to this is to 'tighten the headset', which we suggest you learn from your local bike shop. Headsets do wear out, and this is a great little job you can learn to do yourself, as it's simply a matter of knowing what order the parts go in when fitting a new headset. Give it a go, you might surprise yourself...