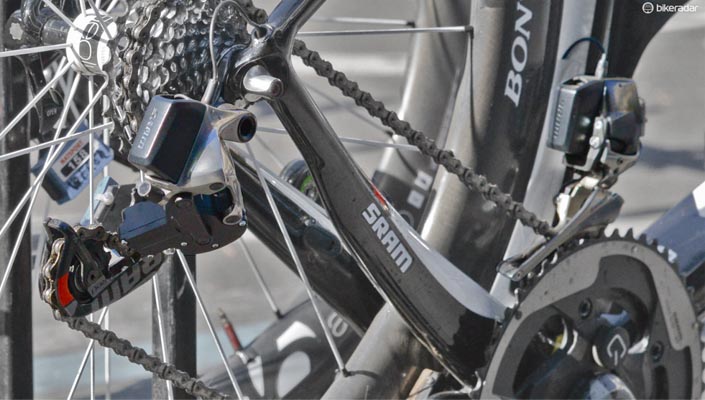 SRAM, the only serious rival to the Campagnolo and Shimano dynasties, is set to introduce a new shifter actuation with the new RED wireless electronic group called eTap, a play on words from their long-running Double Tap mechanical system.
SRAM, who backed out of its partnerships with ProTour teams Tinkoff-Saxo and Etixx-Quick-Step for 2015, is now providing its RED groupset solely to French team AG2R from the top level of professional cycling - and it was AG2R-La Mondiale's Domenico Pozzovivo who was first spotted at the People's Choice Classic, prior to the Tour Down Under in January this year, riding with a SRAM wireless electronic groupset on his Focus Izalco Max team bike. It seemed that there were either four or five Focus bikes within the French team equipped with the new system, and another two or three were using the more traditional mechanical groupsets.
Add to this the appearance of the wireless groupsets appearing on the bikes of the Bissell Development Team at the Tour of California, and it seems that SRAM will have to make a public announcement very soon. Thus far they have been secretive to the point of paranoia, even going as far as soldering fake wiring onto wireless bikes in an effort to confound reporters and bike geeks.
However, the clock is ticking under article 1.3.007 of the UCI technical regulations which says that prototype equipment can only be used if it is going to be available to buy within nine months of its first use in a race... so one way or another we're going to see it soon.
Electronic shifting systems have been around for a few years now, and it's generally accepted that the pros, and therefore the racing population at large, are coming to prefer it over the mechanical version.
One SRAM employee (who asked not to be named) told me at the Tour Down Under that when the wireless system was launched it would be "flawless". As the last major entrant into the game of supplying electronic shifting, it only made sense to come in with a product that was superior to those offered by the other big names.
Assuming that is true, that opens the door to two rather fundamental questions: how does it work and is it any better just because it's wireless?
Is SRAM eTap better because it's wireless?
---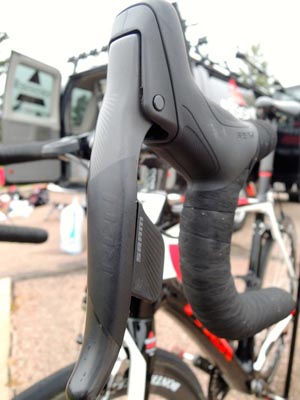 Shifts are performed with each lever bearing a single, one-stage button. Push on one lever's shift button to move the rear derailleur in one direction, or push the button on the other lever to move the chain in the opposite direction. To change from one chainring to the other via the front derailleur, the rider pushes both buttons at roughly the same time. According to SRAM insiders and a number of team mechanics who have worked on the system, these front changes, in either direction, are much easier than they sound. There is apparently quite a bit of adjustable leeway, so that as long as both buttons are depressed at the same time (even if one is depressed for much longer, or much harder, than the other), the system still works.
The levers are powered by disposable, non-rechargeable CR2032 coin-type batteries - mildly disappointing from an environmental point of view, but very convenient. SRAM are proposing that these batteries could last as long as a year as the power requirements for the levers are surprisingly low.
Neither front nor rear derailleur requires any external wiring. Wireless data hardware and a power source are all built right in, which should make life easier for professional mechanics and those who love to tinker in the shed. Set-up, pairing and adjustments all take place using simple buttons and LED indicator lights and are apparently very easy to figure out, even without an instruction manual. Each derailleur is powered by a lithium-ion rechargeable battery pack - these are small, light, removable and interchangeable, which means those paranoid riders amongst us could pack a spare battery to take on ultra-long rides to put their minds at ease.
The system is marginally lighter than its main competitors - the power supply is the biggest weight-saver, although there might be marginal gains from having no wires to weigh you down.
The range of effective use from lever to derailleur is a staggering 50 metres, which in theory means the wireless system could be tuned mid-race from a team car or motorbike. Unlikely to ever happen, but possible nonetheless.
The fact that each component within the system is powered by its own battery source would suggest an element of damage-control: one lever might be out of action for a while, but a new CR2032 battery can simply be inserted (maybe even from the team car once everyone gets the hang of it).
For amateur riders it has the advantage of being able to be attached to any frame, regardless of age or manufacturing bias - there are plenty of riders out there now who would be riding on Di2 if only their existing frames could support the system without messy cables, wire and zip-ties ruining the aesthetic of their proud frames.
And lastly, it's just super cool. Check out some of the clips on YouTube - it's hard not to fall in love with the idea of going wireless. At least until we find out how much it will cost.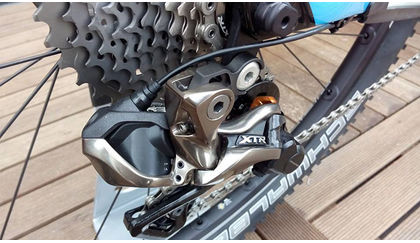 The entire world is going digital in one sense or another, and in our little microcosm of bike-life it's no different. Electronic shifting systems for road bikes are set to outstrip their mechanical counterparts, but is digital really that great?
READ MORE