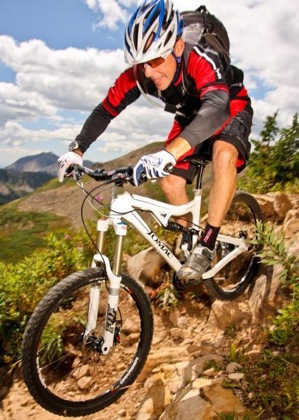 The Tomac Vanish is another awesome trail bike that we haven't mentioned. Photo: MTBR
Building the all-round trail bike has been the Holy Grail for many bike manufacturers and why not? A bike that can do everything - pedal, climb, descend, corner, feel balanced and fast, and all this with minimal weight would have to be the destroyer of many quivers, surely.
There have been successes over the years, but now that we have a wheel size specifically designed to offer the best mix of speed, strength, grip and manoeuvrability - perhaps now is the time for an ultimate trail and all-mountain bike to appear.
Unless your needs are very specific, for example XC racing or freeride, (or perhaps you just love your fully rigid, belt driven machine of torture), a bike that can do all these things well would have to be what most weekend mountain bikers are looking for. A bike to enjoy, to fly down a singletrack descent at speed, taking on all manner of obstacles without dirtying the underwear - and then, of course, a bike which doesn't inflict all amount of suffering on the way back up. In short: An ultimate all-mountain machine.
This motley collection of bikes all feature the new standard wheel size for aggressive trail riding and mid-high travel: The "27.5". Suspension here is 140-150mm, enough to have a go at anything on the trail but also usable for anytime you're not riding a downward trajectory.
Geometry will be slacker than an XC rig but will still have all-day riding in mind so we're not talking downhill lay back!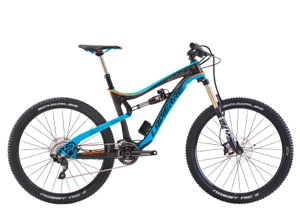 The Zesty has been a top performer in this category for a while, and now clad with 650b (27.5") wheels, it has been reported to be even more sure footed than ever. We rode the EI suspension system recently and came away impressed. The electronic system adds weight, but this is an already relatively light bike considering the travel so it's not much of a handicap. Travel is bang on 150mm which is right on the money for a bike that goes up and down. A let down is the Fox 32 front fork. Less stiffness up front may hold the Zesty back when the going gets really steep or rough and technical.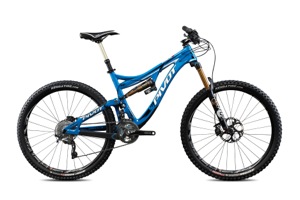 Read our review of the recently test ridden Mach 6 and you will see why I have no hesitation calling this one of the best bikes currently on offer. This massively capable bike is a definite contender for the 'one bike quiver'.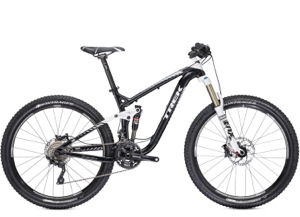 The Remedy has the least travel in this collection at 140mm. This is because of Trek's line-up which features the Fuel (120mm) and the Slash (160mm) so the Remedy sits right between. You would probably call this more trail than all-mountain but we included it to give another option. Having 10mm less travel doesn't really contain the Remedy with its "Full floater" suspension system which is very good at handling rough descents, although it may be a little squishy when climbing. The Active Braking Pivot (ABP) further enhances the Remedy's trail credentials as it allows the suspension to remain active while under brakes. A definite plus on a technical descent.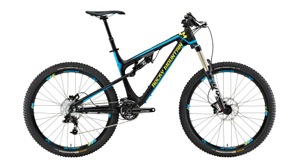 One of the benchmark all-mountain bikes of the last few years, enhanced by a 27.5" wheelset. The Altitude features the Ride-9 suspension and geometry adjuster making it possible to truly customize your ride. Like the Pivot, the Rocky Mountain comes with a 'boutique' price tag. Like the Pivot you certainly do get what you pay for and I would strongly urge anyone looking for a 'one bike quiver' to add the Altitude to their test ride list.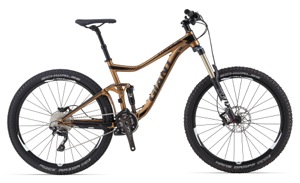 Marketed as a capable trail dual suspension mountain bike, the Trance is a good bike to add to any list of all-rounders. The Trance, like the Trek Remedy, has an inch less travel when compared with a more typical all-mountain platform. Like the Trek, though, it is a good enough bike that this never really becomes an issue, unless you are after a bike more for the 'down' than the 'all-round' package. The fork telescopes from 140-160mm which helps soak up the trail when you want to push hard. Riders after downhill thrills would be better served by a bike with that extra inch or more travel.

Check the spec! Have a look at a bike comparison chart to see what you get with a pick of each of these models.
What's with the wheels?
One thing that is commonly reported about 27.5" wheels is that it is almost impossible to recognise that you are riding a larger wheel set than the smaller 26" size while on the bike. There isn't an "Oh wow these are amazing" moment, and anyone who says there is are probably just doing it for the camera. There are definite advantages to having a slightly larger diameter (think rolling resistance, momentum, grip). We sort of just fell into 26" wheels because that's what was around when mountain biking was invented, doesn't mean they are the best choice?
The 29er came along first of all, but was never right for bigger travel bikes beyond 130mm. It seems we may have found a happy median in the 650b 27.5" wheel. Its not necessarily a compromise, just a good balance of the qualities we look for in a mountain bike platform that can handle everything we throw at it.
This is the 150mm 27.5" trail/all-mountain bike. The most versatile singletrack weapon currently available. Find your local shop and test ride one.