Fast.
Expensive.
Awe-inspiring.
Greyhound racing?
NO!
Downhill Mountain Bikes?
HECK YES AMIGO!
We've compiled a list of some incredible downhill bikes, to make you gasp before you even pay for them. These machines take whatever gravity can throw at them, whether it is a 60 foot gap jump or a 40 degree inclined tree chute. These bikes will outride you so you'd better hold on for dear life! Let's get straight into it before your partner has a heart attack reading over your shoulder...
TREK SESSION 9.9
---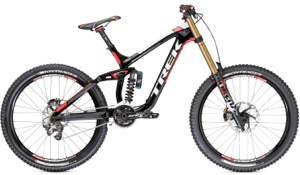 $10,000+
A full carbon frame is enough to get things started, followed by the jaw dropping price tag. Trek is very proud of their innovations within the cycling world, including their Active Brake Pivot suspension design. The Trek Session is their flagship gravity machine with a whole heap of cool features - from adjustable linkage points to various cable routing options this bike is seriously suave! The usual bling is included from FOX Suspension through to a Tapered Headtube and built in carbon armour.
If you do end up selling your sled dog team to buy this bike just make sure you ride it hard! It's very tempting to hang it on the wall for all to see but we'd much rather see you land an epic tail whip before disappearing into the forest below.
SPECIALIZED S-WORKS DEMO 8
---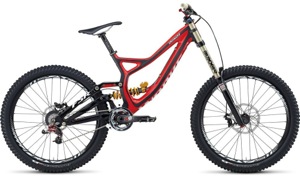 $8,500+
Everyone claims to have the fastest bike in their fleet including Specialized Bikes! We can only assume this bike is going to ride faster than what we can handle, and is therefore on our list.
The Specialized S-Works Demo 8 features a full carbon frame and the usual 200mm rear travel to keep you charging along. Specialized have spent thousands of hours labouring over their frame geometry on the S-Works, to create a bike designed to chew up the rough stuff at speed. Specialized has also paired up with Ohlins to create a patented 'twin tube' suspension design to separate the shock compression from it's rebound.
In a final push for the boundaries of performance Specialized have snuck in a set of Renthal Carbon handlebars to be just as strong and light as the bike.
KONA SUPREME OPERATOR
---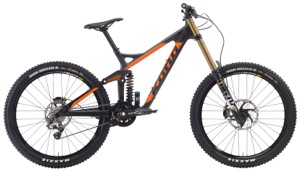 $8,000+
The name says it all - we just hope you're as ready as the bike. Kona have long been associated with the freeride and downhill scene and they've used their decades of experience to design this beast to be trail tuned.
Shimano componentry is featured throughout the Supreme Operator, with Saint hydraulic brakes, oversized 180mm / 205mm rotors, and a healthy dose of Race Face accessories. If you're planning on riding the chairlift to the top you can rest assured this bike will handle the rough treatment. A full alloy rear triangle adds to the strength of the bike as well as reducing the risk of rock damage or the like...
Kona also claim to use the same grade of carbon fibre as that which Formula One cars use as well as a speciality 'airbag moulding' system to create their frames. Instead of using alloy inserts to form the shape of the carbon, Kona use deflatable airbags to press the carbon moulding into shape. Once hardened, the airbags are removed leaving a pure carbon frame ready to huck your biggest canyon gap...
DEVINCI WILSON CARBON SL
---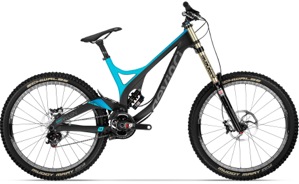 $7,000+
Pulled into the limelight by Steve Smith's Downhill World Cup domination, DeVinci bikes are making a very good name for themselves. Much like any downhill bike these rigs are built to take a pounding. Despite all the carbon bling you'd be hard pressed to put the Wilson carbon SL out of its comfort zone...
A full list of SRAM components will keep you shifting and braking in any weather. SRAM XO Trail shifters, brakes and derailleur are chosen to help keep the weight down, while the full carbon frame makes sure the bike is light and super stiff. DeVinci also feature their patented Split Pivot suspension system which is designed to absorb bumps faster and keep you railed through the corners... To add a signature finish to this bike Steve Smith designed handlebars from Truvativ are fitted, so you can hang on for dear life and hope for the best. You have life insurance, right?
YETI 303 WC
---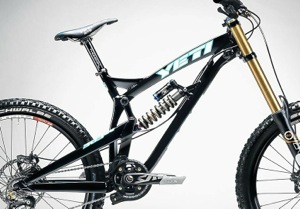 $6,000+
Yeti make some beautiful bikes and, in the opinion of bike gurus, possibly the best bikes in the world. A big call, but perfectly to scale for a bike like this. Along with a whopping 210mm of travel, this rig also features a full Shimano ensemble (on the model we had a glance over), with Shimano Saint brakes, rotors and cranks.
Yeti have paid huge attention to detail, with integrated frame bumpers built into the frame, as well as internal cable routing for the rear derailleur. Seemingly obvious, but frequently overlooked, the 303 WC also features an easily replaced rear dropout - easy enough to do yourself in the blink of an eye.
Lastly, a closer look at the frame geometry reveals a slightly lower standover height, creating a subsequently lower centre of gravity. This means faster corners, lower tucks and oh so awesome handling. You know you want one...
So there you have it, bikes beyond what most of us would consider. But with a little convincing, and perhaps a romantic dinner, you just might convince your bank manager to approve your loan application. Either that or you could sell your car. Whatever you choose to do, you know you've gotta get one of these!