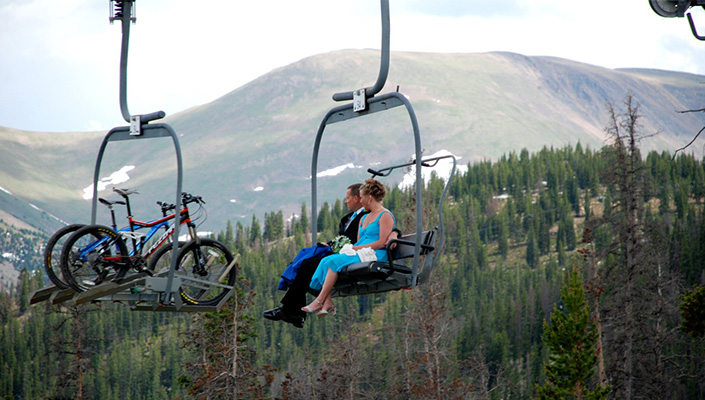 Winter Park, Colorado
Photo: Marine Dream Wordpress
Winter snow sports are great because anyone can have a bit of fun. You don't have to be a seasoned skier or boarder to hit the slopes and there are runs to suit every skill level. Luckily for you, summer is turning into much of the same, and in the same location as your recent winter adventures!
Mountain biking is taking over a ski resort near you, making full use of the winter playground, but in summer instead. The fantastic facilities used to carry snow bunnies up the mountain in winter are also used in summer to carry bikes and riders to the summit. What follows is 15-30 minutes of downhill riding, aptly called 'Downhill Mountain Biking'. Unfortunately for the family downhill enthusiast the media has warped the public opinion of the sport...
You have to be hard core? The media has helped develop downhill mountain biking by turning it into an extreme sport media sensation - and too right it is! Downhill is one crazy sport, especially at the highest levels. Where else would you see riders clearing 60 foot gap jumps, at 70km/h through the trees!? But it's not always like this, so read on and you'll find that downhill has a little spot for everyone, even you!
"Downhill has a little spot for everyone, even you!"
SKI LIFT TRAILS FOR EVERYONE!
---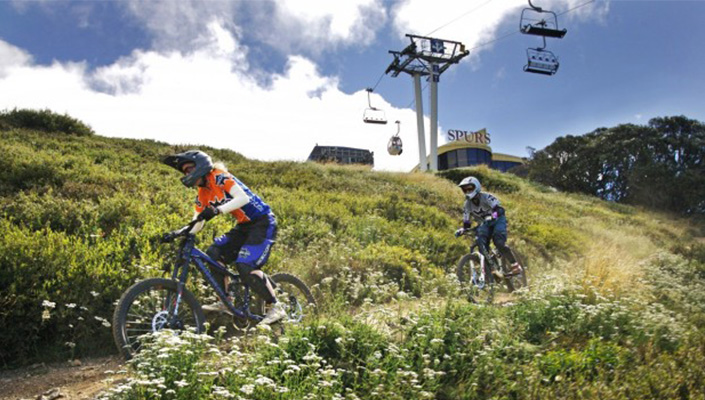 Mt Buller, Australia
Photo: Single Tracks
Mountain biking as a sport is growing at a rapid pace. Mountain resorts are starting to cash in on this around the world, (just check out places like Winter Park and Keystone in Colorado or Mt Buller in Australia), so their ski lifts are operating all year round providing access to the best trails you can possibly ride.
Just like winter playgrounds, all downhill trails are graded in numbers or in colours. So if you're just starting out, you're best off on the blue or green trails, before moving up to the more advanced levels. Basic trails will have features to help you develop your riding but in a much more user friendly setup. For instance, you may have small jumps on the track, but without any gap in between. This means you can roll over the jump at walking speed, or clear the whole thing like a pro. Whatever you're comfortable with!
SKILLS COACHES
---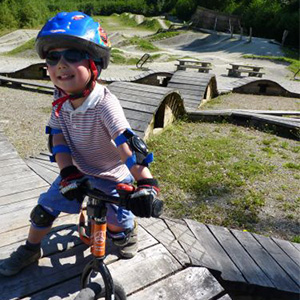 Bike shop in Pokhara Photo: Mommying-around Blogspot
Mountain bike parks are quickly developing into vibrant hubs of activity so you'll regularly see riding groups heading out with a coach. These riders may be experienced or even first timers like you. The coaching assists newcomers in handling the bike and learning what their own limits will allow them to achieve.
Some mountain bike parks have skills areas within them, allowing you to practice your skills in a smaller designated area. Learning to roll down things, drop off things, and ride around all manner of obstacles are important skills to master right from the start! Your coach can help you with all of this so make the most of it!
EQUIPMENT HIRE
---
You can't ride without a bike. Luckily for you, there are plenty of hire options available for yourself, and the whole family. Most downhill mountain bike trail hubs will feature a range of summer stores, from cafes through to clothing. Amongst it all, you'll no doubt find a hire shop for mountain bike equipment needs.
Similar to ski hire in winter, hiring a bike is usually a little cheaper for multiple days. The hire bikes available will often be some of the latest models - the benefit is that the bike will work like a sewing machine. A well maintained bike leads to a very enjoyable riding experience so try find somewhere with bikes that look well kept.
"A well maintained bike leads to a very enjoyable riding experience so try find somewhere with bikes that look well kept."
While you're there, try on some downhill clothing such as neck braces, helmets, gloves, knee pads, elbow pads, spine plates and goggles. It sounds extreme, but if snow was made from gravel, you'd be happy to oblige, right?
Having all the clothing on will up your confidence a little, knowing you are safer than before. Who knows, you might dress like that all the time...
ACCOMMODATION
---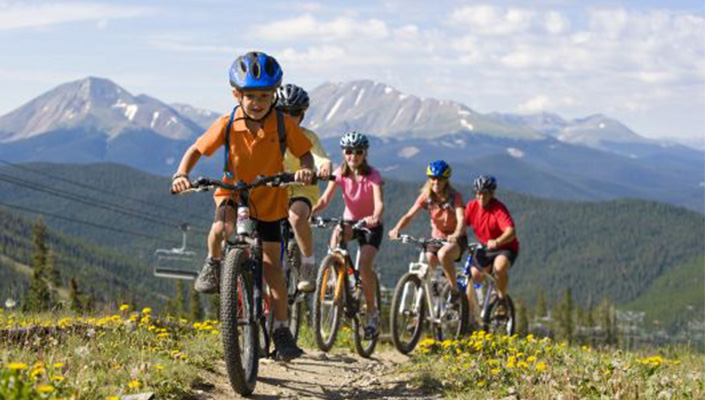 We did say the trails were for everyone!
Photo: Examiner
Trail hubs are located in some of the most stunning areas in the world. New Zealand, Australia, Canada, the US and Europe... and all in the mountains! Every single one of them.
Why not spend the night or three, and hire a bike for an extended time. By the third day you'll be railing those berms like a pro! It won't take much time to build your way up to some slightly more advanced trails and if you bite off more than you can chew then just take the 'B Line' to the bottom.
There is one risk associated with family mountain bike trips of any kind though, so pay attention.
You Will Be Back For More.
If this is the case, and your clan had an absolute blast, then enquire at the hire store if any of their demo bikes are for sale. You'll pick up a neat bike that you know has been maintained by professionals. It would also be worthwhile purchasing your own safety gear, so you're set to go exploring in locations that don't offer hire services.
If downhill mountain biking still sounds a bit much for you then don't feel left out in the cold. While your mates might be radical dudes, you might just enjoy hiring a cross country bike instead. This means you can ride anywhere, as opposed to just downhill trails. The bikes are lighter, better suited to varied terrain and are able to be ridden by anyone of any skill level.
There's a downhill trail waiting to be ridden though, so don't shy away until you've tried it...