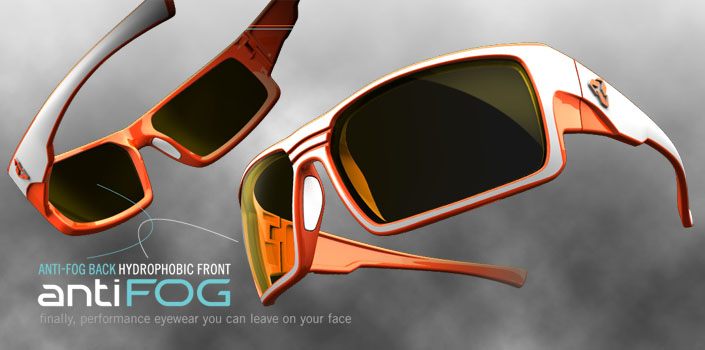 Every cyclist knows the importance of a good pair of shades; eye protection, visual clarity in changing light conditions, comfort, fit, and of course, style, are all important considerations when choosing eyewear for cycling. There is also the hit on the wallet to consider with a pair of performance sunglasses potentially costing you hundreds of dollars.
Finding a pair of sunnies which meets all these criteria can be difficult at best and eminently frustrating when it just doesn't work out.
We have been checking out a few styles from the Ryders photochromic range; namely the Caliber and Thorn. Here's how they went.

Ryders Eyewear 3-way Comparison: Caliber, Thorn (orange/white), Thorn (matte black)

Features
---
Both the Caliber and Thorn models feature photochromic technology. It's nothing new, but to those unfamiliar, in its simplest sense the lens automatically adjusts to light conditions without you having to change glasses. So depending on UV conditions, the lens will adjust from a VLT (Visual Light Transmission) of 76%-27% on the Thorn and 46%-19% on the Caliber. (VLT varies according to the lens used in each particular model.)
In addition, each lens features an antifog treatment on its inner surface and a hydrophobic treatment on the outer surface. This is designed to limit the lens fogging up from you sweating away during a solid ride and the outer surface to help water run-off upon immediate contact.
Ryders Eyewear anti-fog lens test
The frames are both made from TR90 Switzerland, a plastic specifically designed to be light, flexible, and strong. All this information is easy to find on the company's website (www.ryderseyewear.com) where they outline the huge range of available lens types and features.
Test Ride
---
The Thorn and Caliber are two very different styles of eyewear. Although both are practical for cycling generally, I would think the Thorn would be more a mountain biker's style, while a roadie would perhaps prefer the Caliber (unless they ride for Garmin Cannondale where all the rules of eyewear style have been broken!)
We have been riding with both styles for the last couple of weeks in bright daylight, late afternoon and morning shadow, on the road, and also mountain biking trails.
Caliber
---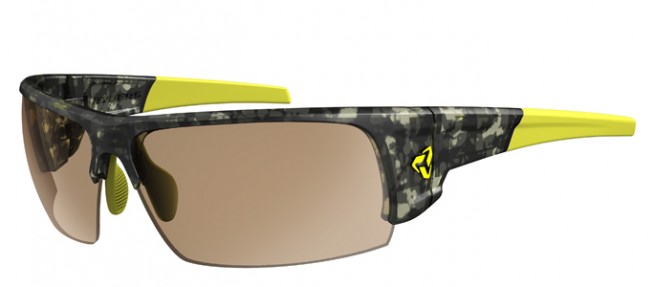 The visual performance of the Caliber lens is superb. I was impressed that such an affordable pair of sunnies, with significantly large lens area, suffered from no discernible distortions across the entire lens surface. I found myself forgetting that I was wearing them a few times initially, such is the clarity and obstruction-less field of view. This large lens area also gave a feeling of confidence that nothing could possibly make its way past and into my eye!
Although the Caliber would clearly suit a larger face (which mine isn't), I never had any issues with fit or slippage and never had to adjust them at all on the fly. The nose rubbers seem grippy enough and are comfortable even after a solid four hour ride. The temple tips fit well under my helmet shell and felt secure.
The Caliber's photochromic lens, with a VLT of 46%-19%, means these lenses are designed for brighter days, so basically a better option for spring and summer riding or when the sky is blue and sunny. That being said, my rides have also taken in the long shadows of an autumn afternoon during which I never felt the need to remove the glasses because of darkening vision. The lens cuts down the blue hues which results in a slight yellowy tint with greater contrast.
Photochromic adjustment is noticeable, especially when riding in and out of shadows on an otherwise clear day. The lens adjusted well to the variations, meaning vision in low light conditions remained uncompromised even though the lens had darkened substantially after exposure to sunlight. Riding into direct sun had the lens struggling a little, it managed to cope with glare fairly rapidly but there was an odd moment where I could have used a little more darkening... but this is only a minor criticism.
Thorn
---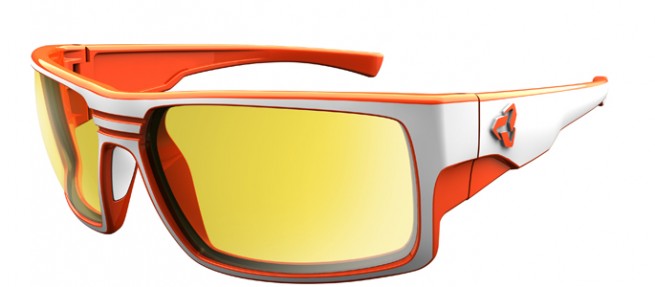 As mentioned, the Thorn is a completely different style of eyewear. The frame is standout funky and retro in the orange/white, and stealth in the black. These sunnies are also quite wide fitting and would probably suit those with a larger face, and although I didn't have any issues with fit, they do look a little big on me in a "funky geek" sort of way. They inspire me to sing U2 songs in front of the mirror.
Lens quality is equally impressive as on the Caliber, but the photochromic light transmission range (VLT 76%-27%) is more suited to dimmer lighting conditions - perhaps like what you would find on trails under trees or at either end of the day. These lenses have quite a pronounced and noticeably bright, yellow tint, meaning the lens is cutting out a lot of blue hues and greatly increasing contrast; perfect for mountain biking.
I found this enhancement oddly uplifting. This lens would have difficulty adapting to very bright sunlight, but for all low light variations they were superb.
I did find the lack of dedicated nose pads or soft temple tips made the Thorn a little uncomfortable on longer rides. A quick hour or so on the MTB, no worries, but if endurance is your thing then you might want to choose comfort rather than funky awesomeness as the standout feature.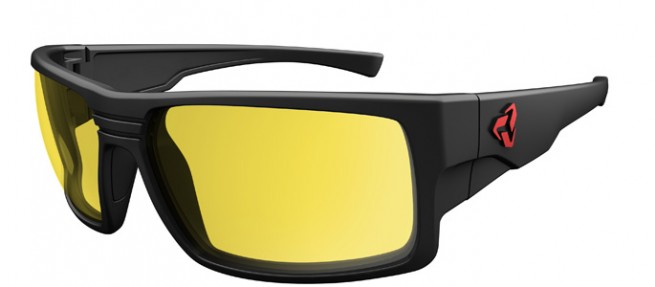 Both these sunglass models are available in a large range of light transmission levels, replaceable lenses, and polarization. So, if you like the fit you can really get whatever type of lens is most suited to your riding.
Conclusion
---
These are both great pieces of eye wear that feel better quality than the price tag may suggest. Actually, one of the truly standout features is how little these sunnies both cost; you could have several pairs for the cost of one from other high-end brands, and the performance differences are pretty negligible. And no tears if you scratch, lose or run over them.
The photochromic performance is good enough that you forget it is functioning as you ride in and out of shadows into bright sunlight, making both the Thorn and Caliber great replacements for needing multiple lenses.
Sure, night riding still requires a clear lens and you would want a dedicated pair of shades if you are riding across the desert, but for practically everything else these Ryders sunnies are top notch.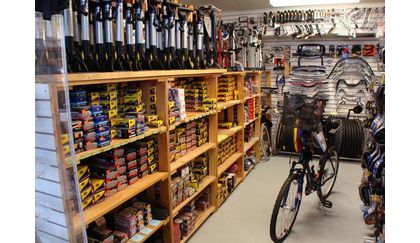 Cycling is a beautiful sport. It can also be quite expensive to get started. Apart from the initial purchase of a bike, there is a fairly hefty list of equipment and accessories that are necessary before jumping on your new wheels and taking off. We have created a list of essentials for every road cyclist to be perfectly equipped for the sport...
READ MORE