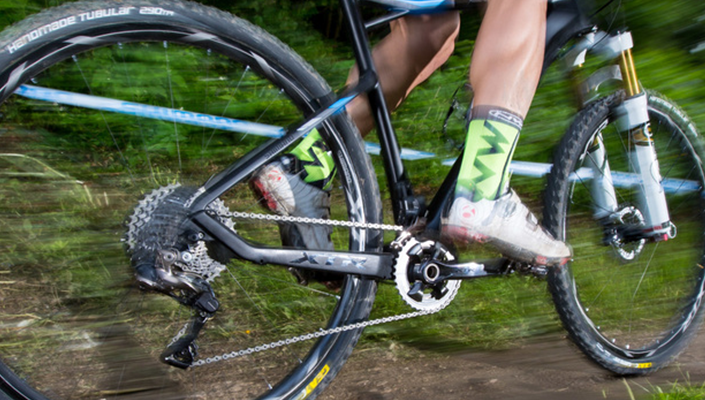 XTR Di2 being put through it's paces
Image: www.bike-magazin.de
The digital age has been upon us for well over a decade, with smartphones and social media ruling the roost. But we've always held onto the simple things as our last link to 'old times' and the comfort of the familiar; we still have a letter box on the street, we still stick a shopping list on the fridge, and we still use mechanical shifting on our mountain bikes.
But is that all about to change...
The digital age is now on your bike too - Shimano have led the charge with Dura Ace and Ultegra road groupsets. With the lessons they've learnt Shimano have now taken that technology to the dirt by fitting elite mountain bikes with electronic shifting. Currently only available at the highest levels of the market, it won't be long before a more affordable option arises.
If you're wondering if this is all a good thing then please read the following five reasons why you must get (or at the very least try) the new Shimano XTR electronic groupset.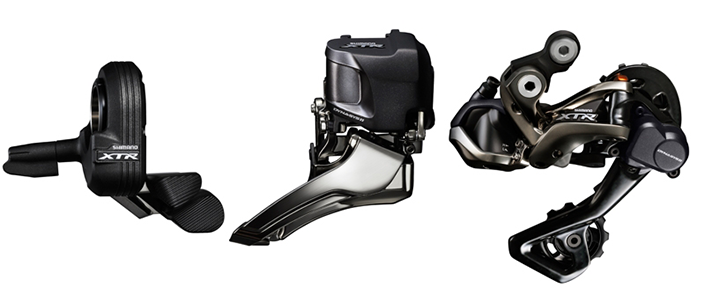 The line up...
1. THE COOL FACTOR
---
If money is no object, read on! Having electronic shifting is just the coolest of cools. You'll be playing with a toy that not many kids have even seen, let alone used. The recently released Shimano XTR Electronic has an extremely refined look, unlike the first road electronic units.
Also consider this: The new XTR is the best groupset currently available for mountain biking. This is the leader in a unique category (haha!) and simply performs better than any previous mechanical incarnation. Sure you pay for the privilege...but this is the absolute best there is at the moment. What more do you need to know?
2. PERFORMANCE
---
The claimed performance of this technology is second to none. Very similar to the road units, the Shimano XTR Electronic features a drive system that works regardless of resistance. In other words; the motor won't stop shifting gears until the gear is engaged. To ensure this system works regardless of conditions Shimano have increased the strength of the drive motor in both derailleurs to be 50% stronger than the road counterparts. This means the gearing will work flawlessly in muddy and clay laden conditions - the two biggest killers of mechanical shifting.
3. LIFESPAN
---
Mechanical parts are always prone to failure through use, so much so that they are designed to fail and be replaced easily. Items such as cables, brake lines, rotors, brake pads, bearings and grips are consumables. The beauty of an electronic system is that it is completely sealed. An electronic wire transmits instructions to a motor within the derailleur body itself - no dirt clogging cables, and certainly no frayed cables mid-race. The electronic shifting systems will last longer and have far more consistent performance levels.
4. CUSTOMIZABLE
---
Those who have used Shimano Dura Ace and Ultegra Di2 Electronic systems already know about a program called 'Etube'. The Shimano Etube program allows you to hook your bike up to the computer and customize how the system works. For example: you can select to have the gears keep changing until you release the lever, or have a constant press on the lever cause a 3 gear downshift... whatever you want. The same now applies to the Shimano XTR system which offers all these features and more.

NOTE: We were originally sceptical about the road electronic systems when they first appeared, but after using Ultegra Di2 for a very short time we were hooked. This is the way things are going, so jump on board. It is fun plugging a bike into a laptop and updating firmware, running diagnostics and customizing the gear shift protocols.
5. INTEGRATED CONNECTIVITY
---
There are other bike components that are drifting towards electronic integration. A recent development is Fox suspension with iCD suspension forks that are locked out and only activated when an impact is detected - we're talking 100'ths of a second here! Again, the settings on these forks are highly customizable. Shimano have ensured that their LCD display on XTR is also capable of displaying settings and feedback from the Fox forks. This means you can see things such as battery levels, suspension settings, faults and potentially other pieces of information in the future (Strava segments on the same screen?)
As you can see it's a huge development in the industry. We have listed only positive things here, but it must be said that self-proclaimed mountain bike purists are losing sleep over this. Some say that electronic performance does not belong in the cycling world as it removes the mechanical simplicity and beauty of the more basic systems. These concerns are found alongside the road bike disc brake debate, filed just before the 650b wheel size issue.
At the end of the day if you want to huck trails with mates and keep it real then why not stick to mechanical shifting? Alternatively if you want cutting edge performance, flawless shifting and that X factor on your bike... then electronic shifting is for you!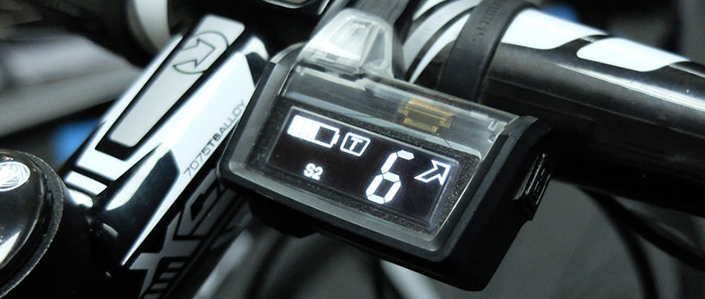 The cockpit
image: singletrackworld.com