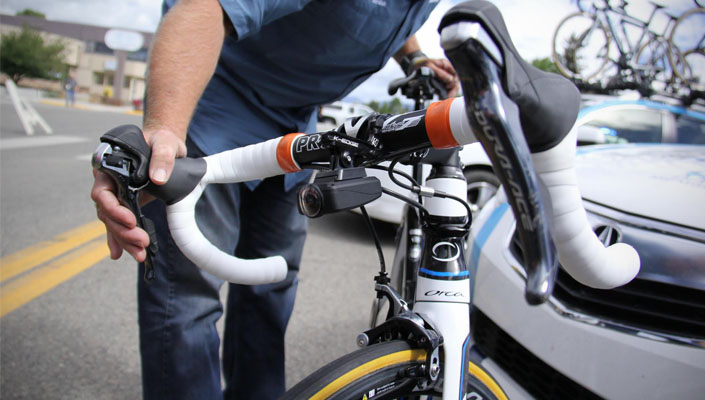 Shimano camera being used at the 2015 Amgen Tour of California.

SYDNEY—The world has been fascinated with moving pictures since American inventor Thomas Edison developed the motion picture camera in the late 1800s. The fascination of capturing movement has never waned and with the advent of micro low-cost, high definition digital cameras the practical uses are almost limitless especially in the world of sport.
Self-mounted cameras have been around since the 1970s, but it was not until the World League of American Football made the term 'helmet cam' all the rage. These tiny 'lipstick' cameras, costing $20,000, opened the door to on-field action like never before. Now priced around $500, almost anyone with a love of POV (point of view) and a YouTube account can become an instant content producer.
Sports like baseball, basketball, golf, equestrian, and crossfit have all been early adopters regarding the use of personal video capture and analysis technology, but could professional cycling be far behind?
In April 2014, prior to the start of the Amgen Tour of California, the Union Cycliste International (UCI) made an exception by approving the use of Shimano Sports cameras - UCI president Brian Cookson said the future of pro cycling coverage could include footage taken by bike-mounted cameras to give both fans of the sport and team sports directors an "unprecedented" view from inside the peloton.
That same month, while speaking to international attendees of the SportsAccord convention in Belek, Turkey, Cookson said: "One of the biggest challenges - not just for cycling, but for many sports - is the need to evolve while staying true to the essence of your sport. How do you progress and embrace innovation in order to make the spectator and viewer feel even more engaged?"
The benefits to cycling aficionados and television viewers is obvious in terms of bike-level viewing, but just what does that up-close and personal access do for the teams?
At Team Novo Nordisk, the world's first all-diabetes pro cycling team, the use of Shimano on-board cameras is primarily used for marketing to its massive 1.2 million-member Facebook community - the largest of any pro team.
"Our fans are a huge part of this team and they always love an inside look at a race," said the US-registered Pro Continental general manager and former pro Vassili Davidenko. "We have only begun to use on-board cameras and are really excited about all of the ways we can use them, from fan interaction to coaching and strategy.
"The team uses Shimano on-board cameras and the riders and the staff really like these cameras because they are so light and easy to use," he told BikeRoar.
"Shimano took a lot of time to design these cameras and took into consideration size, weight, and operation. They don't add much weight or impact the handling of the bike, two very essential things when it comes to bike racing."
Australian-registered Pro-Conti squad Drapac Pro Cycling sports director Tom Southam tells BikeRoar his team's approach is more strategic-influenced.
"We are using GoPro at Tour of California and they are providing good insight for us into the dynamic of the race from a different angle," said Southam. "We are using the footage to analyze position and strategy of course.
"That being said, the clips are proving to be of value for marketing in the sense that the public can see truly what it is like to be in a sprint finish."
This past April, the UCI submitted a formal letter to team managers from cycling's world governing body informing them of a new ruling dictating that on-board cameras can now only be fixed to bikes, and that the governing body wishes to start a debate with team managers in regard to potential new conditions for the use of onboard cameras.
All cycling disciplines governed by the UCI now must adhere that the use of onboard cameras is to be "solely authorized on bicycles" and that cameras mounted to helmets or any other part of a rider's body is strictly prohibited due to safety concerns.
That same week, eight WorldTour teams used bike-mounted cameras at the Tour of Flanders, including Cannondale-Garmin, Giant-Alpecin, Lotto Soudal, Lampre-Merida, Orica-GreenEdge, Team Sky, Trek Factory Racing, and Tinkoff-Saxo. Only Cannondale-Garmin used camera equipment other than Shimano, opting for its naming co-sponsors Garmin Virb instead.
According to reports, at least one bike per team was equipped with forward-facing cameras while some had a second bike featuring a rear-mounted device attached under the saddle.
As far as what's next, Cookson left nothing to the imagination to SportsAccord participants last year.
"We will look at technology such as cameras on bikes and in team cars to see how they can be used to enhance the viewer experience... and why stop at cameras," he stated. "What about having microphones on bikes or sharing rider data on screen."
Video shows an example of the professional use of on-board cameras. In this case it is Orica Greenedge at the Giro d'Italia stage 1 team time trial. Views from the bike are useful for studying position and tactics from within the race itself.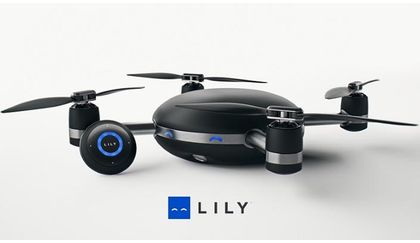 Lily is "the world's first throw-and-shoot camera" - a feature-rich smart drone that follows its owner to capture high-quality cinematic aerial video and photos. It's the next level (or two!) of action video and technology.
No complex controller or piloting here: Lily's website says, "No setup required. Just throw Lily in the air to start a new video. It's that simple..."
READ MORE