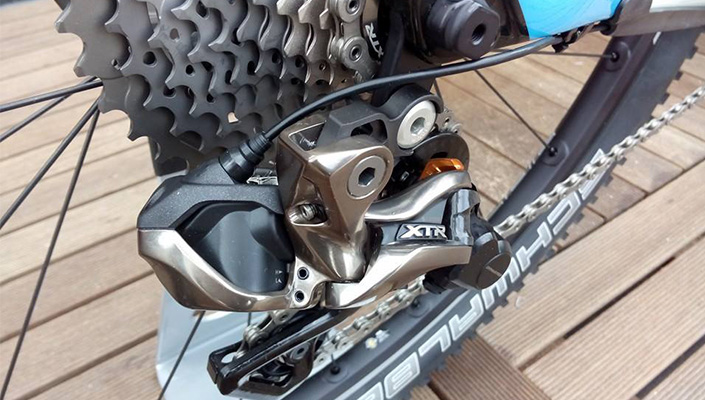 Shimano has never been a company that jumps out of the blocks with much fan fair and fireworks when they present a new technology or product. Typically they take their time to get it right with rigorous testing and design procedures to make certain the product is as reliable and practical as possible when it finally reaches the market.
A case in point is the steady progression of electronic shifting. It is over five years since the Di2 electronic road groupset was released, and in that time it has changed quite a bit, but has always been flawless in operation (well as flawless as any bike gear shifting device has ever been!) In that time Shimano has also been steadily working on a mountain bike version, which it has finally revealed.
As testament to Shimano's rigorous procedures the M9050 system has been tested over 12,000 trail miles in every conceivable condition.
"We spent a lot of time working on it...The tech is hidden and everything is as low profile as possible to protect it during all types of riding."

- says Matt Robertson, mountain bike product manager at Shimano.
Synchronized Shift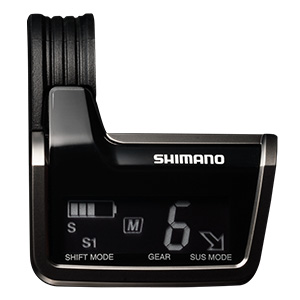 We thought the auto trim feature on the road Di2 was cool, well XTR Di2 takes this a step further with a dual mode shifting feature or; one hand double the pleasure! The XTR front derailleur doesn't just trim: When "Synchronized Shift" mode is chosen both derailleurs are operated simultaneously with a single shifter. The system communicates with the front derailleur on what the rear derailleur is doing and can be programmed to respond based on a riders specifications, trail conditions and riding style. There is an audible signal activated when the front derailleur is about to shift.
Much like auto trim, this system guarantees an optimal chain line and accurate chain position in every gear. Riders can program their custom shifting profile with the supplied Di2 software and with a smart phone! A cockpit display shows battery life and gear position and from here you can switch between auto and manual modes (you can use two shift levers if you want). Although it is hard to know the exact weight it has been reported that running in the one shifter mode the system comes out close to the standard mechanical XTR with two shift pods.
Unlike the road version- which is simply pressing a button- the new XTR Di2 Firebolt shifter requires a slight push like on traditional shifters, although the stroke is very short and basically effortless.
"We designed it this way because it matches natural hand movement...The system only needs a click of a button to shift, so the stroke isn't necessary, but it just feels better."

- Shimano America
The rear derailleur is compatible with 1x, 2x and 3x drivetrains and has been designed with a low profile to avoid damage on the trail. Shimano have much experience with these designs after releasing the "shadow" derailleurs many years ago.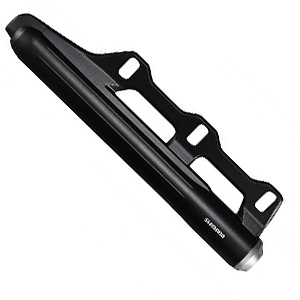 Similarly to road Di2, the wiring can be run internally and is designed to be resistant to all weather conditions. The overall setup runs wires from the shifting pods to a junction box/battery mounted on the inside or outside of the frame. The battery mount uses a standard bidon cage point and is low profile, similar to many mini pumps now available. Internal mounting is available on some bikes as well.
Lastly, with Fox using Shimano's e-tube wring and battery system expect full integration of electrical mountain bike components very soon.
Pricing has yet to be revealed but expect to pay over and above standard XTR in a similar way to Di2 over Dura-Ace (about 40%).