Photo: Niner RIP 9
The 29er trail bike category is as vast and deep as the deep blue sea, so how is one able to get a head (or a boat to follow the analogy) around it? One bit at a time is the only viable answer.
These 29" wheel trail bikes are all very similar in capabilities. There are differences of course, mainly being whether the bike is designed to hammer descents with a slack head angle and plush suspension, or if it is a bit more sprightly and tight for good climbing and singletrack manoeuvrability. Same, same, but different.
Anyway, choose your weapon.
FELT Virtue Nine 50
---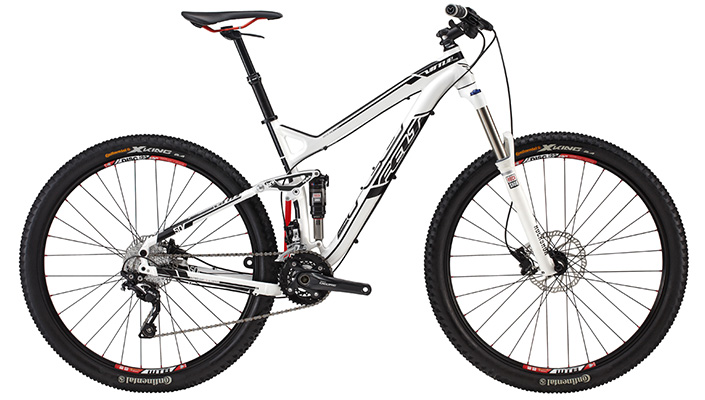 Like most others Felt has abandoned using 26" wheels on its Virtue trail platform and completely redesigned it as a 29er. Well, I say completely, but still present is their Equilink suspension design that allows premium trail performance and top of its class pedalling efficiency.
Felt bikes have that top shelf look across the range that is the result of much time spent designing and perfecting the frame and its geometry. Although designed around 130mm travel, the Felt Virtue Nine 50 is a sharp bike closer to the XC trail spectrum than bigger travel and slacker all mountain types. In fact you could ride this 29er in a 24hr race and not look out of place such is the quality and precision of the ride, yet open it up on a good descent and it will hold its own as well.
Typical to most of these bikes the drivetrain is mid-range with Deore/SLX and Rock Shox suspension - reliable performers without standing out. It is nice that Felt have managed to squeeze in a dropper post; the only bike here to manage that and is perfectly suited to the Virtue's target audience of trail riders.
A great bike if you want to get a ride that does a lot of things well.
PROS
A real jack of all trades
Felt quality and detail
Dropper post
CONS
Maybe a bit XC for many trail riders
Some component compromises resulting from price.
NINER RIP 9 (1 star)
---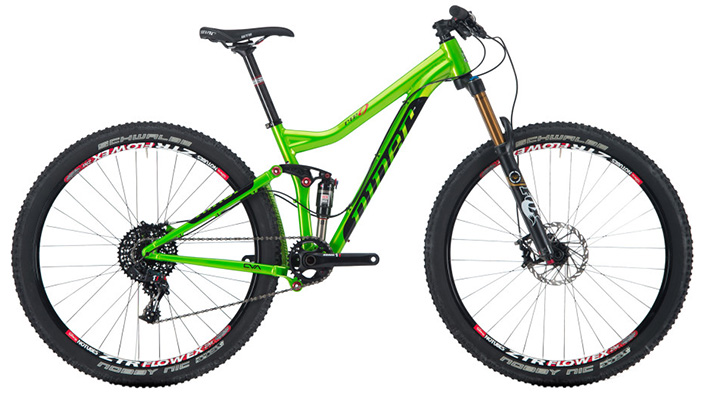 When listing some of the best 29ers available it would be rude not to include a company that put all its eggs in the 29er basket before the platform had really become the dominant force it is today. Sure 27.5" wheels are picking up their share of the market but Niner have always stood by their belief that 26" is dead and that bigger wheels will become standard.
The Niner RIP 9 was a genre defining bike when released many years ago and today continues the tradition of being a standout 29" trail bike. This is the 1 star version, meaning it sits at the entry-level and for $3000 represents an affordable option for anybody to throw a leg over.
The alloy frame is stiff and light and affords the same all-round performance of its more expensive siblings. A Niner is a bike you want to be seen riding, it exudes a sense of classiness and style that is totally backed up by its trail handling abilities.
Components here are a standard fare of SRAM X7 and the like, with Rock Shox fork and shock which are an indication of the entry level aspirations of the 1 star setup. My criticisms are probably personal, (I think Racing Ralphs offer unreliable grip when you're really hitting it hard), and the Elixir 1 brakes could probably use an upgrade. On a 125mm travel trail bike it would be nice to see a dropper post, but at this price point on this quality frame I could live without it.
If you're after a quality trail bike with a top shelf frame, yet an affordable price this is an awesome choice.
PROS
Level of quality and attention to detail
Pure trail riding dynamics
The frame is the heart of every bike
CONS
Tires
Some components could be upgraded to truly get the most out of this bike
ORBEA Occam 29 H30
---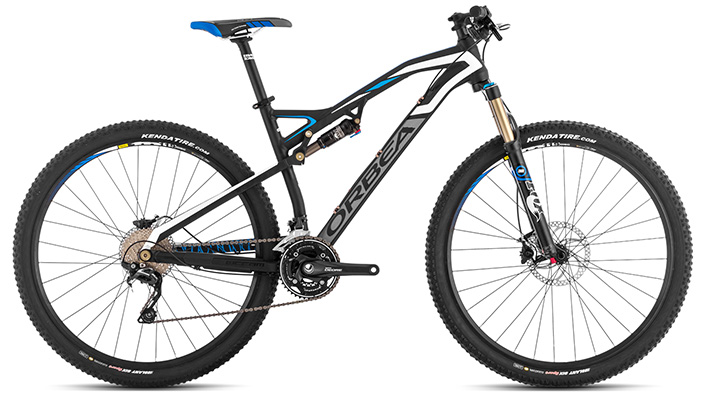 I love Orbea bikes. Every frame has a unique although idiosyncratic Orbea square edged look that is beautiful to behold. Similar to many European trail bike designs the Occam probably sits a bit closer to XC than trail. This is a super light alloy bike with 120mm travel, very short chainstays and 29" wheels; a nice recipe for some fast flying singletrack missions.
The steeper angles mean the Orbea Occam 29 could be more of a handful when descending, but for trail speed and sharp handling the bike is hard to beat. The frame uses a concentric pivot at the rear dropout as seen on Trek, DaVinci and others and allows the suspension to remain active under braking.
The H30 is the entry level version, yet even so it is still a light bike. Components are a typical Shimano drivetrain mix of Deore/SLX and Fox suspension. A fun yet sharp trail bike with racing aspirations.
PROS
Light weight
Concentric rear pivot suspension
Great looks!
CONS
Not as relaxed as a typical trail bike
AVANTI Coppermine 2
---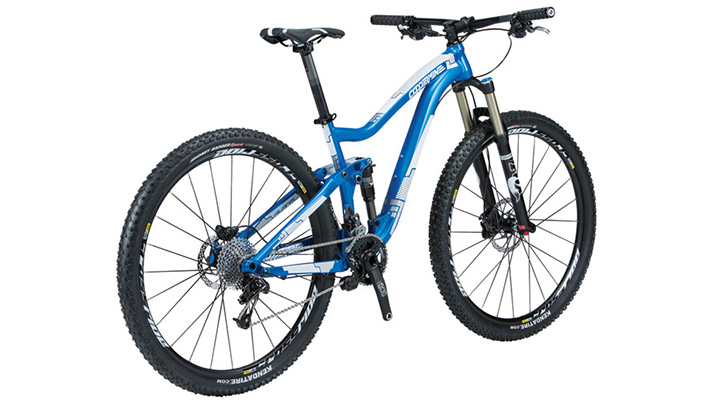 Avanti have always relished being a small bike company from New Zealand. Their size allows them to respond quickly to the constantly changing landscape that is the modern mountain biking market especially recently with a whole swagger of new technologies coming on board. Avanti bikes are designed, tested and ridden on trails in New Zealand before becoming available in your local bike shop.
The Avanti Coppermine 2 uses what Avanti calls the "Tru4-Bar" suspension which in reality is exactly what it says; a true 4-bar setup with a Horst link on the chainstay in front of the rear drop-out. As is the case with most of these designs, the Coppermine is super plush and capable of being ridden hard over any terrain. Expect the bike to soak up a good solid downhill run with ease. The downside is probably the compromise when climbing which is also not helped by a fairly slack head angle; there may be more suspension movement than is optimal when pedaling, but descent is the forte here.
A great collection of components including the SRAM drivetrain, Mavic wheels and a E-Thirteen TRS Dual Guide which is a big hint to what they envisaged when designing this bike. The only criticism is the lack of a dropper post, but otherwise this is a top trail bike.
PROS
Plush 4-bar suspension
Rigid frame linkages
Standard chain device
CONS
Climbing ability
Lack of dropper post