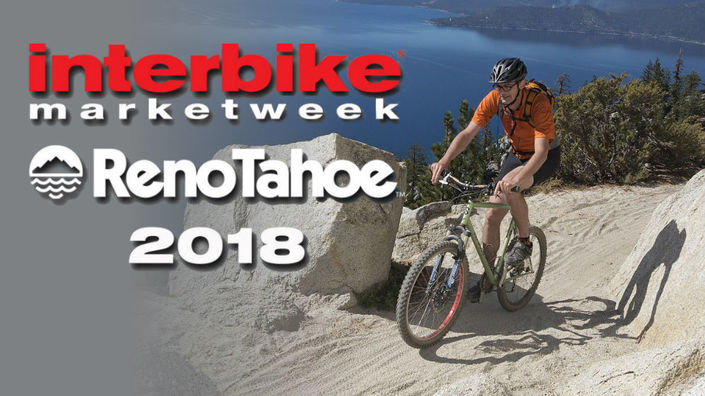 Interbike refreshes format and commits to Reno-Tahoe area for five years.
After surveying exhibitors and attendees about new show locations, Interbike sent out a request for proposals to 15 cities. The list was narrowed to five, including Anaheim, Denver, Las Vegas, and Salt Lake City, and today Interbike announced it would take its show to the Reno-Tahoe area starting in 2018 and committed through 2022.
Following is a majority of the press release, with a link to the full press release at the end.
---
Interbike, the Largest U.S. Bicycle Industry Trade Show Chooses Reno-Tahoe for New Home Beginning September 2018 and Announces Launch of Interbike Marketweek
---
Interbike Marketweek will Start with World-Class Consumer Cycling Festival followed by OutDoor Demo and Culminate in Trade Show with Morning Education, New Show Hours and Mid-Week Day Pattern
SAN JUAN CAPISTRANO, Calif. – August 3, 2017 - America's leading cycling trade show – Interbike – is pleased to announce it has selected Reno-Tahoe as the new home for the Interbike trade show and the site of the newly-created Interbike Marketweek. Interbike Marketweek will begin with a weekend consumer festival at epic Northstar California Resort, will segue into the trade-focused OutDoor Demo, also at Northstar, and transition to the Interbike trade show at the Reno-Sparks Convention Center beginning in 2018 and continuing through 2022.
"We're extremely excited about this move for a multitude of reasons," said Pat Hus, Vice President of Interbike. "For the first time in a very long time, we've been able to hit the reset button on Interbike and OutDoor Demo and give the industry something new and fresh that we couldn't do in our previous locations. With the support and investment from the city of Reno we are going to be able to truly create a one-of-a-kind, week-long celebration and experience around cycling. We also recognize that this is a critical time in our industry and that we need to provide a more cost-effective approach to exhibiting at the show, and we are now able to provide that."
Interbike, which is part of Emerald Expositions, remains at the Mandalay Bay Convention Center in 2017 with the OutDoor Demo in Boulder City, NV.
"Las Vegas has been a great home and we appreciate their partnership over the years," said Hus. "However, Reno-Tahoe gives us an unmatched blend of world-class venue for a consumer festival and the OutDoor Demo, state of the art convention center, fantastic hotel choices, robust nightlife and a more intimate environment of welcome and celebration. Cycling will be the center of attention for the Reno-Tahoe area for the entire week. The Reno-Tahoe experience will be personable, affordable and picturesque for all attendees."
Interbike Marketweek 2018: New Format, Days, Times
The Interbike Marketweek 2018 experience will begin with a consumer festival on Saturday, September 15th, at the Northstar California Resort, located near Lake Tahoe in the Sierra Nevada mountain range. Northstar is home to Northern California's largest bike park with countless downhill runs, cross country trails and is accessible by gondola and chair lifts, offering an epic experience for consumers to test products from the most innovative brands in the bicycle industry. The area also boasts some of the most inspiring road rides in the world and has played host to a number of major events including the Tour of California. Racing, music, craft beer and more are planned for the two-day festival. The consumer demo will continue Sunday, September 16th through mid-day, but will transition to OutDoor Demo that afternoon and will be open only to the trade after 2 pm. OutDoor Demo will continue Monday, September 17th and will run from 8 am to 6 pm with free gondola access to all attendees.
Interbike Trade Show Opens Tuesday, September 18, 2018
Following the demo experience, the Interbike International Trade Show will take place from Tuesday, September 18th through Thursday September 20th at the Reno-Sparks Convention Center (RSCC) just south of downtown Reno. The new Tuesday through Thursday format will allow retailers and exhibitors to travel home in time for the weekend. Expo hours on Tuesday and Wednesday will be 10 am-6 pm, with Thursday being 10 am-4 pm.
The new hours will allow attendees to take part in educational content before the show opens, lessening conflict with valuable time on the show floor. Interbike will be making significant additional investments in education both in morning sessions and on the trade show floor itself. All meeting room space is adjacent to the main halls which will make participation even easier.
Lower Costs for Exhibitors
Interbike is also announcing attractive pricing for all participating exhibitors in the 2017 show or demo as part of the change in location. All 2017 exhibitors will be able to book booth space on site for the 2018 show and lock in at the lowest possible rate. Companies not currently contracted at the 2017 show can also access the lower 2018 rates by securing booth space or by participating in other ancillary opportunities. Those exhibitors that have booths at this year's event will also receive priority on booth placement at the Reno-Tahoe event in 2018. More details are available by contacting Andria Klinger at Andria.klinger@interbike.com or (949) 226-5745.
The Reno-Sparks Convention Center is a Non-Union Facility
This means exhibitors will enjoy more permissive hand-carry options and less restrictive booth setup labor rules. This will allow for more flexibility and increased cost savings to exhibitors. In addition to these cost savings, exhibitors and attendees will experience reduced travel, dining and entertainment costs.
Key Reasons for Reno-Tahoe Selection
There were several major factors that contributed to the decision to move Interbike and OutDoor Demo to the Reno-Tahoe area, including:
Hospitality

: The move to Reno-Tahoe will enable Interbike to have a much greater financial impact on the area as a whole, and attendees will experience an increased amount of undivided attention from hotels, restaurants, music venues and the community at large.

Changes & Improvements

: Historically known as the "Biggest Little City in the World," Reno-Tahoe has transformed over the years from its focus on gaming to becoming a growing tech hub, attracting companies such as Tesla, Amazon, Google, Apple and more. Additionally, with its proximity to Lake Tahoe, the city has positioned itself as a leading recreation destination city with brands like the cycling industries' own Quality Bicycle Products (QBP), Bicycle Technologies International (BTI) and Hawley-Lambert taking residence with distribution centers.

Affordability

: Reno-Tahoe has a broad spectrum of hotel choices with a wide range of brands at very affordable rates. Food and beverage costs are lower than what our attendees have been accustomed to.

Ideal Weather

: Average temperature in Reno during the month of September is generally in the low 80's during the day, and dropping into the 60's making for pleasant evenings and making demo experiences much more ideal and comfortable. An outdoor test track will be constructed next to the convention center and will be augmented by outdoor dining opportunities with an emphasis on healthy food options.
Air travel will be top-of-mind for Interbike attendees, and while the Reno-Tahoe International Airport is smaller than Las Vegas, travelers will be surprised with the growth in airlift in recent years. The airport has a number of nonstop flights from major U.S. cities including Atlanta, Houston, Dallas, New York, Chicago, Los Angeles, San Francisco and Denver as a result of the region's tech industry boom.
"Reno-Tahoe International Airport is overjoyed to provide the air service for Interbike attendees when they roll into our region," said Marily Mora, President/CEO of Reno-Tahoe International Airport. "In addition to offering service on nine airlines, the Airport team is looking forward to making a great first and last impression on Interbike attendees as they arrive and depart this region we are so proud to call home."
Hus indicated that the move gives Interbike a clean slate and a chance to reset, as it adapts to changes in the industry. "As industries evolve and change, so must the annual gathering of our tribe – and after listening to suggestions from both retailers and exhibitors, the move to Reno-Tahoe gives us the perfect opportunity to bring a new overall experience to our attendees," added Hus. "We will be working closely with the city to provide complimentary shuttles running from the airport to the hotels in our block and to and from the convention center on a convenient schedule. We are also working with the city and planning a downtown criterium and celebration for opening night, complete with live music, racing under the lights, food trucks and much more."
Lastly, Interbike will continue to grow and expand its retail educational content with focus on key speakers and presenters before the show opens each day at 10 am. With the increased attention on this aspect of the show, show organizers have put The IBD Summit on hiatus until further notice. Interbike will work to bring IBD Summit-level content to the show in Reno-Tahoe, continuing its track record of bringing high-level speakers to its events.
---
Read Interbike's full press release [PDF] here.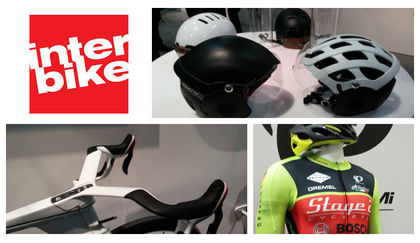 Interbike is upon us once again and the
BikeRoar
team is on the floor checking out all the newest products. Here's a look at some of the great things we're seeing at the show...
READ MORE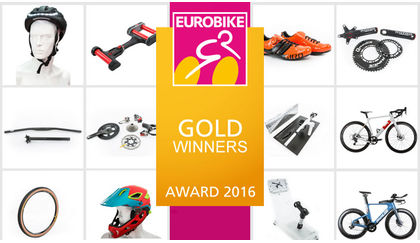 Eurobike is where manufacturers showcase their newest cycling related products to the world. A panel of judges bestows a Gold Award to a select few for their innovation and ingenuity...
READ MORE