Photo: Eric Benjamin, AdventureMonkey.com
Getting ready to head out on a gravel grinder ride? Here is part 2 of our gravel grinder series.
SEE ALSO: What is a Gravel Grinder? (Part 1)
Make sure your bike is set up to handle the terrain. Here are some ways to convert your road or mountain bike into a gravel grinder.
---
TIRES
First, consider the type of road you'll be riding. Most gravel grinding is done on gritty country roads. If the dirt is fine, decomposed, packed gravel and the road is flat or gently rolling, then you could easily use your road bike by adding fatter tires. Choose a tire that is at least 25mm wide that can clear the fork. If a 28mm fits, that's even better because the fatter tire will provide more comfort and stability. When you put the new tire on, adjust the brakes to make sure that the wheel spins smoothly without rubbing. Carry extra tires, a pump and patch kit in case you get a flat.
Jay Thomas won last year's 150-mile Gravel Worlds in Lincoln, Nebraska - the unofficial world championships of gravel grinding - while racing on his road bike.
"Gravel roads are wonderfully manicured in Nebraska, and the riders are handsome and strong with beautiful mustaches and nirvana of gravel. Down here the gravel in Kansas would eat those bikes alive."

- Dan Hughes, four-time winner of the Dirty Kanza 200, one of the most popular gravel grinder races in the U.S.

Mountain bikes are stable and can handle almost any kind of dirt. They may not be as fast as a road bike on hard pack, but with a few adjustments, your MTB can become a trusted gravel grinder.
No need for big knobby tires. Find a low-profile tread that provides grip on loose gravel.
"We call that a file tread," said Aaron Apel, owner and service manager of Big Poppi Bicycle Company in Manhattan, Kansas, the heartland of gravel grinding.
Apel was pro-wrench for this year's DK200. He recommends using mountain bike tires sized 1.8 to 2.0" wide.
"You're looking for a thinner mountain bike tire, but you still want some volume to take the edge off over time," he said.
Some examples: Clement X'Plor USH, Clement X'Plor MSO, Schwalbe Rocket Ron CX, Continental Cyclocross Race, Schwalbe CX Comp HS 369
---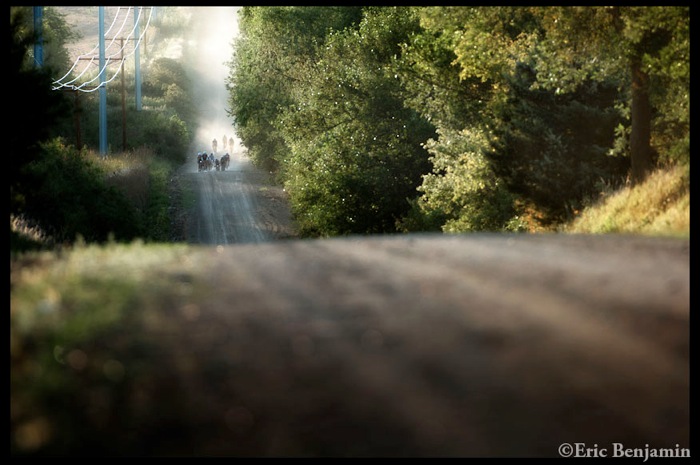 Photo: Eric Benjamin, AdventureMonkey.com
HANDLEBARS
Most mountain bikes come with flat handlebars. Add bar-ends that allow you to change your hand and arm position. This will be more comfortable, especially on longer gravel grinders.
Road bikes have drop bars that already give you plenty of options for handling. But you could add gel pads under the bar tape to help reduce the bone-shaking vibration over bumps. Gel pads are clear, tacky strips that lay on the handlebars under the bar tape. You won't see them once they're installed, but you'll feel the comfort.
---
SUSPENSION
A little suspension couldn't hurt, but for gravel grinding, hard-tail mountain bikes are preferred over full suspension. Lock out the front fork or replace it with a rigid one to reduce weight and have a firmer climbing feel. The ideal mountain bike for gravel grinding would be a fully rigid 29er.
Road bikes typically don't have suspension, but some models have dampening built into the frame.
"Any road bike with relaxed geometry that accepts a 28mm tire will work pretty well."

- Thom Kneeland, owner of Service Course Velo in Medford, Oregon

These days, pro gravel grinders are using cyclocross bikes or touring-type bikes made specifically for gravel. We'll have more on the best bikes to buy in the next story in our series on gravel grinding. Stay tuned!
NEXT: Gravel Grinder Part 3: Buying a Gravel Grinder Bike →