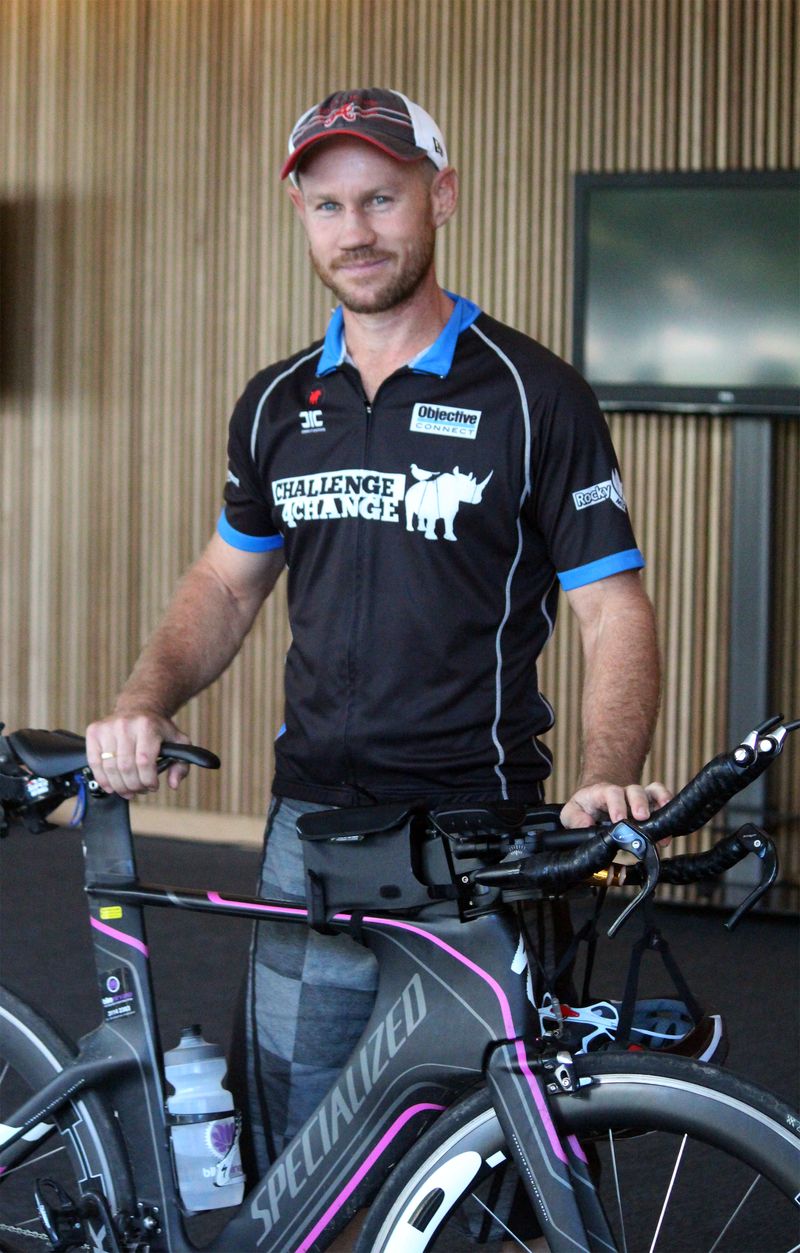 14,178 km          37 days
382.6 km/day    55,000m climbing
Impressive numbers, but after talking to Reid Anderton they are truly a poor description of the suffering involved and the determination necessary to accomplish such an awesome feat. It was a great pleasure to meet with Reid and talk about his 37 day record-breaking ride around Australia.
Reid is associated with 'Challenge for Change' an organisation which "exists to bring a greater understanding to the wider community regarding issues of extreme poverty and its effect on children. We raise funds specifically for vulnerable children within Southern Africa, tangibly changing the lives of vulnerable children."
The seed for the Australian challenge began after completing a journey in Africa where he and two others rode 200km (124miles) per day for 27 days on mountain bikes through seven African countries. It was some months later that he realised it was possible to go for the record around Australia.
The original Australia challenge plan detailed 400km (250 miles) per day, but only a couple of days in this was discarded. The motto for Reid and his two supporting vehicles, (one which leap frogged 25km ahead to provide food and drink, while the other drove on to find a suitable place to stop for the night), was "go with the flow". He told me it was pivotal to the success of the ride to just "go with it" and remain flexible to overcome the abundant challenges of riding such a distance every day for over a month.
For the duration of his effort, Reid was in the saddle 18 hours every day and had an average of 4-5 hours sleep. He told me the lack of adequate sleep and recovery lead him to losing all muscle power after only a few days; the majority of the ride being completed purely on endurance rather than speed or strength. Still, he managed a remarkable average of 25km/h (16mph) for the whole journey.
Being an endurance mountain biker myself, I was interested in Reid's diet during the ride; "the support vehicles carried pasta and rice meals - the usual stuff you eat riding, but I would also have 4-5 Snickers bars a day and KFC or some kind of fatty takeaway, (like meat pies or sausage rolls), every couple of days. Burning so many calories it was important to keep the fat going in to fuel not just today but next week as well"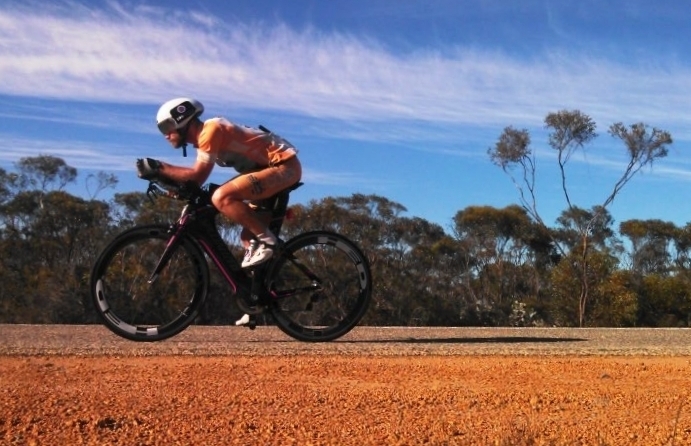 During the hottest times in Northern Australia (40-45 °C, 104-113 °F), Reid was getting bottles from the support car every 10-15km and still ended up dehydrated at the completion of each day. He also drank 2 litres of milk per day plus sports drinks and cola. Anything to keep fluids, fat and sugar up.
The journey was in jeopardy early on because of saddle sores which left Reid wincing at every movement and unable to sit on his saddle for much of the crossing from Ayr to Mt Isa. The sores were with him upon entering the tropics on day three to the finish: when the chamois cream failed, it was only the discovery of cornflour as a remedy, and wearing double knicks, that saved him.
Physical challenges aside it was the mental game which Reid said "nearly finished him". All cyclists understand the torment of a constant headwind, but his description of the run down the flat exposed coast of Western Australia opens up a great deal of insight into the suffering, and the hope, he experienced throughout the trip.
"You have a target in mind which was Perth, 2,000km (1,240 miles) away, and you're riding into a head wind, day and night...which was at times gale force...you're going nowhere. The way we setup our support meant they were 25km away, so you're riding completely alone in a barren flat landscape, and at night as well...it drove me nuts, I was wild, angry...you know you can't wait for the wind to stop and lose a day or two, so 18 hours day and night into headwind pushing through to Perth. In that period I was only getting three hours sleep a night. It was the hardest time and nearly finished me..."
"See you in a month"- an innocuous statement from a mate back home in Brisbane, spoken during this difficult period, but to Reid it was a revelation; "he believes I can actually finish this!?" When the suffering became extreme, these are the messages he listened to through his earpiece in an effort to keep connected and to realise he wasn't out there doing it alone.
For Reid it was his decision and steadfast comittment to finish, the many connections made with friends and strangers alike and, of course, the fundraising towards the 'Challenge for Change' organisation that made it "impossible to get off my bike. The longer I ride the more money I raise for the poverty stricken kids in Africa."
His motivations were way bigger than himself. A spectacular display of the power of giving to surmount any obstacle.
For the final fortnight he was taking pain killers constantly to cope with the pain from his left leg.
"Finish the day" was the personal mantra he used to keep focussed and avoid slipping into negative attitudes, and "finish well, do the job" held him together on the final few days up the east coast towards Brisbane and home.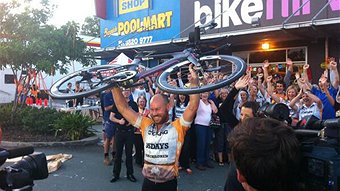 Reid is waiting for confirmation from Guinness to make the record official, though he said he would be more than happy if someone came along and broke it tomorrow. That's the guy he is, unselfish and not motivated by personal gain.
For the bike nuts: Reid rode a Specialized Shiv, setup with a higher stem for greater comfort, HED deep dish carbon wheels and Continental tyres. He had three flats, the first one a couple of kilometres from the start line!
I would like to thank Reid for sharing his time with me. For more information check out: Challenge for Change.

DVD's of the African challenge "Headwinds of Poverty" are available, with the majority of the proceeds going to charity.