I first contracted the cycling bug riding a borrowed bike on a short and very frightening mountain bike ride in the 90's with a mate who was into the sport at the time.
It wasn't just the physical rush and excitement of riding at the edge of my abilities that I became addicted to...it was also the pleasure of riding through the forest and being surrounded by the peace of nature. I fell in love with singletrack.
I remember being shocked when he told me the cost of the bike I was riding (I think about $1500), and I must say I was concerned about returning it to the owner in one piece.
I was so hooked on the thrill of riding singletrack that I immediately started saving for a bike of a more modest price; half the amount of the bike I had borrowed. Unforseen life events soon unfolded and my bike savings were spent moving to a new city and starting a family. The bug never left, it just became dormant.
When life calmed down, I can remember lying in bed visualizing the excitement of a new bike and riding in the forest again, and before I knew it, a brand new Gary Fisher was sitting in the living room, all shiny and clean and waiting to be ridden.
I was excited! In a new city, I didn't know many people, certainly no one I was acquainted with rode, so I was pretty much on my own in exploring cycling and specifically, mountain biking.
My first trip to the local State Forest was a dismal failure. I was hopeless! I couldn't keep my wheel in a straight line on the singletrack. I was shaky, nervous and scared. It was the first time I had used SPD's and was petrified of falling and not getting my foot out. Demoralised, I went home.
But I didn't give up. I started riding around my home, in the local parks and anywhere the ground was a bit loose or rough or muddy and I became fitter and more confident. I now knew that I could get my foot out of the pedal in a hurry if necessary and felt more able to take on the forest again.
Maybe I was being too cautious, but my initial trips to the trails involved riding the wide forestry roads. I didn't feel ready yet to ride the singletrack again. The local forest, as I later found out, had a reputation as being one of the toughest places to ride in the area. It is extremely hilly, rocky and the singletrack very technical. In other words: a steep learning curve.
My body seemed to relish the tough fire road climbs and long rides I was embarking upon. It was enjoyable, but I really missed having others to ride with.
It was only in visiting the bike shop closest to the trail head that I happened upon the local mountain bike club. These were the days before it was simply a matter of "Googling" any information required, rather, the connections were made face to face.
I joined up immediately and spent the rest of the week sick with nerves about having said "yes" to joining the regular Saturday afternoon social ride.
The requirements were: The usual hardware (helmet, spare tube, pump etc), a good level of fitness and some skill in riding narrow tracks. My singletrack skills were laughable...and now they would really be put to the test (with quite a few people watching).
It is remarkable the effect riding with others has on your confidence and skill level. I was quite concerned, but just followed the wheel in front and made it through unscathed (with the addition of a huge grin on my face!). I rode all the B-lines and walked many times where others rode, but no one cared.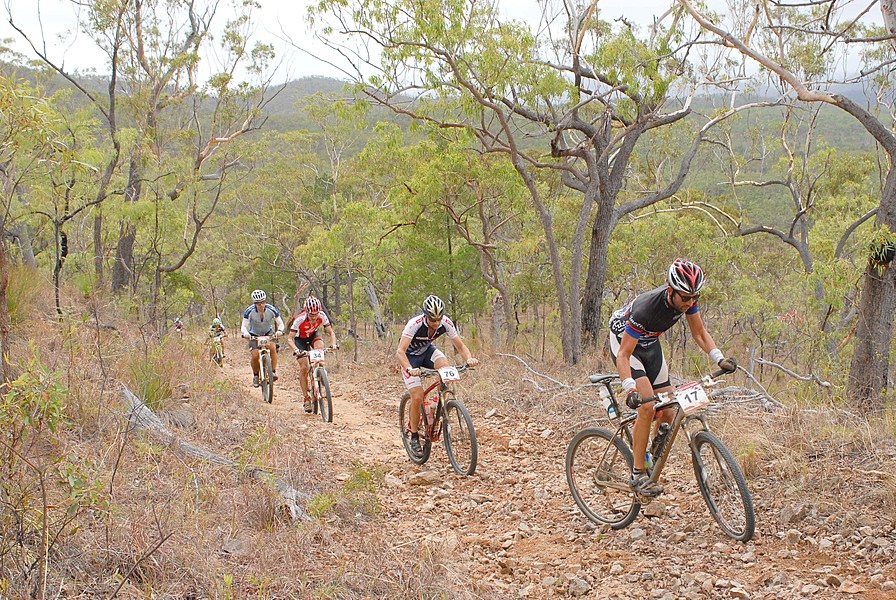 I loved the feeling of riding in the forest with other mountain bikers, you're all in it together, away from the problems of the world, surrounded by life.
In the following months I made another discovery: I was starting to be able to out-climb most riders on the social ride and fairly soon was offered to ride in the advanced group.
I had found my strength!
It has been quite a journey since. I fell so in love with the sport that I soon had a job in a bike shop and ended up working in many, before pulling away to concentrate on other areas of my life.
I bought several very expensive bikes and also began racing and became quite an accomplished rider with podium spots and a couple of first places in enduro races. I also got into road riding and started to spend a lot of time chewing up the miles on the road.
So, how do I get involved? I'd say, by being involved.
Go out and ride, alone if necessary. Sometimes I scoot up and down one of the Saturday morning bike highways and wait for a bunch of riders to tag along with. 
You can meet a new bunch of people every weekend.
Look up local clubs and shops and go and say hello. This is for mountain and road riders. All the shops that I know run regular social rides all through the week. Hook up and meet some people.
In my experience social rides will consist of a mix of whippets and weekend warriors. The fast guys sit atop the climb chatting about carbon fibre, Shimano and SRAM, while the slower riders (or perhaps walkers!) share the moment of suffering as they crawl slowly and painfully up the hill.
It's all good fun.
I started working with BikeRoar because I love the idea of helping people find a way into this beautiful sport and sharing my own experiences in this area. You are now able to connect to your local bike shop through BikeRoar and message directly any questions you have regarding equipment or rides or anything else bike related.
One way to become involved is write some reviews of whatever you ride, your experiences, and how it goes for you, it all helps.
Stay safe and keep riding.