For a local bike shop Christmas is the number one time of year for selling kid's bikes, and it makes sense, as one of the most endearing images of Christmas morning is seeing children riding their new bike down the footpath, smiles all round.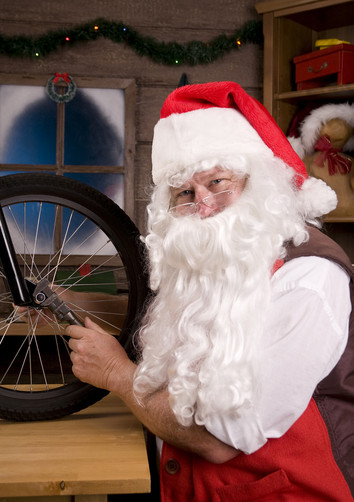 For a local bike shop Christmas is the number one time of year for selling kid's bikes, and it makes sense, as one of the most endearing images of Christmas morning is seeing children riding their new bike down the footpath, smiles all round.
We strongly recommend children begin early on a balance or "runner" bike. These simple bikes have two wheels, handlebar and a seat and are low to the ground, enabling children as young as 18 months old to get started. The benefits are plentiful. For a start, the absence of cranks and pedals means no bashed shins; and I have found in my experience that young kids sometimes take a while to understand the principle of the pedalling action. It just isn't natural to a young child.
But, the greatest benefit of the balance bike, (wee, it's obvious really), is that it teaches children to balance and ride confidently! If encouraged from an early age the use of balance bikes can eliminate the need for training wheels later on.
SIZING
Children's bike sizes are determined by wheel diameter, rather than frame size. Bear in mind, these are generalisations. All children are different and develop at different rates. I recommend talking to a bike shop professional about the best options as they have seen it all! I would also suggest steering clear of supermarket bikes as the quality is usually very suspect and you will not receive personalised attention and advice which I feel is crucial in making a decision which supports and encourages our kids to learn to, and love, bike riding.
One of the difficulties is planning for the inevitable and constant growth of our children (must be the broccoli). Local bike shop staff will be able to offer practical choices and help as much as possible in the decision making process.
In addition to this, it is helpful to know that children are usually not able to reach, or strong enough to activate, a hand lever brake until age five or even much older. For this reason kids bikes have a coaster brake fitted; and it is best to avoid multi geared or derailleured bikes until adequate strength and reach is attained.
It is also worth noting the difference in bicycle weight between steel and alloy frame types. Aluminium framed bikes are noticeably lighter and, as a result, much easier for little legs to pedal. Go into a bike shop and pick up both; you will be amazed at the difference. Heavy steel framed bikes can be discouraging for kids to ride, just because it is such hard work! Five years old is probably too young to start resistance training!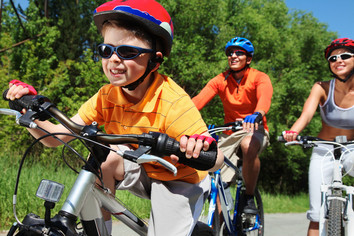 ---
12 INCH WHEEL
Age 2-5. Height 26-34 inches (66-86cm)
Traditionally this has been the starting point for kids' bikes. Generally a three year old will be able to start on a 12 inch bike; although I have seen younger children ride this size confidently. A bike this size will always come with training wheels attached.
---
16 INCH WHEEL
Age 4-8. Height 34-42 inches (86-107cm)
The next size up (although there are 14 inch bikes out there they are not as popular). 16 inch bikes are available as a typical kids bike; with an easy standover frame, close in handlebars, training wheels and a coaster brake.
Another option in this size is the 16 inch BMX or "pit bike". This is a miniature version of a BMX and often features the same rugged quality and features of its larger sibling. Some are more serious than others. Check out a GT Fly 16" or a Mongoose Micron to get an idea. It is important to try first in your local bike shop as these bikes will have a much longer reach to the handlebars and some models may not have a coaster brake.
---
18 INCH WHEEL
Age 6-9. Height 42-48 inches (107-122cm)
Another less common size, yet may be practical as an in-between. Many BMX brands make 18 inch bikes. If you're interested, check out BikeRoar products and dealer listings to find a shop close by that may stock this type.
---
20 INCH WHEEL
Age 8-12+. Height 48-56 inches (122-142cm)
As our kids get older inevitably their legs get longer and longer. Keep an eye on their sitting position, particularly if your child is sitting too low and squat, or with knees approaching the handlebars. You may be requried to either raise the seat or perhaps write a letter to Santa for a new bike! (Bear in mind that with BMX bikes the saddle is always "slammed" because having an efficient and comfortable sitting position is not the purpose of these bikes!)
20 inch is the standard size for BMX and some kids don't grow out of it...ever! I'm not going to go into the details of BMX as your son or daughter probably knows a lot more than I do about what is good and cool and I would just sound old.
I will say that there are some great 20 inch kids bikes that aren't BMX. This is the size where gears become an option and training wheels are just a memory. My daughter received a 20 inch cruiser style bike for Christmas two years ago and still absolutely loves it.
---
24 INCH WHEEL
Age: Youth. Height 56-62 inches (142-158cm)
These bikes cover the gap between child and adult. There are kid's bikes, mountain bikes and BMX available in the 24 inch size. You will start to see features and components usually reserved for adult bikes here. On mountain bikes, front suspension (steer clear of rear suspension at this level), will become available, as will derailleurs for multi-geared bikes.
When you go to your local bike shop (LBS), have in mind what the bikes' use will be. Many kids will have started riding to school, so it is important to know how far and how many hills they will be riding over to get there. When in the market for a 24 inch bike for a teenager, it is also a good idea to check out small framed 26 inch adult bikes; often the frame sizes will be similar and the larger wheels make riding much easier.
---
I have attempted to incorporate as much knowledge as I can from my experience helping people choose an appropriate (and fun!) bike for the young and not so young members of our families. Now for the most difficult part....ever tried to gift wrap a bike?