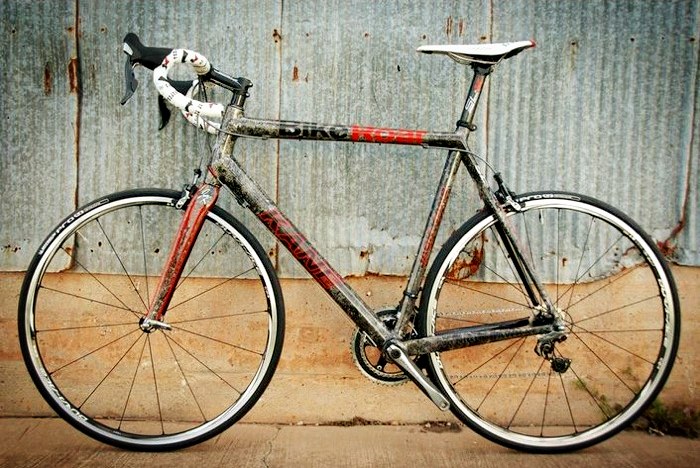 This is a review of the Nighthawk SL, made by Jack Kane Custom Racing Bicycles.
Jack Kane is a company located in Jacksonville, NC that builds custom bikes - specializing in custom frame paint jobs, along with whatever components you wish to have. After a series of interviews (either over the phone, or in person if you live in the local area) they will create a bike that will be tailored to your individual likes. In this case, they studied the BikeRoar philosophy along with the fact that I live in Texas to design one of the coolest bikes I've ever seen, let alone ridden. You might be asking yourself "why would I want to spend 7k on a bike?" Well - read on!

TIP: We often equate custom bikes with extreme expense and hiding the credit card from the missus. Contrary to this, a complete High Modulus carbon bike from Jack Kane can be obtained from as little as $4,100, making this a truly affordable option.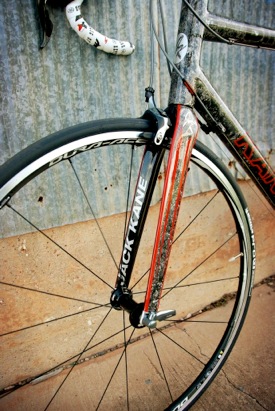 As you can see from the pictures, the frame has a marble-like finish, along with the BikeRoar name and colors, as well as the Jack Kane logo strategically placed in various spots on the bike. This bike looks great indoors, but great turns into amazing when it's outside and the sun hits it. It is simply a beautiful bike!
When designing the paint job, the folks at Jack Kane wanted a finish that would resemble "concrete or marble as the main color since concrete is used in foundations and BikeRoar is aiming to be a foundation in the cycling world." They call this paint style "crazer" paint. Red is the next most noticeable color as black and red are the two primary colors of BikeRoar. They didn't just stop there though, all the small details like the Texas handlebar tape, matching seat and seatpost were also taken into account.
My initial telephone interview was in November and the bike arrived on my doorstep in March. I must admit that I was a bit anxious to get the bike, but considering the design process took place over the holiday season, the four months went by pretty quick. I must say though - it was worth the wait!
"It's all about giving our customers exactly what they want and creating something unique for each rider."

- Jack Kane

NOTE: While we waited a few months for our test bike (we asked for it in the busiest time of year for the bike builder!), Jack Kane assures us the standard delivery time for a paying customer is usually 3 to 4 weeks once the design has been confirmed. Considering the work involved that ain't half bad!
Without a doubt, this is the absolute best packing job I have ever seen on a bike shipped in a standard bike box in fourteen years of unpacking bikes! I've attached a few pictures below so you can get a glimpse of how meticulous they wrapped this bike in an attempt to protect it during the shipment, which was sent via UPS. They were so good I felt I had to label the foam pieces so I could make sure I assembled everything ok when I send it back. Needless to say, the bike arrived in flawless condition - untouched during the shipping process.
The Nighthawk SL came with the entire Dura-Ace 7900 10-speed group, including the wheel set. The bike weighed in at 17lbs, including Look pedals, 2 water bottle cages, and my Garmin computer. One of the main purposes of the interview with Jack Kane in the design process is for you to tell them the exact measurements you are currently using on the bike you have (if you have one) and there is anything you want changed. I was very specific, down to the handlebar type and stem length/angle I prefer, as well as the distance between the top-tube length, seat height, etc.
I was very impressed with the bike they sent as far as the measurements that I gave them. As soon as I adjusted my seat to the right height, everything felt great! I have to admit I was pretty surprised with that because I've been riding the same road bike since 2005 and it's dialed-in perfect to what works for me.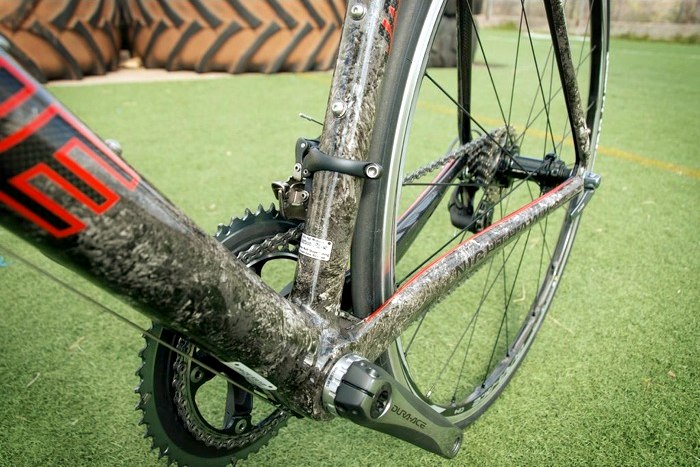 My first ride impressions were that this bike was extremely comfortable to ride, and again, I couldn't believe that they could replicate a bike that would come so close from a fit perspective to what I was used to riding. On the road, the Nighthawk SL does everything it's supposed to do. The carbon soaks up all the bumps, and it is a blast to climb on.
The bike does an excellent job of dampening the road vibrations. I barely notice the bumps on this bike when riding over rough roads. I recently had to ride through a four-mile stretch where the top layer of pavement was missing as the road crew was preparing to re-pave the road. These sections can make a freshly chip-and-sealed road seem like smooth pavement! However, on this bike it wasn't a problem at all. My hands didn't go numb, and I never felt like I was losing control and had to have a white-knuckle grip on the bars - it really does a good job on the rough stuff! In all, I am loving the Nighthawk SL! It has exceeded my expectations thus far - in both appearance and performance.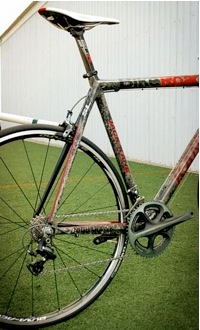 So why spend big money on a custom bike? First of all, the price of this bike is still cheaper than what you'd pay from some of the bigger name brands with the same components. You can buy the 2013 model top-of-the line brand xxx, but then again, so can the next person. Let's be honest here, do you really want to drop seven-grand on a bike that you will see again during your group rides, rallies or races? Or would you rather stand out knowing that nobody else will EVER have the same bike you are riding?
If you are going to spend more on a bike than many folks spend on a vehicle it better be unique to your specifications, and the folks at Jack Kane can make that happen! After your interview, they will have a bike that will fit you perfectly. In less than an hour after receiving your bike, all you have to do is adjust the seat height and you are out riding. But not just riding any bike, you'll be riding a top-of-the-line bike with a paint scheme designed with your personality, likes, and interests in mind. Most importantly, you will own the only one on the road!