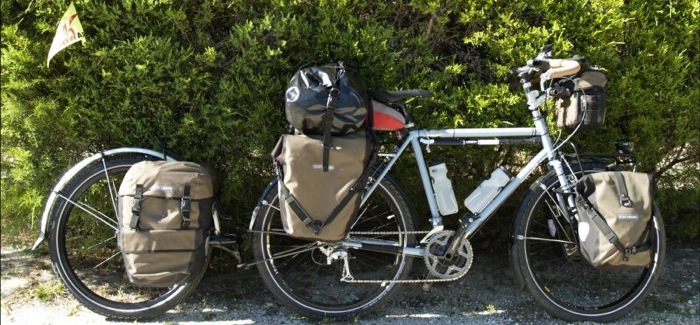 We didn't mention Surly in our list but this brand is a definitely worth checking out.
When last did you sit at work and think "I need to escape!"
Well, if you're like most people in today's rat race, it was probably five minutes ago. Unfortunately we can't do much to help, but we can definitely inflame the situation and make you feel even more desperate. If you don't want to develop a severe case of cabin fever, we suggest you stop reading now...
But if you want to fuel your dream a little further, read on!
We've handpicked five of our favorite touring bikes to get you onto the open road, breathing in some fresh air and enjoying life. So fill in your leave application form and keep reading! You never know, you might just find your next set of wheels.
---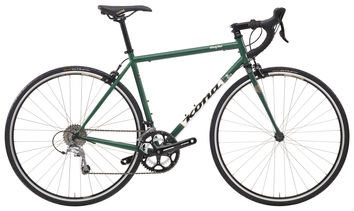 Kona make some pretty sweet rides and this touring bike is no exception. It's not really advertised as a touring bike, but they do say it's built for long road miles! We think it's perfect for touring, with the capacity to carry pannier racks, mudguards and a host of handlebar gadgets to navigate.
The Kona Honky Tonk is made of Reynolds 520 steel, taking us back to the good old days of cromoly bikes. Offering a supple ride, this machine will take you far beyond the horizon in comfort. Featuring Shimano Tiagra and Sora componentry, the Honky Tonk bike is made to handle all conditions with minimal maintenance required.
---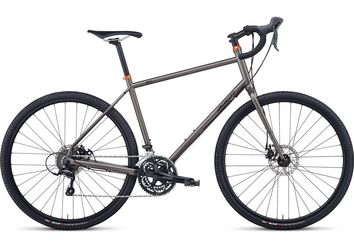 If you forgot to fill in that leave form, then this bike is for you. The Specialized AWOL is your ticket to freedom, and a chance to explore the world. A jack of all trades, this rig is perfect for... a whole host of things! From cyclocross through to touring and anything in between. Fitted out with reliable Shimano Sora shifting and a hefty pair of disc brakes, you'll be stopping and starting like no man's business.
An important point to consider is comfort, especially if you're planning on doing some longer rides. Specialized have seen to it that the geometry on their endurance bikes stays true to this need. A slightly more relaxed frame geometry means you're not sitting as hunched over as on a typical road bike. No excuses now!
---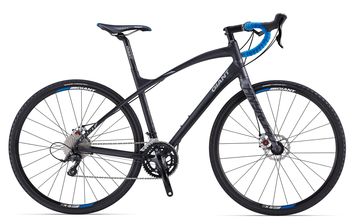 Anyroad? You'll be thinking just that when you map your next ride route. "Which road do I take!?".... Giant has been at the forefront of pushing frame design from a practical standpoint as well as a visual perspective. The Anyroad is bordering on aluminium art with some beautiful curves holding together a perfect selection of components. A full Shimano ensemble will keep those wheels turning, along with some neat looking Giant bits and pieces.
Giant have been making their own components for a number of years and have recently manufactured their own 'house brand' wheels. This means is that you save money on the insignificant things, and have the opportunity to ride some slightly better shifting and braking components instead!
---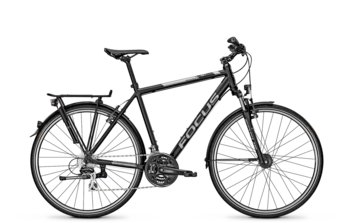 Focus on this, it's kitted up and ready to go. The team at Focus just want you to ride your bike, not worry about whether or not you have mudguards that fit, or the right pannier rack for the job! The Wasgo bike comes fully fitted with a whole host of touring essentials from ergonomic handgrips through to the mentioned accessories. All you have to do is ride!
To the details; Focus have ensured that no corner is cut when it comes to componentry. Shimano parts again adorn this bike from head to toe, while Suntour takes care of the front suspension requirements. Although not designed for heavy off-road riding, these front shocks will take the harsh bumps out of your ride - so you can go further of course! Lastly, and not to suggest other bikes mentioned have fallen short on this mark, but Continental tires have been fitted to the wheels with added puncture resistance and extra mileage. Tires are a bit of a personal thing, but Continental rarely fall short of the mark.
---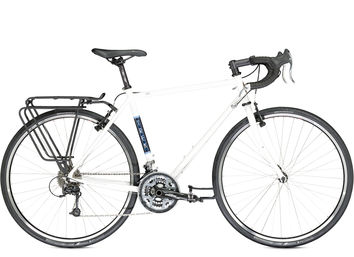 Speaking of fully fitted, Trek have added some pretty nifty accessories to this already loaded bike. A healthy dose of Shimano will keep this machine rolling for miles to come, but Trek have also chosen some of their own parts to get the job done! For example, the in-house brand Bontrager is featured in the form of wheels, tyres, handlebars, saddle and even the seatpost and stem.
These high grade aluminium parts, alongside the Shimano line-up, means this bike is at the top of the pile when it comes to touring bikes.
Last but not least, the geometry on the Trek 520 is perfectly suited to longer rides, with a slightly more relaxed frame setup. The gearing offered on this bike is also suited to riding with additional weight on board, meaning that you won't be walking up any hills when you finally escape your office!
Now all you have to do is fill in your leave form, sneak out of the office early, and... GO RIDE YOUR NEW BIKE!