TEAL STETSON-LEE – TEAM LUNA CHIX
---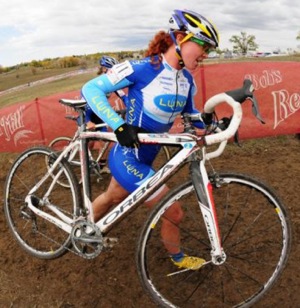 Teal Stetson-Lee is having a good year. In July, she won the Super D at the Cross-Country Mountain Bike National Championships in Macungie, Pennsylvania. In January, she finished sixth at the U.S. Cyclocross National Championships in Madison, Wisconsin.
At 27 years old, she races for the powerhouse Team LUNA Chix. After winning the XC Collegiate Mountain Bike National Championships in 2009, she has grown to be one of the top cyclocross pros in the country. Whether on her mountain or cross bike, she has mad technical skills.
Her first cross race this season will be at Starcrossed near Seattle, Washington. Having spent her life in Durango, Colorado, she just moved to Reno, Nevada with her boyfriend this year. She is passionate about cycling, but also loves to balance her life with skiing, good food and exploration. I talked to Stetson-Lee during her rest week prior to cross season.
Q: Cyclocross season is finally getting started. What does your life look like right now?
Stetson-Lee: I'm taking a break between the mountain bike and cross season this week and then I'll be ramping up in full on training mode for cross. I'm just focusing on my cycling career right now, which is a fairly recent change. Last August, I quit my part-time job and I'm no longer going to school. It makes a huge difference, allowing me to put my heart and soul into training and fitness and all the pieces that go into this. Racing is definitely a full time job.
Q: When did you start racing cyclocross?
S-L: I started riding and racing when I was at Fort Lewis College in 2006 when I was 20. It was really ironic because Durango is a haven for mountain biking and I had never gotten into the whole cycling scene until then. After I started, I said, "I've been missing this?" My background was in cross-country skiing growing up, and that endurance background gave me that confidence that I could do cycling just as well.
Q: Of all the disciplines (road, mountain and cross), which do you like best?
S-L: I like mountain biking and cross equally. But they're very different. Mountain biking is an awesome discipline because it's great recreationally, whether you want to race or not. But cyclocross has a special energy to it. You can't beat cyclocross fans. They're hilarious. The sport is incredibly hard, but it has this element of humor to it that I really enjoy. People who race cross can't take themselves too seriously. We have to laugh a little bit, amidst the suffering, of course.
Q: What is it like to race for LUNA Chix?
S-L: I feel like I struck gold with LUNA; they know how to run a program. They're established, well organized and they really take care of their riders. The team is like family. It's really valuable to have older, more experienced teammates to look up to.


LUNA also has a philosophy about creating strong riders, not necessarily buying strong talent. LUNA creates this longevity on the team by fostering growth in that talent. When riders reach that place where they crush the competition, they stay there. I'd like to see more teams do that. It would create more opportunities for younger riders. It's great having a team that puts love, care and support into women's professional cycling.
Q: What are your other passions?
S-L: My greatest passion is the fight for more equity for women. It's a super hot topic right now, but there is inequality in the cycling world. It's not just about pay, but on a cultural level of how women are valued and treated as athletes.


You see a lot of work being done to increase female participation in the sport, especially with young girls. It's great, but the discussion should be about how women are valued in the sport. There needs to be a paradigm shift where women are considered to be as strong, competitive and athletic as men.
GABBY DAY – RAPHA FOCUS
---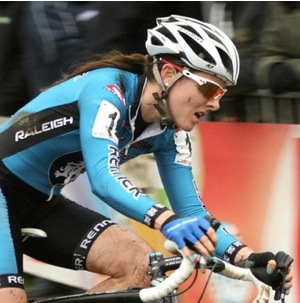 British cyclocross queen Gabby Day is now Mrs. Gabby Durrin. She married American Jeremy Durrin (of Optum pro cycling) on August 25 in New Hampshire. The pair met two years ago while she was racing in New England during her first U.S. visit. Durrin offered her host housing for a few weeks and the rest is history.
In between wedding preparations, Day spent the summer in Massachusetts and Colorado training with her Rapha Focus teammate Jeremy Powers and competed in a few road races. If last season was any indication of things to come, Day will have good results this year. She finished four times in the top 10 at World Cups and finished in seventh at the European Cyclocross Championships.
Q: How is it racing for Rapha Focus?
Day: I signed with Rapha during the summer of 2012. It was a very exciting time for me. Joining such a professional team and having awesome support is fantastic. It really makes a huge difference. Each rider has his/her own assigned mechanic and everything is taken care of. All you have to think about is racing.
Q: What are your goals this year?
D: Every year I set goals for myself so that I have something specific to work towards. My goal for the season is to win Nationals. I would also like to podium at a world cup and have some good results in all the world cup rounds. I am aiming very high his season, so we will see what happens! Competition is very strong, but it is important to dream big.
Q: Who is your biggest competition right now?
D: I expect my fellow Brits to be tough competition! We are a very strong nation on the women's side. Last season the Great Britain women were the number one nation for cyclocross. It's rather awesome!
Q: How are you training right now?
D: My home base for the beginning of the cross season is with my husband Jeremy Durrin. We have an awesome house in Westhampton, MA. During the season, I will do specific off-road cyclocross sessions. I will also include speed sessions and at least one long endurance ride in the week. I then travel to Europe for the World Cup season and will be based in Belgium during that time.
Q: What do think needs to be done to get more women into cycling?
D: Women's cycling is slowly getting bigger and more recognized. It would be nice to have more of a mainstream media about it. I think it's important to try to showcase the fun aspect of it and show women that it's an awesome and social sport to be involved in. I also like to show a more feminine side to racing! I try to paint my nails for races.
CAROLINE MANI – RALEIGH-CLEMENT
---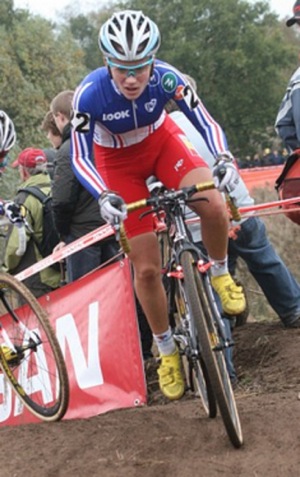 Two-time French national cyclocross champion Caroline Mani has already won her first two cross races. Her first victory came in July at Midsummer Nights Cyclocross at Dealer Camp in Park City, Utah and her most recent win was in August at the Washington Women of Cyclocross. In April, the 27-year-old won the elite women's cyclocross race at the Sea Otter Classic in Monterey, California, but she is most proud of last year's fourth-place finish in a World Cup and bronze medal at the U.S. Grand Prix of Cyclocross in Bend, Oregon.
For the past three years she has raced predominantly in the U.S., but is going back to do some European races this year on her recently extended Raleigh-Clement contract. Her main focus is cyclocross, but she wouldn't mind if the prize could be a boyfriend.
Q: How do you like racing in the U.S.?
Mani: I love racing in the U.S.! I'm having too much fun and I'm racing a lot. In France, I would race maybe three or four times a month, but here I race two or three times a week. Cyclocross in America is like a big family. It doesn't matter if you are from Raleigh-Clement or Cannondale; all the racers are super friendly to each other. There is no crazy competition when we are off the bike, only when we are racing, and I'm enjoying it.
Q: When did you start racing cyclocross?
M: I was actually a motocross racer until 2004. I had a really bad crash in 2002 in which broke my back and I was almost paralyzed. I started to ride a bike for recovery until I could race my motorcycle again. People told me I was pretty good, so I started riding more and began racing mountain bikes in 2004. And now I'm focusing on cyclocross more than anything else. I miss motocross, but when you are a pro bike racer, you can only ride, ride and ride your bike.
Q: What is it like to race for Raleigh-Clement?
M: It is a great opportunity! I love to race for Raleigh and Clement. They are so supportive and are doing a great job. I'm really proud to be part of that. Raleigh and Clement are so involved and they listen to a lot of the feedback I give. I feel like I'm a part of a big family and it such an honor. I'm really the luckiest girl to be able to do what I love in my life: racing my bike.
Q: Who is your inspiration?
M: When I started to race cyclocross, I had the chance to race at the same time with Laurence Leboucher [two-time cyclocross world champion and MTB world champion]. She taught me everything and we are really close friends. She is a real model for me and she always believed in me even when most of people thought I could not win anymore. In a difficult moment or the best one, she is always here for me, and I owe her a lot.
Q: How about your personal life? Do you have a boyfriend back in France?
M: It is empty right now! Most of my friends and family live in France, really far away from me. I love being here in America, but it's not always easy to be alone and far away from all the people I love. I miss my dog every day and I wish she could be with me, but it is too complicated with traveling and racing, so she is staying with my parents.


I'm lucky to be a pro bike racer, but it is actually a little weird because you ride your bike for few hours and you're done. Being a pro athlete requires a lot of sacrifices and you kind of have to avoid the social partying. To be fast and strong you have to say no most of the time. So it is difficult to find a balance in your life, but I love what I'm doing and I'm waiting to see the results. But if you know any boy who could deal with a woman pro bike racer who travels all the time and is always at full gas, let me know. I'm interested.