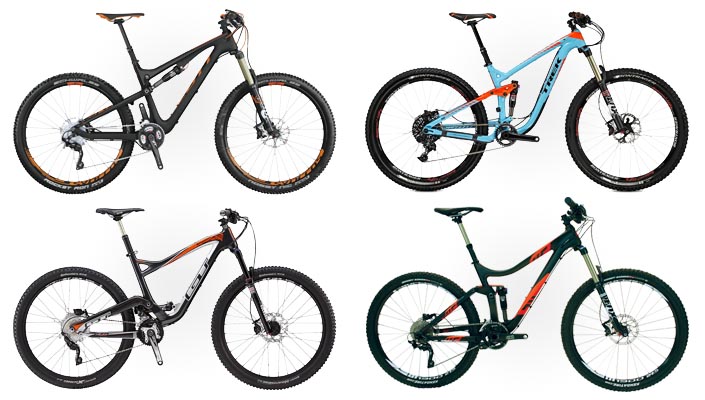 In recent years the trend in mountain biking has leaned toward having an all-purpose bike that you could use for XC racing, climbing, and mild downhills, that was relatively comfortable, light, and easy to ride. For many people this meant a 29er hardtail – even the carbon versions were relatively affordable, possessed great acceleration and maneuverability, and had the distinct rolling advantage that their big wheel technology afforded them.
But the continued improvements in carbon technology and suspension components coupled with the expansion of the 27.5" market has seen the emergence of a whole new MTB subset: light, nimble, comfortable, and durable, these are 2015's best 4 carbon dual suspension mountain bikes in the intermediate to high-end price range ($3500 - $4500 AUD) that are NOT 29ers.
So who are these bikes for? Primarily for those who like to race, who need the travel, comfort, and ruggedness offered by the dual suspension, but don't want to ride a 29-inch bike – for smaller people a 29-er can feel like a huge machine that lacks the responsiveness and maneuverability of a 27.5 or 26-inch bike.
Scott Genius 710
---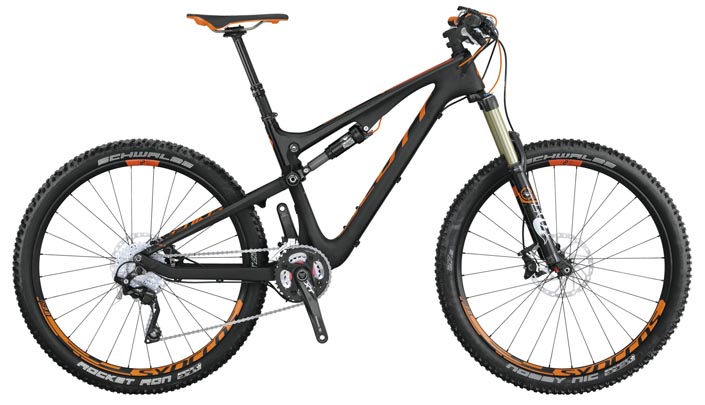 At $4399 AUD / $3479 USD, the revamped Scott Genius 710 sports a HMF carbon frame with variable travel of between 100mm and 150mm – the amount of travel is controlled via the Twin-Loc lever on the handlebars, and can be adjusted between 150mm, 100mm and fully locked rigid suspension on the fly. No need to stop or even slow down – just push the lever.
Weighing in at 12.39kg / 27.3lbs (Medium frame) and featuring Shimano XT brakes and groupset, the Genius is a lovely, tight bike that you just want to get out and race. The only noticeable drawback is the slightly messy cabling system surrounding the Twin-Loc bar levers. It's not a deal-breaker though, and it's the only fault I could pick with this bike. Available in 27.5" (and 29" - no 26" available).
Trek Remedy 9 27.5
---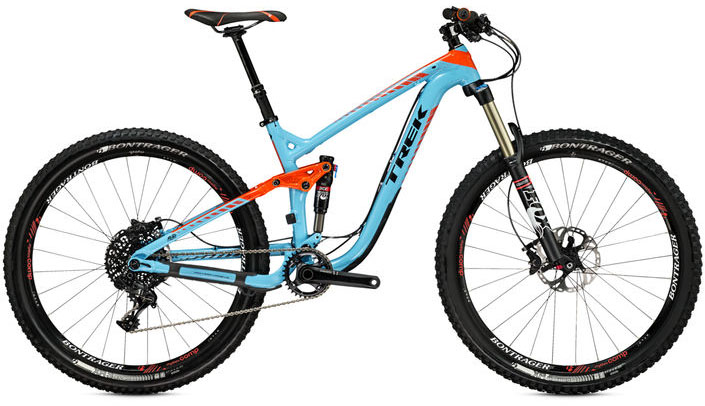 This bike has bullied its way onto this list – Trek Remedy 9 is really an aluminum hybrid and retails for $4699 AUD / $3719 USD, but let's assume (and hope) that you manage to swing yourself a little discount. At 13.36kg / 29.5lbs it's leaning slightly toward the heavy side, but it's a beautiful bike with well-rounded geometry, a very stiff and agile front end, 140mm of smooth suspension travel and a brilliant Reverb seatpost that offers 125mm of effortless adjustment.
GT Sensor Carbon Expert
---
The GT brand isn't necessarily a big name in mountain biking, but they may be onto a winner with the the GT Sensor Carbon Expert. Coming in at $4299 AUD / $3399 USD, it's not cheap, but it boasts some impressive specs and its friendly geometry and generous differences between the sizes within the range make it an ideal bike for both genders. Featuring a full FOC Ultra carbon frame, Shimano SLX groupset and brakes, 150mm RockShox on the front and a 130mm travel rear suspension package, this is a lot of bike. (Weight not specified, available in 27.5").
Avanti Torrent CS 7.1
---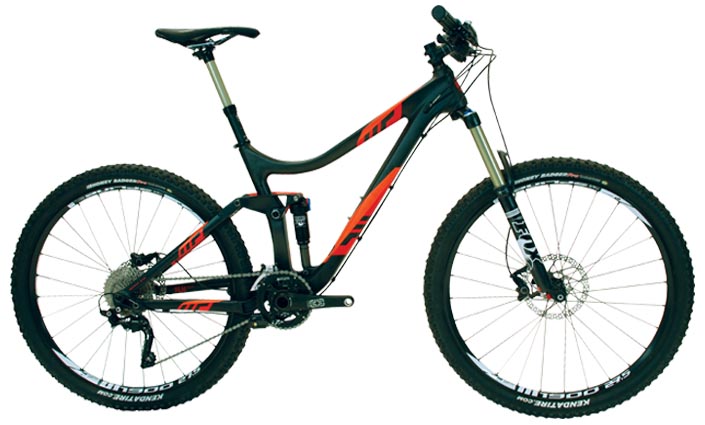 With upgrades in suspension travel and top tube geometry in 2015, the Avanti Torrent CS 7.1 just sneaks in to this category at a RRP of $4499 AUD / $3559 USD. Technically it's not a full carbon frame as the rear triangle is aluminum, but it's such a lovely bike in both appearance and performance that it deserved to be included. With a 150mm travel across the front and rear, high-end Shimano components, and its signature frame stiffness and descending comfort, this bike is a winner. It does come in a little on the heavy side at 13.1kg / 28.9lbs, but if you can afford it it's well worth a look. Oh, you guessed it... 27.5" only!
So there you have it – four of the very best. There is some variation amongst this collection, but what stands out more are the similarities: agile, comfortable, tough bikes that are fun to ride.

There are more wheel size choices in MTB shops than trails to ride them on, but it seems the wheel war is becoming a more open and friendly arena. What we mean by this is that riders are becoming...
READ MORE