There's got to be a better way!
Tracking data has always been important to cyclists but now, more than ever, we are able to easily gather information on-the-go in a variety of interesting ways.
The flow of cycling-specific data is now being captured for a variety of different bicycling intents. Whether it's a traditional cyclometer with integrated GPS or a smartphone app, data like speed, distance, cadence, wattage, and heart rate are combining with communities that encourage competition (think Strava for performance-based competition), exploration of urban places (BikeBrain), or environmental impact (like Clif Bar's 2-Mile Challenge).
What's even more intriguing now is the number of manufacturers designing innovative ways for you to mount your data-capturing device to your bike.
These products' designs vary in appearance, yet were developed with specific, bike-user end goals.
Let's take a look at our five favorites in five different categories: sleekness, innovation, durability, integration, and high-design.
---
Sleekness: Tate Labs Bar Fly 2.0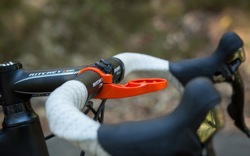 In the hyper-aesthetic world of competitive road cycling where entire websites have been compiled to define the art of road bike style, the Bar Fly 2.0 fits squarely within the rulebook. This ultra-sleek handlebar add-on takes your Garmin from a bulky centerpiece on your stem, to a unit sitting flush in front of your bars. The Bar Fly 2.0 is designed by Tate Labs and has become a staple in the American professional peloton. The Bar Fly 2.0's compatibility with nearly all Garmin units (and now for Cateye computers, too) is the perfect finishing touch for the roadie who doesn't miss a detail.
---
Innovation: Helios Handlebars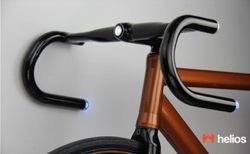 The Helios Handlebars takes the concept of bar-mounted innovation to a new level. With an integrated headlight and two rear LEDs, the bars help motorists understand your intentions via the lights' turn signal capabilities and red-yellow-green speed indicators. The bars also help make your bike "smart" using Bluetooth 4.0 integration. Here's the way it works: connect your smartphone to Helios' iOS app, which uses a GPS signal; put your destination into the Helios app, let it sync with Google maps' API, and watch your phone gather route information. Once you start riding, the rear left and right lights will blink to indicate where to turn. Helios is another success story for bike engineers on the Kickstarter platform.
---
Durability: BioLogic's Bike Mount Plus for iPhone 5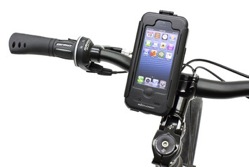 BioLogic's Bike Mount series is a perennial favorite for smartphone-toting cyclists, earning its reputation for outstanding quality, function, and leading-edge innovations. Built to withstand the worst weather conditions, sweat and debris, the Bike Mount is made with a hard-shell ABS case on the outside, and an internal silicone liner on the inside to keep your iPhone 5 secure and scratch free. The Bike Mount rotates 360-degrees, giving cyclists who prefer landscape view the ability to see their data in "wide-screen" mode. Full access to the phone's functions help you plan routes (with the addition of an app or Google Maps), take photos or play music while the phone is housed in the Bike Mount. Riders can use the Bike Mount off the bike too, as a unique "KickStand"; on the back lets the case stand horizontally for convenient viewing on a desk or table.
---
Integration: Wahoo Fitness' RFLKT iPhone Powered Bike Computer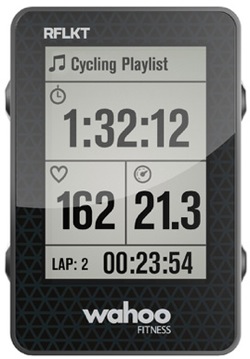 Mounting your phone to your bars is a great solution for many cyclists, but what if you prefer more streamlined integration? Whether we ride for transport or for sport, many of us rarely leave the house without our smartphone at the ready - tucked away in a jersey pocket or in your backpack. Wahoo Fitness has designed a featherweight bike computer that is powered exclusively by the iPhone and that sits on your stem (like a traditional cyclometer but with way more power).
The computer connects to the phone via Bluetooth 4.0 and works in conjunction with compatible apps, and even your music player. Wahoo describes the RFLKT as being able to harness all of the power of your iPhone in a small cycling computer. We completely agree.
---
High-Design: Minoura Handlebar Camera Mount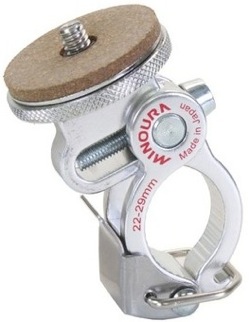 Minoura's Camera Mount is a very new and modern product with a retro feel. The simplicity, beauty and materials harken back to cycling components of old - simple, well built and shining with chrome.
The solid aluminum body, stainless clasps and a cork baseplate attaches to your handlebars and affixes to a point and shoot camera or action cam such as a GoPro or Drift.
The Camera Mount is perfect for capturing your most beautifully scenic rides or catching your buddies in action. Make your first cycling movie and show the world. Use the Minoura Camera Mount for a no-slip, vibration-dampening remedy.