Credit: Gravel Grinder News
As a new cyclist you're likely looking to ease into the sport on safe roads with lots of space and little traffic to impede your steady state endurance training. If this sounds far from the reality of stop lights and horn-honking drivers outside your door, you might consider packing your road bike in the car and heading to some farm country near you.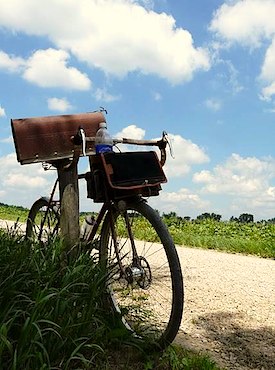 Credit: Gravel Grinder News
Chances are you'll bump into some like-minded folks in the growing Gravel Grinder scene. Made up largely of dirt and gravel farm roads - prominent in states like Iowa, Minnesota, and Kansas - these long stretches of ride-able, but rough roads, require little more than making some small adjustments to your standard road or mountain bike and letting adventure be your guide.
Appealing for similar reasons as cross country mountain biking, Gravel Grinding gets you out of the city and out into open, natural environments. But unlike mountain biking, which takes acclimation to changes in elevation and time-honed skills and strength for climbing and descending, Gravel Grinding takes place largely on flat and rolling roads at low elevation, attainable for most new riders.
This is hugely beneficial for the new cyclist looking to lay a foundation for endurance while being adventurous and "off the grid." As the popularity of Gravel Grinding grows, pro and amateur cyclists alike are finding the itch to compete. Races, training groups, and even manufacturers are leading the charge to promote this unique take on long distance cycling.
In future posts, we'll look at some of the key races, people, and manufacturers making an impact on the Gravel Grinder scene but for now, here are some requirements to get started:
---
Research
Because the roads traveled are sometimes unmarked and not likely to pop up in the search results on Google Maps, get familiar with the terrain by researching online the routes other riders have taken or recommend.
---
Bike
Any road or mountain bike will do, but make sure you carry a spare tube, pump and patch kit, as pinch flats and "snakebites" are the most common types of punctures that occur on gravel roads.
---
Sense of adventure
Like an old-time explorer uncovering new sights and unknown terrain, you need to enjoy a sense of discovery when tackling a Gravel Grinder ride. Endless roads and a lack of clear direction are at your disposal. Embrace it!
---
Endurance
Since the possibility of linking Gravel Grinder terrain can be seemingly endless (think roads of 100-200 miles), you are fully able to push the limits of your endurance. If you're new to cycling, start in small increments of 10 miles. On your first ride shoot for 20 miles out and back, until you're able to hit a half-century. This slow adaption to long distance riding will pay dividends whether you're back in the city training with friends, or on a long distance tour or Gran Fondo.
---
Food, water, nutrition
With little coverage from trees like you might find in the mountains, Gravel Grinders offer endless skies with lots of exposure. When the elements start bearing down, be sure you're counteracting it with proper nutrition like water, sports drinks and plenty of food. Many people will start with full jersey pockets of food or even panniers stocked with supplies. Know your body and experiment with your fuel needs.
---
NEXT: Gravel Grinder Part 2 of 4. How to turn your bike into a gravel grinder →