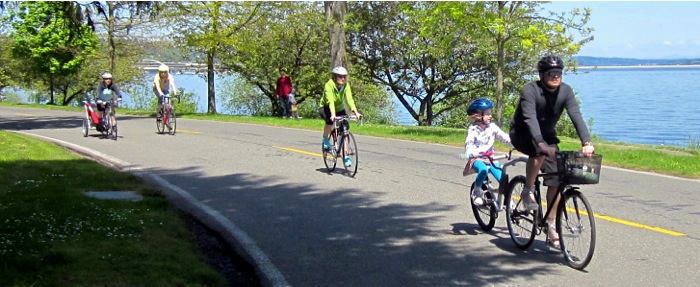 Families riding alongside Lake Washington, Seattle
Cycling with the family is a great way of spending time together. Taking to the road or tracks combines quality family time with nature experiences and exercise for everyone.
However, there are a few things you need to consider before packing the family into the car for a whole cycling holiday or just taking them out on your favorite local roads.
When cycling with the whole family, the bikes are just the beginning; you will probably need other pieces of bike-related equipment to keep the family ride from becoming a family meltdown.
---
Mr/Ms Fixit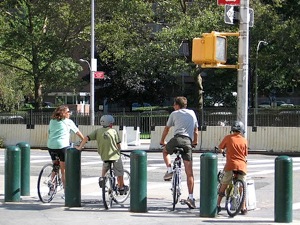 Photo: Carlos Martinez / Flickr
Riding with the family increases the risk of something going wrong. For example, quick maths says that four bikes make the risk of punctures four times as likely. Chain mishaps/breaks and crashes leaving the bikes requiring minor adjustments are also more likely to occur - especially with kids. Remember the state of your own knees when you came back from cycling as a kid?
A good repair kit, for both bikes and bipedal creatures, is essential. This should include a bike pump, a puncture repair kit (suited for the types of bikes you're riding), and a small set of tools including Allen keys, spanner and perhaps screwdrivers for adjustment of gears. For the humans you'll need a basic first aid kit.
Sometimes you might face problems that you can't fix yourself, and if you can't be Mr or Ms Fixit then it's good to be Mr or Ms Mobile Phone, meaning that you can get someone to come and get you and the bikes back home.
Biking can be a sweaty business, which means that buying a good cover for your phone is a good idea. Installing a fitness app for cycling on it also means that you can keep track of where you've been and show the family how far they've ridden when you get back home.
---
The camel
Getting this amount of equipment into the three pockets usually found on the back of a cycling jersey is nigh on impossible. Even if you were to do it, you'd be riding around looking like the biking version of the hunchback from Notre Dame, not to mention feeling like a camel with a clinking and slightly painful hump.
Buying a special backpack designed for cycling will be worth its weight in gold. These come in various shapes and sizes to fit your specific needs.
A good rule of thumb is to go larger than you think you need to. Cycling backpacks are designed to be comfortable when riding, and the extra space gives you the option of bringing extra bottles of water or perhaps even sandwiches with you for a little family picnic.
---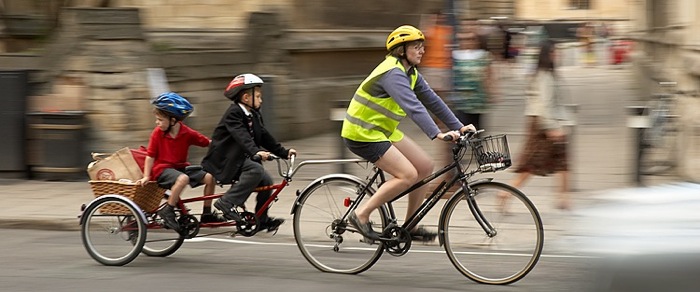 A family riding with a bicycle trailer
How the young'uns can hang on
Riding with the family is a bit like being part of a peloton where the riders have very different levels. Plus, it's one where any sort of attempt to create a break-away will be met with stony silence and several months of making you feel very, very guilty. Remember, they're not going to be angry, but extremely disappointed.
To keep the group together, especially if you have young kids, it's worth considering investing in a trailer bike. This is basically a simple, one-wheeled bike that clips onto the rear of another bike. Ride a short circuit with the little ones on their own bikes...or clip trailer bikes onto the back of your own bikes and go for the full spin.
---
Close or far away - how do I get the bikes there?
Whether you're going for a whole cycling holiday or just going 15-20 miles down the road to a local forest for a bit of family mountain biking, there is the question of getting there.
If you're going to be flying, then the safest way to get your bikes there in one piece will be a cycle suitcase. Think oversize rolling suitcases that look like they ought to belong to musicians or the mafia. These hard case options are a great way of getting your bike around, but can be pretty expensive, so it's worth looking around before buying them.
If you're driving around - locally, or for the long trek to the holiday destination - then a roof rack will often be the best way of taking your bikes with you. It also makes your car look like it could be part of the caravan behind a road race. Just watch out for low clearances!
If the roof isn't an option, then getting a bike carrier for the back of the car works just as well.