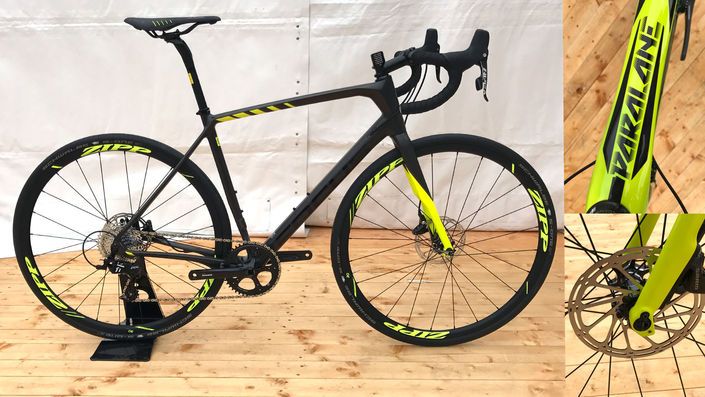 Focus Paralane is available in six carbon fiber build options. This is Factory.
Most riders love a variety of conditions and road surfaces to play on, and the emerging boom category of all-road endurance bikes is evolving to fill every need: Gran Fondos, gravel adventures, forest trails, tarmac and everything in between. At the forefront of this all-road movement is the Focus Paralane; a monument to comfort, versatility, endurance and the one thing that some of its rivals are missing — sex appeal.
Most manufacturers create an all-road endurance bike by dropping the bottom bracket and lengthening the head tube, which works effectively enough but makes the bike look it should have a wicker basket on the front with a baguette poking out from under a napkin.
FOCUS avoided this trap by lowering the bottom bracket but also lengthening the forks by about 15mm, which meant the steerer could be kept relatively short and had the added benefit of providing a wider tire clearance of up to 35mm.
Fabian Scholz, FOCUS engineer and one of the driving forces behind the bike's development, claims that the shorter reach and longer forks makes the Paralane far more comfortable to ride than other bikes in its class.
"Our bottom bracket drop serves a twofold purpose," he explains. "It further lowers the centre of gravity, which adds extra stability through corners and on uneven surfaces, and it alters the stack height up front without us having to simply lengthen the head tube, which is what you'll find a lot of other manufacturers do."
The bike also features the clever system that bears the unfortunate acronym R.A.T.: Rapid Axle Technology. This patented thru-axle technology allows disc-brake wheels to be changed even faster than traditional wheels with caliper brakes.
Watch closely - Focus' R.A.T. thru-axle is easy and quick to use.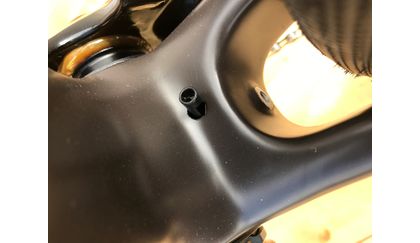 Being a true all-road bike, the Paralane has made concessions for mudguards and panniers, but the bracket holes are so cleverly disguised that you have to search to find them.
And how does it ride? This is where the bike writes its own press release — it truly is a machine that excels on any terrain. I rode the Paralane Factory on smooth bitumen where it hummed along like any other 7.2kg (15.9lb) disc-brake road bike, then transitioned onto an older road surface cratered with potholes and washed-out shoulders. It was nimble enough to dodge the nasty stuff, or bunny-hop over it, and robust enough to handle it when it simply couldn't be dodged. Last of all, I tried it on a dirt fire-trail in the Adelaide Hills. The 32mm Schwalbe S-ONE tubeless-ready tires were wide enough to provide ample stability but soft enough to soak up some bumps, and the Concept CPX Plus seat post, with its minuscule 25.4mm diameter, provided plenty of flex to take care of any vibrations making their way up from the trail.
The SRAM Apex 1x11 shifters were predictably clunky but precise — if you're into SRAM you will appreciate the trademark ratchet-like "click" as you successfully change gear. The Apex hydraulic 160mm disc brakes provide superb stopping power — not just good, absolutely superb.
There are plenty of bikes out there that have the "all-road" label haphazardly slapped on them, but not all of them have earned it. The Paralane, however, definitely has; if distant horizons, long Gran Fondos, and gravel road expeditions are your thing, this could be your bike.
See the other Paralane models: eTap, Ultegra, Donna Ultegra, 105, and Tiagra.

So what exactly is a Gravel Grinder? Interested, but not sure where to start? Get the low-down in the first of our four part series of articles about this growing cycling genre...
READ MORE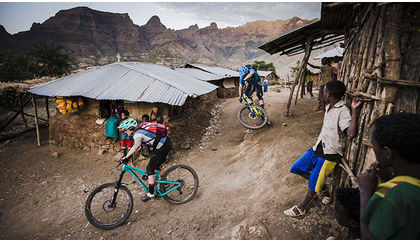 There is no better way to see exotic countries then from the seat of your bike.
BikeRoar
gives you some inside tips on how you can properly plan for the trip of your life...
READ MORE