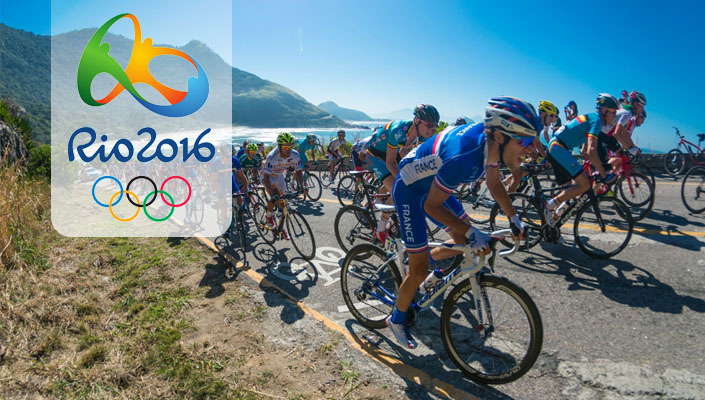 The Rio Olympics are sure to bring 14 days of the most exciting cycling all year
With all the excitement and sleepless nights of the Tour de France behind us, all eyes turn to the Olympic Games in Rio, August 5, 2016 - August 21, 2016, as the world's best cyclists put their team loyalties to one side and fight for national glory instead.
Road Racing
---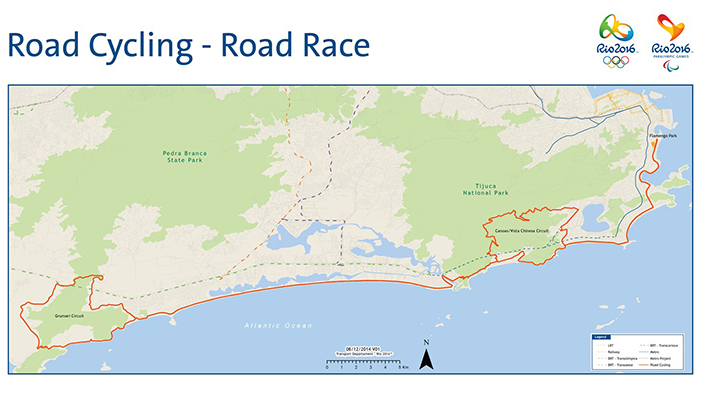 Rio's Olympic road course will spend a significant time along the coast
Men's Road Race - Sat., Aug. 06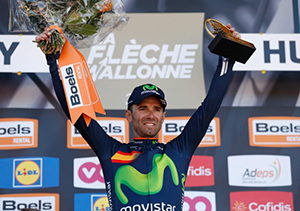 Alejandro Valverde looks strong coming into Rio
image: gazzetta.com
Olympic cycling kicks off with the Men's road race on August 6th. The course, over a total of 256.4 kilometres (159 miles), is a tough one, with more than 8km of cobblestones and 40km of climbing. Expect the winner to be a rider who can climb well, descend fearlessly, and have the strength to handle the rough road surfaces. BikeRoar predicts Spaniard Alejandro Valverde to be right in the mix, along with Italian Vincenzo Nibali and Frenchman Julian Alaphilippe. Tour de France winner Chris Froome could feature on the podium to wave the flag for Britain, but his attention may be firmly fixed on the Individual Time Trial on August 8th.
Men's Road Race - BikeRoar Podium Picks:
Alejandro Valverde (ESP)
Vincenzo Nibali (ITA)
Chris Froome (GBR)
Men's Time Trail - Wed., Aug. 10
Froome took the bronze medal at the London Olympics in the Time Trial behind compatriot Sir Bradley Wiggins and Germany's Tony Martin. Expect Martin and Froome to appear on or close to the podium again - their main threats should be Switzerland's Fabian Cancellara, Australian Rohan Dennis, and Dutchman Tom Dumoulin. Dumoulin broke his forearm after crashing on Stage 19 of this year's Tour de France, but is still upbeat about his Rio campaign, and is likely to race in a special brace that will hold and protect his arm during the Games.
The Time Trial will take place over 54.5km (34 miles) and will use a smooth strip of tarmac that was recently laid down one side of the cobblestoned section of the road race course.
Men's Time Trail - BikeRoar Podium Picks:
Chris Froome (GBR)
Tony Martin (GER)
Tom Dumoulin (NED)
Women's Road Race - Sun., Aug. 07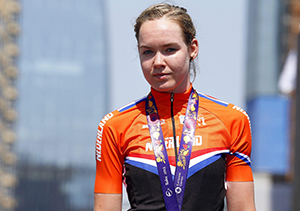 Anna Van Der Breggen is our pick to win gold
image: rtvoost.nl
The women's road race will be contested over 141 km (87.6 miles) and will feature most of the same brutal climbs we'll see in the men's race. Expect to see Dutch riders taking control early, with both Anna Van Der Breggen and Marianne Vos out to prove their pedigree. Challenges will probably come from Brit Lizzie Armitstead and the USA's Megan Guarnier.
Women's Road Race - BikeRoar Podium Picks:
Anna Van Der Breggen (NED)
Lizzie Armitstead (GBR)
Marianne Vos (NED)
Women's Time Trial - Wed., Aug. 10
Van Der Breggen is fully capable of taking the Time Trial / Road Race double. The women's Time Trial is over 29.8km (18.5 miles) - short enough that the legs won't be too fatigued form the road race two days earlier. New Zealand's Linda Villumsen has been in blistering form, and defending Olympic Champion Kirstin Armstrong of the USA (nope, no relation) is too tough to ever write off.
Women's Time Trial - BikeRoar Podium Picks:
Anna Van Der Breggen (NED)
Linda Villumsen (NZL)
Kristin Armstrong (USA)
Track Racing
---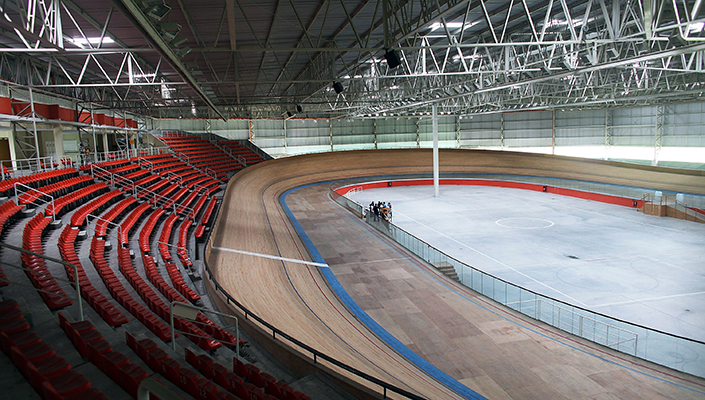 The brand new Olympic Velodrome looks stunning
On the track, expect to see the USA, Great Britain and Australia fight it out for the medals in the women's Team Pursuit, whilst the men's title should be awarded to Great Britain, Australia and Switzerland respectively.
In the men's sprint, Jason Kenny of Great Britain and Australian Matthew Glatzer should find themselves in the gold medal ride-off, with Russian Denis Dmitriev expected to take bronze. If the Russian team's fortunes change again over the next few days and they are unable to make it to Rio, (so far three Russian cyclists formerly conviceted of doping look certain to be expelled), Frenchman Gregory Bauge might well find his way onto the podium.
The women's sprint should see Australian Anna Meares take gold, with German Kristina Vogel grabbing silver and Zhong Tianshi of China finishing with the bronze.
Meares and Vogel will again do battle in the Keirin event - expect the experience and nerve of Meares to give her a slight edge over the German. Great Britain's Becky James is a good bet to bring home bronze. For the men, German Joachim Eilers has established himself as an early favourite, with Eddie Dawkins of New Zealand and Frenchman Francois Pervis the best chances for grabbing the minor medals.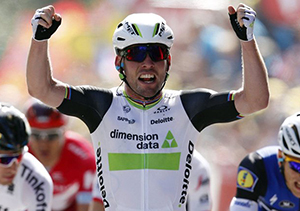 Mark Cavendish is fresh off the TdF after abandoning the race early (after stage 16) to focus on Rio 2016 Olympics
image: skysports.com
Colombian Fernando Gaviria will be very hard to beat in the men's Omnium event, although Britain's Mark Cavendish, fresh off four stage wins at the Tour de France, should give him a run for his money. Australian Glenn O'Shea is unlikely to beat Gavira or Cav, but is probably strong enough to come away with a bronze medal. Laura Trott of Great Britain is the most likely to take the Omnium for the women, ahead of American Sarah Hammer and Annette Edmondson of Australia.
In the men's Team Sprint it could well be the New Zealand team to take gold, with France and the Netherlands taking away silver and bronze, while China, Russia and Germany should stand on the podium after the women's race.
Track - Medal Rounds Event Schedule:
Men's Team Sprint Finals - Thu., Aug. 11
Women's Team Sprint Finals - Fri., Aug. 12
Men's Team Pursuit Finals - Fri., Aug. 12
Women's Team Pursuit Finals - Sat., Aug. 13
Women's Keirin Finals - Sat., Aug. 13
Men's Sprint Finals - Sun., Aug. 14
Men's Omnium Points Race - Mon., Aug. 15
Women's Omnium Points Race - Tue., Aug. 16
Women's Sprint Finals - Tue., Aug. 16
Men's Keirin Finals - Tue., Aug. 16
Cross Country Mountain Bike Racing
---
Barring incident in the women's mountain bike race (which, I admit, is like saying "barring any screw-ups from the race organizers at the Tour de France"), either Jolanda Neff of Switzerland or Denmark's Annika Langvad will be crowned champion, probably followed by Canadian Catharine Prendel in third. Julien Absalon of France is in a strong position to take the men's MTB gold ahead of Switzerland's Nino Schurter . And the bronze medal? It would be a fairy tale, but BikeRoar tips Tour de France Green Jersey winner and road race World Champion Peter Sagan of Slovakia.
Cross Country Mountain Bike - Events Schedule:
Women's Cross-country - Sat., Aug. 20
Men's Cross-country - Sun., Aug. 21
BMX Racing
---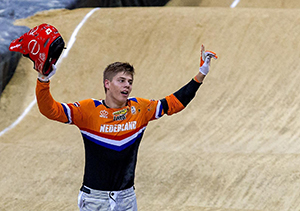 Kimmann is looking to bring BMX gold home
image: rtvoost.nl
Still on the dirt, the men's BMX title will go to Joris Daudet of France or Niek Kimmann of the Netherlands, with Maris Strombergs of Latvia and Briton Liam Philipps fighting it out for bronze. Caroline Buchanan of Australia could well take gold in the women's race, but she'll have to pry it from the hands of either Colombian Mariana Pajon or Venezuela's Stefany Hernandez.
Women's Final - Fri., Aug. 19
Men's Final - Fri., Aug. 19
This will be 14 days of cycling at its absolute finest, and will be an awesome showcase of our beautiful sport - don't forget to program your DVR!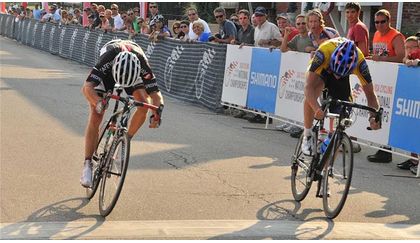 Looking to get better at sprints?
BikeRoar
has you covered with some great tips on how you can become a better...
READ MORE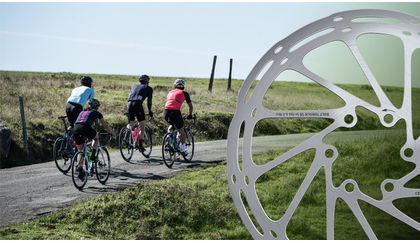 Theres no denying the performance gains of having disc brakes on your road bike
But with all the drama in road cycling
BikeRoar
gives you advice on...
READ MORE