While scrolling through my Strava feed I saw that my friend had ridden 40 km in London. I had only seen him the day before and thought he was pretty keen to get on a flight overseas and then jump straight on the bike. The very next day he was somewhere in the Pacific riding again! After being slightly confused when I saw him again the day after, I learned that he was part of an online virtual training community called Zwift.
What is Zwift?
---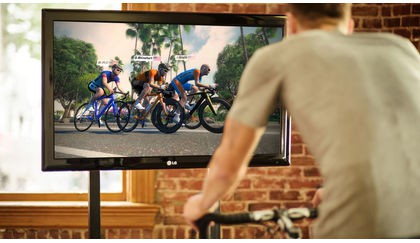 Zwift is a social 'turbo-riding' platform where you can ride a number of courses (both real and imaginary) in a virtual online world. The online program syncs with your home bike trainer and allows riders from all over the world to meet online to train together or race against each other.
It's a safe way to train with friends (with no cars to worry about) and you could end up never wanting to ride in the real world again... You even get to choose your own online bike and outfit.
To access Zwift's online features (competitions and courses) you need a Zwift membership ($120 USD for 1 year) and a compatible trainer that can sync to a smartphone, tablet, or smart TV.
Benefits of Zwift
---
I'm sure that at some point in your cycling career you have been injured and have needed to spin the legs on a stationary trainer. Or perhaps you live somewhere with an extreme cold or hot climate and the indoor trainer is the only way you can stay fit. Well, then you are aware that cycling on a trainer can be very, very boring.
Zwift's technology and the power of the Internet means you can do an indoor trainer session along with other people all over the world, together in the Zwift world. You can choose different routes and destinations to ride, join group rides, race — and it even links to Strava!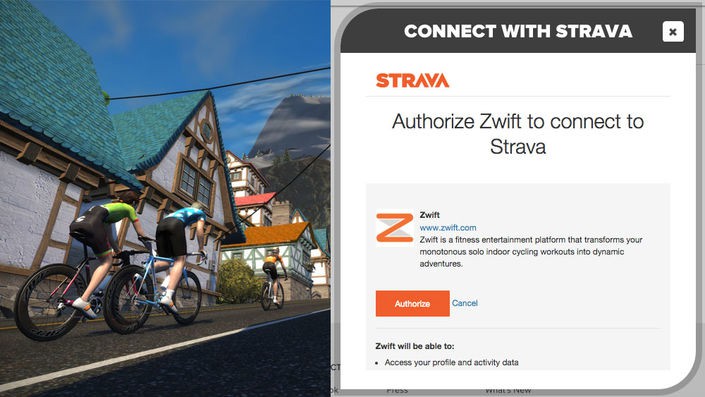 Here are the benefits of Zwift:
Get motivated by training with other people.
Stay safe without risking a crash injury — especially if you're already injured.
Keep social while training alone — join group rides and races.
Structured training plan — focus on hill climbing, sprinting, etc.
Reduce typical stationary cycling boredom by watching the virtual scenery.
Strava compatible — race for KOMs and QOMs in Zwift world.
No need to wear a helmet.
Inclines feel real — the difficulty of a course uphill is replicated in the amount of resistance applied by the trainer.
Individual power-to-weight ratio determines whether you accelerate on the climbs or drop back.
You can draft. Less resistance is applied by the trainer when drafting, so you can practice drafting techniques.
Stay inside to avoid the heat or the cold.
Zwift Compatible Trainers
---
So, it all sounds pretty awesome, but it is a bit more complicated. You need a compatible trainer to link to Zwift and it is a little mind boggling to read about all the different Zwift compatible trainers on the market.
The trainer needs to measure your speed, power, and cadence, and link it all to the online virtual system. You could use a classic trainer and add a power meter, speed, and cadence sensor to your bike, but I really like the idea of the trainer having it all built in. That means there is less chance of one piece of technology not talking to another.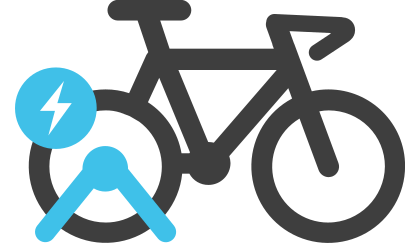 A smart trainer is one that has either ANT+ (a wireless protocol for monitoring sensor data) or Bluetooth built into it, which allows you to connect to your device (PC, Mac, iPad, etc.). It automatically sends the data to Zwift and you can see it in real time on your screen. A key difference between a smart trainer and a standard trainer is that it measures your power.
If you are trying to retrofit your old gear, check your devices on the Zwift compatibility page. It seems a bit complex to figure out if your heart rate monitor or cadence sensor will connect, so good luck if you are determined to make it work, or continue reading and upgrade to a compatible trainers.
There are two main types of smart trainers: direct-drive — take your rear wheel off and mount the bike on a cassette built into the trainer — and standard wheel-on, where you keep your wheels on your bike and the rear tire presses against a roller. Direct-drive systems are becoming more popular since they can give a more realistic feel, be quieter, and won't wear out your rear tire, but you may need to buy an extra cassette if the one you buy doesn't come with one. Standard wheel-on trainers usually cost less and typically fold up to some degree, making them easier to transport and store.
I must admit I get a little lost with all the technology and linking of sensors and apps and devices. I hate pairing and syncing devices — something always goes wrong or needs an update! Although some of the smart trainer options are more expensive than the standard trainers (which you can purchase with all the add-ons needed to make it 'semi-smart'), it makes more sense to get one that is already enabled and ready to go.
Here are some of the Zwift compatible smart trainers we like:
---
The Elite Turbo Muin Smart B+ trainer is a quiet, direct-drive style trainer that uses fluid resistance technology. The trainer includes a Misuro B+ Sensor that sends speed, power, and cadence data to ANT+ and Bluetooth smart-compatible apps and devices. The trainer has a wide range of resistance that covers the needs of all levels of athletes. Simply mount your bike and ride as you would on the road.
---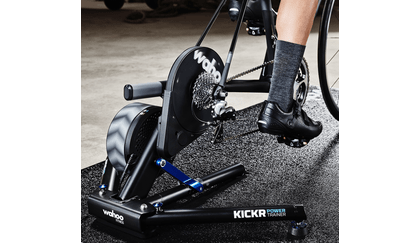 The KICKR Direct-Drive trainer ticks all the boxes for being quiet (just 61 db), having accurate power measurements, and kicking back with up to 2000 watts of electromagnetic resistance (not sure who could possibly push that power!). It uses complex algorithms to replicate the feel of riding on the road, and is durable and stays in place while riding hard. KICKR comes with built-in speed, distance, power, and cadence, and uses Bluetooth and ANT+ to connect to Zwift and other third party apps.
Team Sky have used KICKR brand trainers for the past 3 years and they seem to be doing all right...
---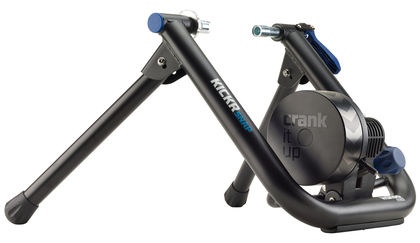 The little brother model to Wahoo's direct-drive is the KICKR SNAP wheel-on smart trainer, using electromagnetic resistance. Although you may wear through some tires, this trainer is a lot cheaper than the direct-drive model. Feel and accuracy are a little bit less than with the direct-drive, but if you're more interested in the fitness side of things and not so much the numbers, then this shouldn't be a problem.
You can still use your smartphone, tablet, or computer to control resistance on the trainer. It has ANT+ and BLE (Bluetooth Low Energy) capabilities and provides a decent power measurement.
---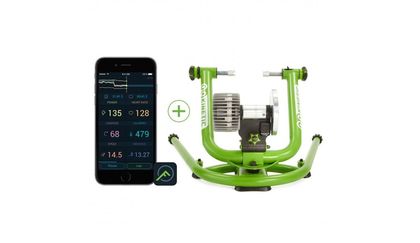 The Kinetic Rock and Roll smart control trainer is a wheel-on trainer. It is fairly quiet for a wheel-on trainer (80 db), uses fluid resistance, has a pre-installed and pretty accurate inRide sensor for power metering and connectivit, and you can change its resistance using your smart phone. No additional sensors or add-ons are needed to run it with Zwift, but it does only use Bluetooh, no ANT+.
The trainer claims to give a realistic road feel as the trainer 'rocks' with you if you stand up to ride hard. It has a pivot point with elastomers that allow it to move side-to-side. The rocking is also meant to work your core as you train.
You don't necessarily have to wear out your regular or good rear tires on your bike.
Kinetic also sells a trainer-specific Trainer Tire that's more durably made and formulated to grip the trainer roller better. This works best mounted on an extra rear wheel rather than changing tires in between road and trainer sessions.
---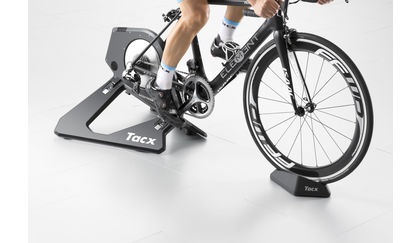 The TACX Neo Smart direct-drive trainer uses 'Interactive Smart' direct drive with motor brake resistance to simulate nine different types of road surfaces to give you a better real-world feel of the 'road': cobblestones, cattle grid, brick... The trainer frame allows the bike to rock a little, when in use, to give a more realistic ride feel.
Neo Smart is one of the more expensive smart trainers on the market, but it has no belt, roller, or flywheels inside, which apparently makes it quieter and gives accurate power readings. It uses the Bluetooth Smart and ANT+ FE-C protocol for connectivity. The trainer has a big sturdy footprint, and it folds up for storage. The Neo Smart is built to have less complicated calibrations and maintenance and it easily links with Zwift. Sounds good to me!
---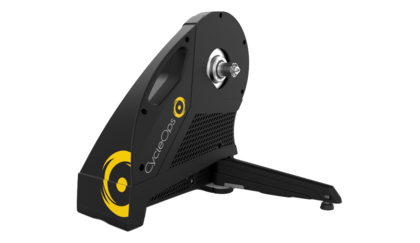 The Cycleops hammer direct-drive trainer is Zwift enabled, with integrated dual ANT+ FE-C and Bluetooth 4.0 technologies, which means it's easy to pair.
This one does not include a cassette, so you'll have to buy that separately or you could take it off your bike, which would be annoying. It has an electromagnetic resistance system and it is quiet (64 db). The cadence sensor is sold separately, which makes sense as many cyclists already have a GPS computer with a cadence sensor.
With so many great options for smart trainers these days, I think purchasing one that is already set up to link to Zwift is the way to go. On-bike power meters can be expensive and not always compatible, so to have it built into the trainer makes sense. The add-ons can get expensive — new cassette, non slip mat, trainer tire, sweat guard, etc. — so keep that in mind. The Zwift virtual training technology makes something really boring into something to look forward to. Meet up with online 'friends' to train, enter in competitions, or just race against your own personal best times to increase fitness and strength without leaving the house.
Which smart trainer would I buy?
---
My pick of the bunch would be... Click here to see our editor's choice!
Other Virtual Training Apps
---
Zwift is the talk of the town at the moment, but there are actually a stack of different virtual online training apps out there, each with their own focus or point of difference. Here are just a few: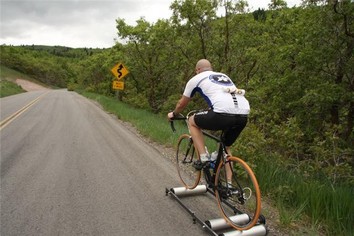 Learning to ride on rollers can be challenging, but it can revolutionize your indoor training and has many flow on benefits...
READ MORE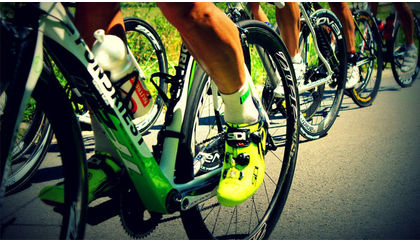 We look at some ways to improve the efficiency of your pedal movement. These drills are easy and quick to do and can be incorporated into your normal riding or spin class...
READ MORE