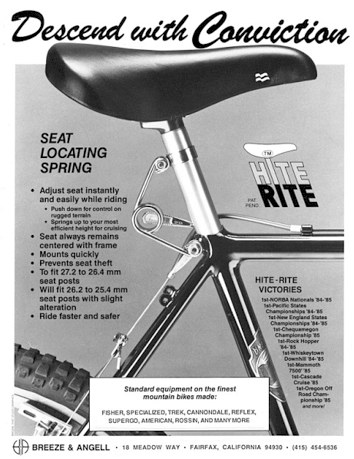 Original Breeze & Angell HiteRite
Dropper seatposts are actually getting good enough to bother using. I know that will not be a popular statement but in light of the speed of progression of other mountain bike technology they seem to be the most slowly evolving component of all time. It's been well over 20 years since Joe Breeze brought out Hite Rite and thankfully, after all that time, some of the latest models are finally becoming practical and reliable enough to consider more closely.
Past issues
The difficulty when designing this component is that the seatpost carries most of a rider's weight, which is amplified greatly when you throw in some technical trail riding as well. The seatpost needs to handle all the load and associated forces as well as hydraulically move up and down. As you can imagine, longevity has been an issue. (One bike shop mechanic I read about reckons he had a 90% return rate for repairs or warranty and he still loves them!)
How do they work?
Dropper seatposts are sort of like your gas operated office chair in a much smaller package. They may be hydraulic or mechanically operated with an under saddle lever or remote attached to your handlebars. Some models like the Specialized Command Post come with three preset positions, others without presets at all.
One of the limitations when purchasing is the diameter of your seat tube, or more precisely the diameter of the seat post that will fit your bike. There are models that go down to 27.2mm but typically 30.9 or 31.6mm diameter will be the limit of availability.
Why use a Dropper?
The whole idea of a remotely adjustable seat post is to allow for easy switch from a climbing to a descending position without losing your flow, ie: getting off the bike and adjust the saddle height the conventional way. This adjustability means you can have full leg extension for maximum power when climbing. It then allows you to drop the saddle for a lower centre of gravity and the ability to move your body around to maintain balance, traction and control on technical descents and all without missing a pedal stroke!
Some popular models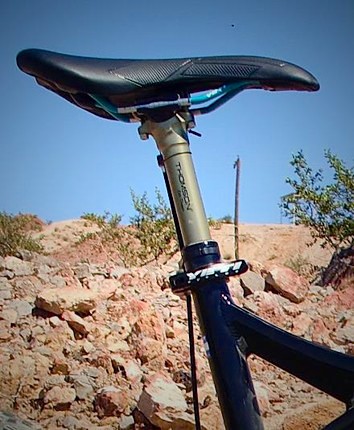 Thomson dropper post at Outdoor Demo 2013
The Rock Shox Reverb is one of the most popular models currently and uses a hydraulic handle bar remote to actuate the seatpost. The most common issue has been the necessity to bleed the hydraulic component out-of-the-box which could be a problem for someone not familiar with this type of maintenance.
Specialized Command Post uses a mechanical (cable) handlebar remote to operate the air spring and is adjustable to three levels: 75, 100 and 125mm.
Crank Bros Joplin has a bit of a reputation for breaking! It is available with under the saddle lever actuation or with a handlebar remote. The latest Kronolog model has apparently addressed a lot of the reliability issues.
Gravity Dropper is a crowd favourite for sure. It may have been hit with the ugly stick a few times but the beauty of this design is that it is solid and is less prone to breaking.
Obviously there are many more brands, notably KS and the Thomson Elite Dropper model which is typically solid (and expensive!).
---
What are your experiences with dropper seatposts? Share your thoughts with us in the comments below.