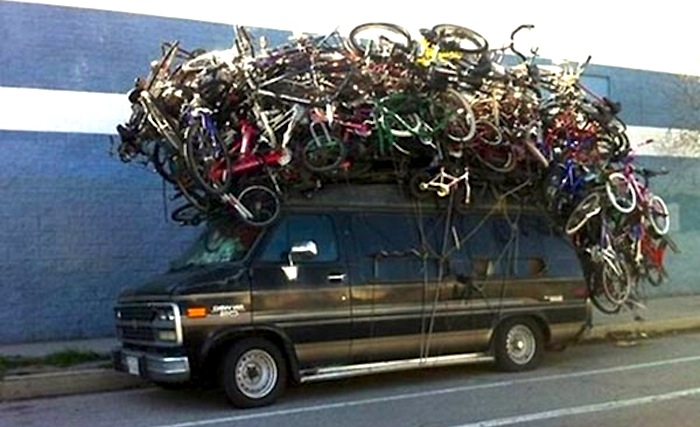 Bikes can be a logistical nightmare. They are big and, to be honest, just the wrong shape to pack, stack or move anywhere easily. Picture the modern family with 4-5 bikes trying to get anywhere decent to ride together, or the bunch of mtb lads wanting to get their big travel beasts out to the trail head. It can be hard work. Fortunately we now have a plethora of choices to make it all a bit easier.

TIP: "Hands up who rides carbon fibre?" A lot more hands than 10 years ago. Carbon is not so good with lateral clamping forces. If you want to prevent any disastrous accidents to your frame, use a rack or carrier on which the bike can sit with wheels supported, or on a roof rack with a down-tube stabilizer bar.
---
Attaching a tow-ball to your car is an expensive initial outlay but if you've got one, carrying bikes just got a whole lot easier. Tow-ball racks have long been the standard method for carrying bikes on your car. Remember the three bike carriers with a screw down plate? Oversize hydro-formed alloy frame tubing and carbon fibre make this old style impractical for the modern cyclist, but there are many new designs which are far more versatile.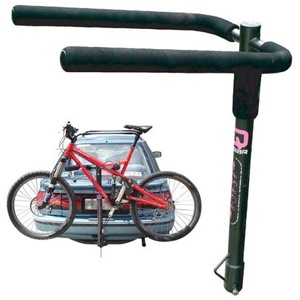 Bike Shop Experience: If you are looking at purchasing a simple 1-4 bike tow-ball mounted rack, my experience says go for the two beam version. The beauty is its simplicity. The beams allow just about any bike to be carried - kid's bikes, adult bikes, MTB's, road etc. The supplied straps are easy to use and often it is just a case of putting it directly onto the tow-ball and tightening an allen bolt.
For bigger families, bigger bikes or simply more precious cargo, a good option is the platform rack. In the past these were relegated to cars with a square hitch. The latest versions only require a tow-ball. The bikes sit on top of the rack making it very easy to mount and remove, and as the bike is supported from underneath, it is perfect for expensive carbon road and mountain bikes.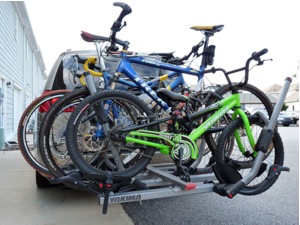 Photo: bikerumour.com
THE GOOD
Ease of use
Carry multiple bikes
Carry all types of bikes
Strong and reliable
Some models allow access to tailgate with a swing down or out feature
Some models have a platform for wheel support
THE BAD
Requires tow-ball or hitch
Some types restrict tailgate access
Can be heavy and difficult to take on/off your car
Can be expensive
---
The mainstay of the road and triathlon crowd is the roof rack mounting system. Putting bikes on the roof keeps those expensive carbon beauties out of harm's way; they travel well supported with wheels in a specially designed channel and leave the car free for all your other gear. These racks are best for road bikes as it can be a real effort to lift a heavy bike onto the roof of your car!
The main drawbacks are: 1. Bug splatter from a long drive and 2. Parking (see image below). It is interesting to note that one expensive carbon wheel manufacturer actually offers half price replacement if you drive your bike into the ceiling of an undercover car park!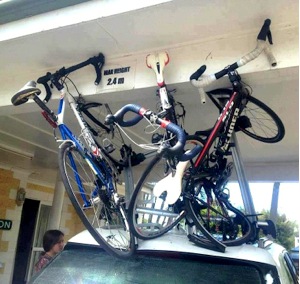 THE GOOD
Bikes are out of the way
Inexpensive if roof racks are already on the car
Good support for carbon bikes
Can be left on the car
THE BAD
Only for lightweight bikes (road/tri/lightweight MTB)
Bug splatter
Low clearance accidents!
---
For short trips, cars without a hitch or if it's just one or two bikes, the clip-on carrier is a good option. These are light and with practice, easy to take on/off a car. If you are a frequent user and can't be troubled with the heavier and burlier hitch mount options then this could be for you.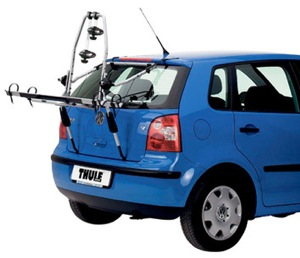 THE GOOD
Light and easy to manage
Compatible with most cars
Inexpensive
THE BAD
Limited to carrying certain bikes
Very temporary
Restricts all access to boot and tailgate
---
Finally, the most simple of all and a favorite of the MTB crowd. These attachments can be bolted or welded to the back of a ute or inside a van. Take the front wheel off and attach the fork securely. photo: www.fatcyclist.com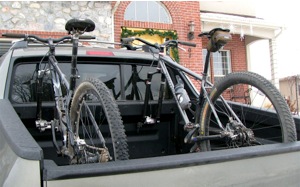 Photo: www.fatcyclist.com
THE GOOD
Permanent
Unobtrusive when not being used
Securely holds bigger, heavier bikes
THE BAD
You need a utility, pickup or van
Not ideal for lighter carbon bikes
---
This is just a sample of the many variations available. Share with us any new models with distinctive features and benefits and how it has helped you cart your bikes around.
Your Local Bike Shop is the best place to check out the various options and get good advice. Take your car along so the salesperson can give you accurate information on which carrier will fit and which will suit best.