Ever get that feeling that your tires just aren't doing the job? Perhaps you keep losing grip on the front end, or sliding out in the rear. Maybe pedalling that rubber just seems like pushing "ahem" uphill, you slog and slog and go nowhere. Or is it the constant flats from "snake bite" rim pinches?
Anyway, reasons to look for tire options are many.
Changing tires has perhaps the greatest impact on "in the saddle" bike performance than any other upgrade short of buying a new bike! Having confidence in your tire grip is crucial to riding through corners at speed and can completely change the way you handle your bike in all situations.
The key is having the right tires for the right conditions.
---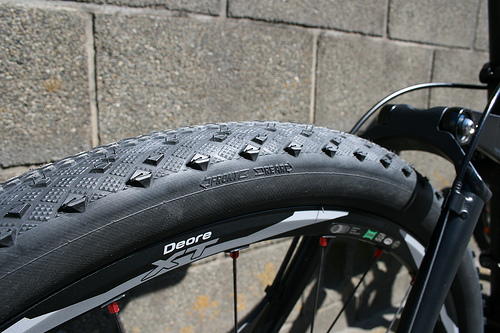 1. Race / Fast Rolling
Race tires are one of the more specific tires available. To achieve their lightweight qualities means the removal of rubber! The obviously result is a thin wall that can deflect easily. The tread will be very low profile and in some instances hardly there at all.
These are tyres for racing, not for everyday trail riding.
Examples: Schwalbe Furious Fred, Continental Race King, Maxxis Maxxlite
TIP!  If you are having difficulty getting enough grip, bouncing and banging around over rocks, or just generally experiencing a harsh ride, try lowering the air pressure in your tires. It is amazing what a difference 5 psi can make. Just remember, low pressure equals more grip but also more pinch flats!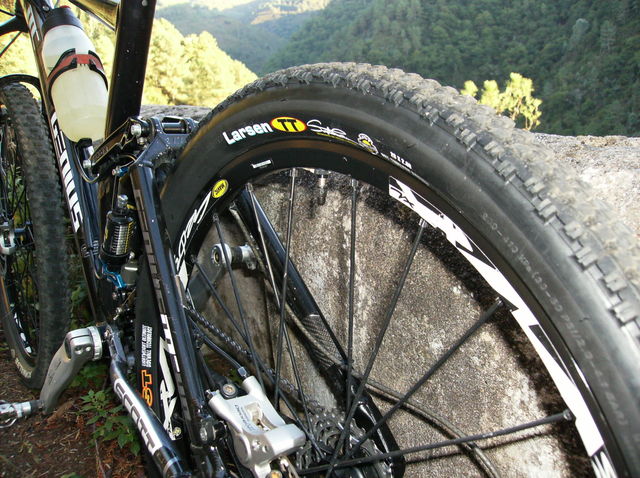 2. Hard Pack / Fast Rolling
What is hard pack? Hard pack are trails that are relatively smooth with a base of packed soil or clay. These conditions are good to ride on with a specific tire that is fast rolling with fairly close spaced and/or ramped knobs.
Although heavier than a specific race tire, the high rolling speed makes them ideal for an endurance or marathon mtb event. 
The heavier rubber and thicker side walls makes them less prone to pinch flats than the lighter race tires.
A great choice for general trail riding in less rocky, dry conditions and flowing trails.
Examples: Schwalbe Rocket Ron, Continental X-King,
Maxxis Larsen TT
---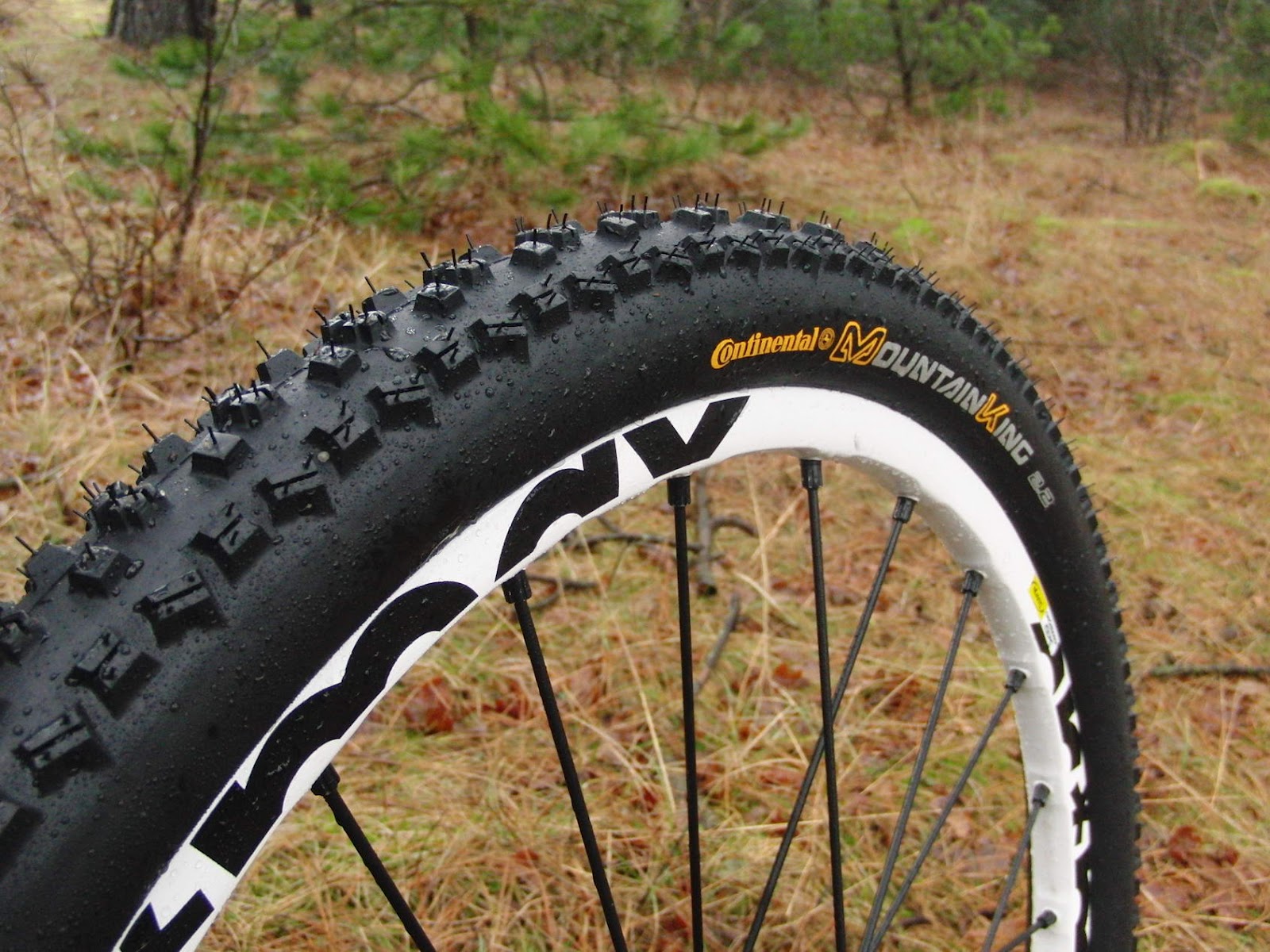 3. Trail / Medium
One tire to rule them all. The trail tire is more aggresive but is designed to roll well and maintain bike speed. With trail tires you will begin to see much larger and widely spaced knobs on the tread. The outermost tread will be more aggressive to allow grip when cornering.
Trail tires have thicker side walls and are much more resistant to punctures and pinch flats.
This is the perfect 'do it all' tire and is the choice if you just love general trail riding in moderate to very rough conditions.
Examples: Maxxis High Roller/Ignitor,
Continental Mountain King II, Schwalbe Nobby Nic
TIP! Try mixing up front and rear tyres for the best combination of grip and speed. I run a trail tire on the front for better grip and control and a fast rolling hard pack tire on the back for speed.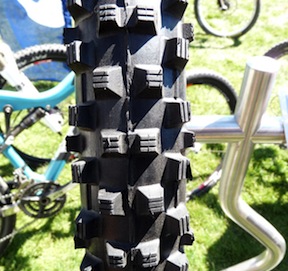 4. Mud / Slow
Mud tires are similar to trail tires. The most noticeable difference is again the tread pattern which will feature very deep individual knobs, spaced widely apart. The purpose is to dig deep into the mud for grip and to then shed the mud while rotating.
The deep tread makes these tires slow rolling and hard work outside of their intended terrain.
A specific tire for muddy conditions and handy to keep in the garage for winter riding.
Examples: Maxxis Medusa, Continental Mud King, Schwalbe Dirty Dan
---
5. Downhill / Freeride / Slow
Downhill and freeride tires are the heaviest, widest and most aggressively treaded tires available. When you are flying downhill, grip is the most important commodity, closely follwed by speed. Some downhill tires are front and rear specific: the front designed for cornering grip, the rear for faster rolling.
These are a specific tire and not recommended for general riding.
Examples: Maxxis Minion, Continental Der Kaiser, Schwalbe Big Betty

---
It doesn't matter whether you ride 26" or 29", the tire tread qualities are the same.
Let us also not forget Tubeless. Tubeless tires are available as options for most of these tire styles. Wheels can be purchased that are already tubeless tire ready, plus there are kits available that can convert standard tyres and rims to a tubeless system.
Tubeless tires are heavier than standard tires as they carry extra weight in the side walls, this is counteracted by the ability to run them at extremely low pressure, thereby increasing grip.
The extra weight is also balanced by the fact that there is no tube.
It is also crucial to remember the importance of correct air pressure. If you're finding it hard to get a grip, try lowering the pressure. This increases the chance of a pinch flat but also creates more grip as the tire is more flexible and able to mold around the terrain.
The examples given here are just a guide. If unsure, consult your local bike store for information on tires suitable for your local conditions and riding style.