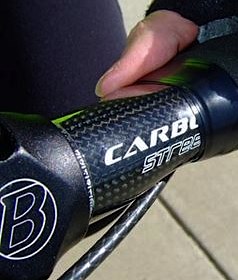 Carbon fiber and aluminium are the two most used materials in bicycle frame and component manufacturing, and for obvious reasons. Both offer strength at relatively minimal weight: perfect for use on a bike as you have to pedal around with every ounce... Less ounces equal less effort and ultimately more speed!
The recent article "Frame materials and what to buy" outlined alloy, carbon and steel frame choices and the relative qualities of each material. Now we will have a look at components and what this means when you are looking for an upgrade.
Components
---
What started off as a carbon fibre seat post here and a handlebar there has now filtered into every component on a bicycle. Pedals, bottle cages, derailleurs, derailleur cages, gear and brake levers, brake callipers, even whole saddles are now constructed from carbon fibre.
Scan through any online store product listing and it becomes obvious that components made from carbon are more expensive than their alloy counterparts....sometimes very much more expensive. For example, looking through the BikeRoar road bar listing:

The law of diminishing returns:  What can also be seen from the comparison mentioned above is that from the Pro to the Team is $166 and 45g weight loss, then to the Ergonova LTD is another $120 and 9g. Please note this is purely as an example. I merely wish to point out that the more you pay, the lighter the component generally becomes. However, as you get up to the top end, the law of diminishing returns comes into effect and weight loss becomes less and less pronounced, yet prices sky rocket!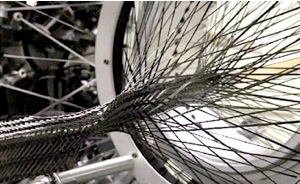 The carbon fiber weaving process
The reason for this is that making components with so little weight is a bit more complicated than sticking a few sheets of carbon together with some glue. This is the absolute cutting edge of materials technology and reasonably enough, if you want the best you have to pay.
It is also for this reason that a vast majority of standard components are constructed from aluminium and its alloys. They are light, strong and cost effective. Alloy is also more resistant to damaging impacts than carbon; so if you haven't got the cash to replace expensive components regularly, or you're a mad keen mountain biker, alloy may be a better bet.

TIP:  Some reasonably priced carbon fiber components may not actually be as good as they seem. Cheap carbon often has no weight advantage to a similarly priced alloy part. Also, I have regularly seen parts that are flouted as carbon, but are actually just an alloy part wrapped in a skin of carbon fibre. Typically these parts are pretty pointless and are obviously aimed at a market wanting carbon 'look' without any of the advantageous properties of the naked material. Just be aware of what you are buying and comparing.
Is it only about weight?
---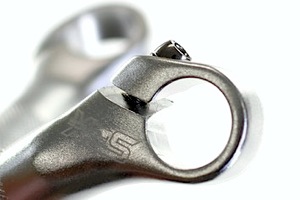 SX Force Alloy Bar Ends
No! For road bike riders, upgrading to carbon parts (seatpost and handlebars) can help introduce an extra level of compliance, which is basically a technical way of describing comfort. Carbon isolates the rider from road vibrations and reduces any harshness in the frame or wheels. This is less noticeable on a dual suspension mountain bike, for obvious reasons!
You could ask yourself if it is really necessary to spend an extra $200 on a part that may only result in the saving of a handful of grams, but the qualities of carbon fibre are more than weight saving.
In saying this, it is well to keep in mind that carbon isn't always the best choice (even if it is more expensive and marketed as being the "best"), anymore than alloy is the cheaper, lesser option. It comes down to the individual rider: Their style of riding (MTB or road), their weight and strength and of course the size of their wallet. 
From here it is up to you, the rider.
---
If you have any questions about a prospective purchase, or would like to share your experiences with either material, share your comments with us below...