BMX vs MTB? What's the best choice for your child?
Buying a bike for your kids can be a frustrating experience, as I often found working in the shop. What the child wants and what the parent thinks they should have are often very different things. Regularly the first hurdle is price, but after that comes 'style'. Which type of bike is best?
This usually comes up when the parent wants little Johnny to have a good bike to ride to school, or with the family on the weekend, when all Johnny wants is a BMX to huck a few jumps at the bike park or ride the street with his mates.
Which bike to get is really a matter of your own riding practices (which no doubt will play an important role in your child's development as a cyclist), where you live (for example: are there BMX tracks or MTB trails nearby?) and of course the type of riding the peer group is into. Let us not forget the will of the child. The window for encouraging a young kid to get on a bicycle is relatively small; perhaps this is an argument to "go with" their wishes as it encourages them to find their own passion.
By their teenage years they will be certain about what they want to ride and where (they will probably end up knowing more about current trends in cycling than us!).

TIP:  Avoid supermarket bikes. Whether BMX or MTB, these bikes are usually heavy and poor quality. Mountain bikes from a supermarket usually only come in one size, effectively negating one of the key qualities of choosing this type of bike. Also worth mentioning is suspension. Front forks are OK, but I would steer well clear of dual suspension (shocks front and rear) unless you are spending closer to $1,000.
---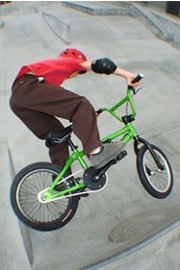 In my most recent store, BMX was by far the most popular choice for the 6+ year old, right up to teenage years. This is probably to do with the Local Council building many concrete skate and bike parks around the city, as well as a healthy regional BMX race community and track.
BMX bikes enable racing and socializing at the local club which can help with encouraging our kids to get out and have a go. But, whichever discipline you choose, there is a healthy social aspect to BMX race, street and park riding.
As for the bikes: BMX bikes are solid and simple. They are known for their ability to stand up to the roughest treatment and no gears = at least one less part to break. A good quality BMX is usually fairly lightweight, partly as a result of its small size. This is also one of the drawbacks. 20" wheels are standard and, apart from minor differences in top tube length, one size generally fits all. The lack of gears and low, cramped body position, although perfect for freestyle, is an issue on longer rides and riding up inclines. BMX bikes are simply not designed for "in the saddle" riding.
THE GOOD
Solid and bomb proof
Simple
Skate/bike park riding
Relatively light weight
THE BAD
Generally one size
No gearing
Body position on longer rides
---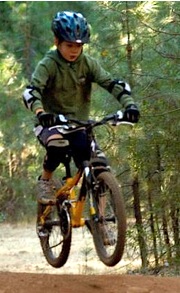 A mountain bike is the alternative option. Between the ages of 6 and 15 years, geared mountain bikes are popular because of their versatility. 20", 24" and 26" wheels are available in different frame sizes, making fitting the correct size bike a breeze.
Gears, typically 21-24 speed, allow riding up hills, along forest paths and trails, or anywhere else you would care to go. Getting a properly fitted and easily ridden bike encourages our kids to enjoy their cycling rather than it being a chore.
Once again, the decision comes down to the purpose of getting any particular bike. If you are a family that enjoys mountain biking or longer family rides on the street, bike paths or trails, this type of bike is obviously perfect.

TIP:  The drawback of gears is they can be easily damaged. I recommend for younger kids to attach a derailleur guard to protect the gears when Johnny comes home and drops his pushy on the driveway, derailleur side down.
THE GOOD
Easier riding
Different sizes (wheels/frames) available
Gears
Suspension
THE BAD
More complicated
Derailleurs can damage more easily
Lacking street cred
Can be heavy
---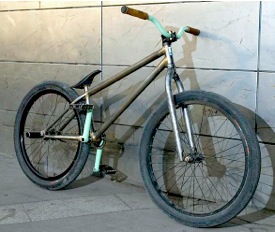 Other options to consider are the 24" cruiser BMX (basically a race BMX with bigger wheels) or a street MTB (a single speed mountain bike with 24"-26" wheels and short wheel base).
Once again I would say that whether you choose a single speed BMX or a multi speed MTB, as long as it encourages our kids to get out and ride, socialise and have fun, we can't really make a mistake.
---
Share with us your own family related bike purchasing conundrums!