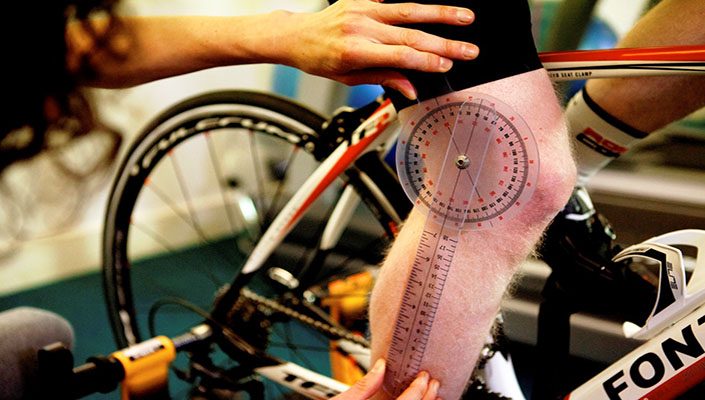 Proper bike fit is extremely important in road cycling.
The significance of sizing and fitting is not lost on BikeRoar when it comes to selecting the proper road bike, after all, bicycles – like people – come in all shapes and sizes. Geometrically, there are aggressive 'race' frames for competition and relaxed 'endurance' frames for comfort. The frames for each come in both large and small and everything slotted in between. There are even women-specific bikes designed exclusively with a woman's anatomical differences in mind. All these options suggest there is literally something for everyone, but the question that quickly comes to mind is, just how does one marry the right sized bike with the right sized rider?
According to BikeRoar's recent 'Best Bike Shop' recipient, Tom's Pro Bike, there is no questioning the importance of compatibility.
"Bike fit is the most important aspect of purchasing a bicycle," said 27-year-old store manager Chris Lonzi, who has been a regular fixture at his father's Lancaster, New York, shop since the age of 2. "If the bike doesn't fit you properly, it doesn't matter how great of a bike it is, you won't ride it."
"A proper bike fit allows you to be more comfortable, more powerful, more efficient, and makes the ride more enjoyable." Lonnie's father, and shop's namesake, Tom agrees.
"A well-fitted bicycle is much more valuable than an ill-fitted top of the line bicycle." added the 56-year-old patriarch.
So, apparently when it comes to bicycles – size matters. Just what really is the right size? It is nearly impossible to escape the term "bike fit" while undertaking the often rigorous process of purchasing a new or used bicycle in today's marketplace. They are buzzwords on the lips of nearly every local bike shop (LBS) owner, salesperson, and fit specialist on the planet – not to mention an attractive incentive to lure would-be web shoppers to the increasingly scarce bricks-and-mortar stores.
Novices and veterans alike have at one time or another been confronted with the dilemma of choosing a bike that is questionably the proper fit. It is a borderline decision on whether to wait and order the appropriate frame or settle with either the smaller or larger option the sales manager is desperately trying to clear off the floor. Just how much weight does the argument for actual bike fit carry for the average punter looking to have a crack at cycling? Is this simply a scare tactic used to trick clueless consumers into shelling out an extra $250 (or more) to have an "expert" tell you how high your seat should be from the pedals or how far you should tip from the hip toward the cockpit?
Is it okay to get a smaller or larger bike?
---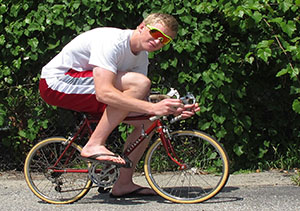 Bro, you think this bike fits?

Perhaps rather than literally asking "does size matter?" regarding bike fit, maybe a more apt query should be: if theoretically there is ever a time either a smaller or larger frame size is more suitable? After all, torso and leg length, as well as arm reach should all be factored into the equation. Imbalances in any of those three areas can require necessary adjustments to stem size, handlebar width, crank length and seatpost height to correct positioning and create an effective and efficient ride.
Australian performance triathlon coach Mark Newton believes there are exceptions to the rule that should not be ignored.
"Yes, there are times a rider will suit a bike that does not comply with the manufacturer's regular sizing range," said the certified bike fit specialist and director of Jet Cycles in Sydney. "Not all riders fit to the regular range due to variances or changes in anthropometrics/morphology."
Back across the Pacific, New Orleans bike fitter Robert Driskell (Bayou Bicycles) understands the Lonzis and Newton, and shares his own insights after spending two decades scientifically matching man and machine.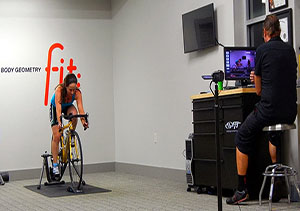 The science behind pro bike fitting

"You always have to start with the correct bike size," said Driskell, a Master Body Geometry Fit Technician certified by Specialized Bicycle Component University (SBCU) and Dr. Andy Pruitt of the Boulder Center for Sports Medicine. "Correct size can vary by someone who has long legs and a short torso or vice versa," he continued. "The suggested sizing guidelines supplied by the manufacturers are just that – suggested guidelines. "Whether or not other factors come into play is another variable, and only an accredited bike fitter can intelligently and safely decipher those variables and help the consumer with their decision-making process."
So in summation, does size matter? Yes, without a doubt. But the right size may not be the numbers specified by the manufacturer's website. Therefore erase the doubt and consult a certified bike fit specialist when making a purchase that could directly influence health, happiness, comfort, and performance.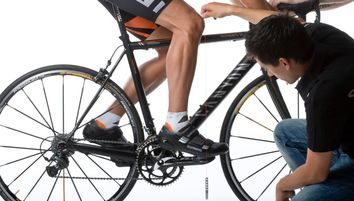 Neck sore and knees burning? Maybe you need to take a closer look at how your bike fits, it could be as simple as...
READ MORE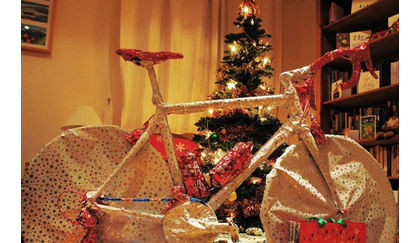 Did Santa leave a fresh new ride under the tree for you? make sure you follow these...
READ MORE