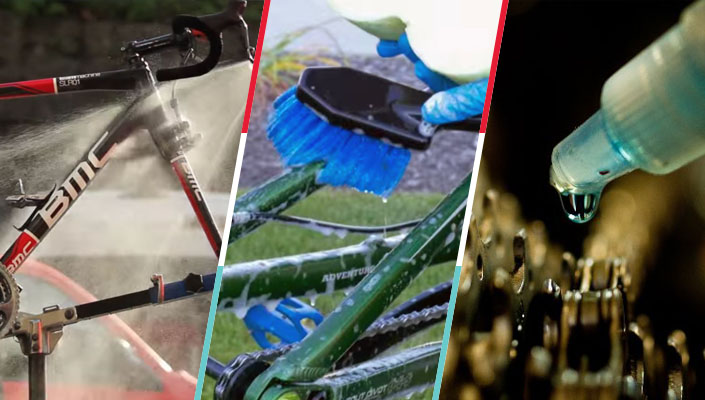 Prepare your bike for the riding season with some spring cleaning and care.
Do you remember saying, "I really love going to the dentist"? No? Because you never said it and neither did anybody else. But simply avoiding the dentist forever is not a smart move either – it will cost you a fortune in the long run, and in the meantime you'll have a mouthful of really ugly teeth.
Cleaning your bike is a bit like cleaning your teeth – not the most fun job ever, but the best way to maintain what you have and avoid costly headaches later on. So, whether you took the winter off and left your bike to languish in the garage, or you powered through and braved the rain, snow, and mud, spring is a great time to give your bike a thorough cleaning. The team at BikeRoar have come up with this list of products and ideas to help out.
Cleaning Brushes
---
There are some great bike cleaning products on the market (see next section), but whatever cleaning solution you use, you're going to need some elbow-grease and brushes. A good set of scrubbing brushes helps move the most hardened dirt and grease, with soft-bristled brushes useful for removing softened mud and road grime, and those with stiffer bristles making light work of lifting stubborn dirt.
The Park Tools BCB-4.2 Bike Cleaning 4 x Brush Set includes a tapered detailing brush — great for getting into all those awkward spots, a frame cleaning sponge / bristle brush combo, a soft bristle soaping brush, and the awesome GSC-1 gear cleaning brush for the cassette.
Whichever brand of brushes you go with, choose a kit that contains brushes of varying shapes and bristle stiffness. A large, soft-bristled brush or sponge is good for the frame and wheels and a cone-shaped brush is better for hard-to-reach areas. A toothbrush-type brush with stiff curved bristles can be used for cassettes and shifters, and you'll also want a brush to use when applying degreasers.
Cleaners, Detergents, and Degreasers
---
Having chosen your brushes, it's time for detergent. Bike cleaning detergents are designed to help loosen and remove dirt without damaging the paintwork or materials your bike is constructed from. Make sure the cleaner you choose is safe for use on metal, plastic, rubber, and carbon.
Classic pink Muc-Off Nano Tech Bike Cleaner has incredible cleaning power because it contains revolutionary Nano Technology that breaks down dirt and grime on microscopic levels while also caring for your bike's delicate finish. The solution is fully biodegradable, free from acids, CFCs, and solvents, and it's alkaline based so you can clean away with a guilt-free conscience. It's safe on all surfaces, and it's even disc brake rotor and pad friendly.
Shifter Bike Cleaner is specially formulated by Hope to clean even the hardest grime and yet still be gentle enough not to damage your paintwork, carbon, anodized aluminum, or brakes.
Like Muc-Off, Hope products are designed to be disc-brake friendly, and so contain no polish or other additives which might have a detrimental effect on disc brakes. Shifter is a thick, gooey solution that is sprayed onto your bike, left to dry, then hosed off with clean water. Its sticky consistency means it will cling to mud, grime and grease when sprayed on, allowing the powerful ingredients to get to work dissolving them.
Juice Lubes Dirt Juice Super Gnarl Concentrated Degreaser is the next step up on the grottiness ladder; more powerful than a regular cleaner, it can be applied with a clean rag directly onto filthy components such as your chain or cassette. For truly filthy parts, remove them from your bike and soak overnight in Dirt Juice.
To give your bike a general clean, dilute Dirt Juice in water (1 part Dirt Juice, 4 parts water) and it will act as an effective detergent.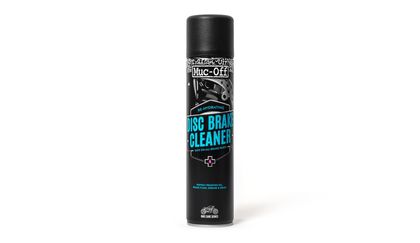 To preserve the life of your precious disc brakes, consider using a specialized disc brake cleaner like Muc-Off Disc Brake Cleaner. It can improve braking performance by rapidly removing brake dust and oil, as well as dirt and grime from all braking parts, and its unique formula has added conditioners that rehydrate your disc brake pads to dramatically reduce brake squeal, prolong the disc pad life and restore braking performance.
Chain Cleaner
---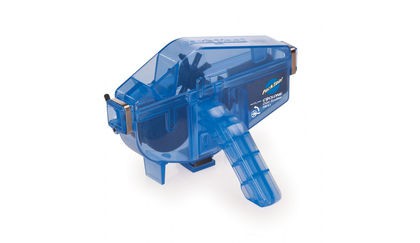 Keeping your chain clean is an essential part of good bike maintenance. You could pour some cleaner into a cup and start scrubbing meticulously with a rag or toothbrush, or get it done quicker and easier with the Park Tool CM-5.2 Cyclone™ Chain Scrubber. It uses an extra large solvent reservoir and a series of rotating brushes to get chains really clean. There is no need to remove your chain either – simply fill the chain cleaner reservoir with degreaser, clip it onto your chain and turn the pedals a few times. The reservoir contains hundreds of bristles to scrub your chain clean, and a magnetic pad to collect any stray metal particles.
Lube
---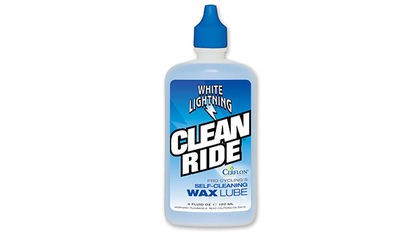 Now that your chain is beautifully clean, apply a wax lube such as White Lightning Clean Ride. It literally sheds dirt and grime while you ride, keeping your bike running smoothly, because it sets up as a dry wax film. There is no oily film to attract abrasive contaminants, so your chain and gears will perform better and last up much longer. Clean Ride's self-cleaning action is activated by any dirt, grit, or grime that finds its way onto your chain or parts. Small particles of the outer wax structure will flake off, taking the dirt, grime, or grit with it, prolonging the life of your chain and making it much easier to keep clean.
Polish
---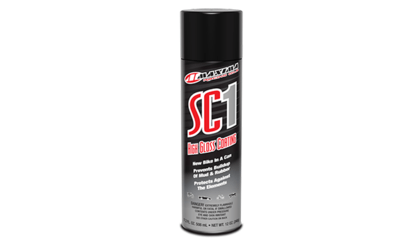 The final touch: add some bike polish. Products such as Maxima's SC1 Clear Coat Spray will retain their shine without washing off, even in wet conditions. The silicon base helps prevent dirt and mud from sticking to your bike, providing a long lasting shine.

PRO TIP:
Spray SC1 on your mountain bike's stanchions, shock shaft, and dropper post for a near frictionless ride.
Once your bike is sparkling clean, do your best to keep it that way. Apart from looking good, keeping it clean ensures a longer life for your components, which means you're safer out on the road and will save some dollars too.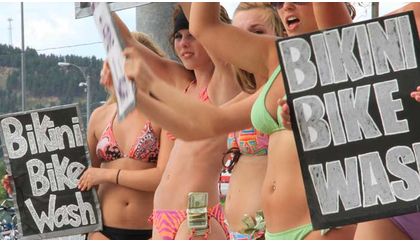 Riding in mud can result in all sorts of wear and maintenance issues with your bike. Here is the best way to clean your bike after a muddy ride...
READ MORE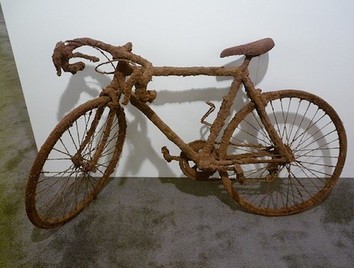 Helpful tips to keep your bike clean and running correctly...
READ MORE