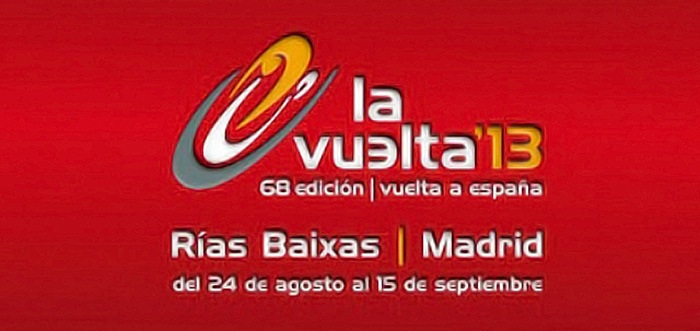 The Vuelta Espana has always been the forgotten Grand Tour, usually eclipsed by the Giro and of course, the Tour de France. This is a shame because the year's best racing can often be seen in Spain. If you're tired of watching five favorites playing cat and mouse saving their energy for the last few days of The French Race, then check out la Vuelta.
---
A surprise around every corner
Unlike the Tour de France which has been won the last two years by the obvious favorite, La Vuelta has retained its open field and surprise value. Even last year when it was won by Contador, who is regarded as one of the best stage racers of the modern era, that victory was his first big race after a drug ban and he never looked convincing. It was his audacious attack on stage 17 that really won him the race.
"I had an angel on one shoulder, saying "don't do this, they're going to roll you over" and a devil in the other saying "go for it". On this occasion, I didn't listen to the angel. It was attack or die."

- Alberto Contador, 2012

Aggressive riders have always done well here. Not only was Contador's overall victory setup by an attack, the climber's jersey winner Simon Clarke also benefitted from aggressive tactics, getting in breakaways and pushing on. In the Vuelta the strongest doesn't always win.
This is the beauty of the Spanish race. The best riders turn up, but they are often a little weary from previous racing and not on Tour de France form, which opens up the race and allows for some exciting, attacking action.
---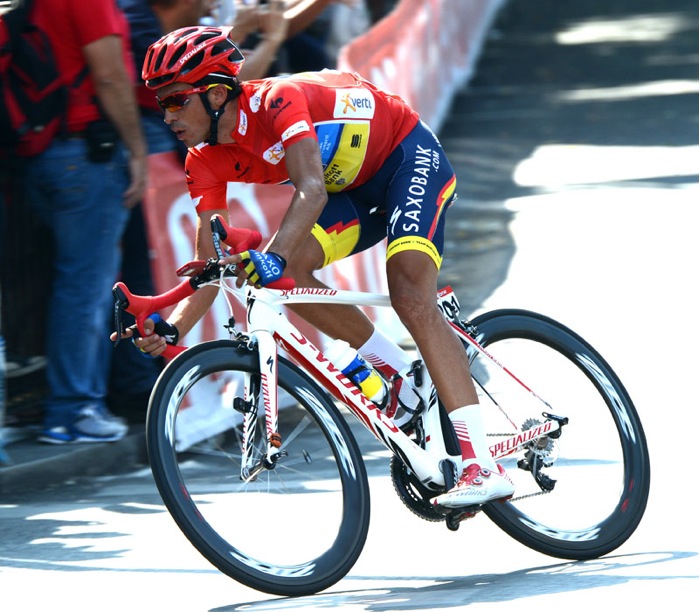 Alberto Contador at Stage 21 of La Vuelta Espana 2012
There is something about Spain
The atmosphere, the passion: there is something about Spain. I love the language and the names. Look at the Euskaltel Euskadi riders (although technically a Basque team) - Igor Antón, Mikel Nieve, Egoi Martínez, Gorka Verdugo, Jorge Azanza, Juanjo Oroz, Pablo Urtasun and of course my wife's favorite pro cyclist: Sammy Sanchez (she loves his name!). If Sammy ain't riding, she ain't watching!
This will be one of your last chances to see the Basque team racing. After almost 20 years in the ProTour they will be disbanding at the completion of the 2013 season. So sit down in front of your paella and watch one of cycling's iconic teams ride their last Grand Tour.
---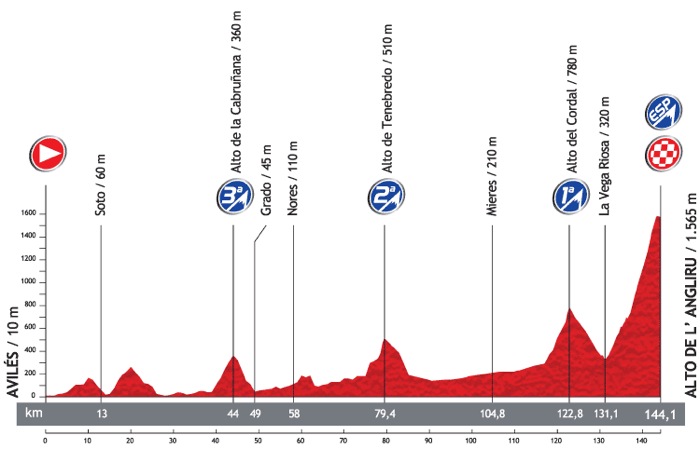 The mountains of La Vuelta Espana 2013
The mountains
This leads me to the route. Eleven summit finishes makes this a climber's race. Indeed it will be the best performing climber that will win the 2013 Vuelta. These are awesome roads: Forget the perfectly manicured bitumen of the Alps, the Pyrenean roads are narrow, steep, twisting and rough as guts.
While the French are too sensible to put really steep gradients in their Grand Tour, not the Spanish! Alto de l'Angliru tops out at a horrendous 24%!
---
The riders
The race is certainly not missing the cream of professional cycling, as revealed by looking at the favorites for overall victory: Alejandro Valverde (Movistar), Sergio Henao (Sky), Joaquim Rodriguez (Katusha) and Giro champion Vincenzo Nibali (Cannondale).
"I know I'm on my way back to being the rider I was at the Giro d'Italia and to be honest, I never doubted that I would.


"I know I can handle two Grand Tours in one season. In 2010 I finished third overall at the Giro d'Italia and I won the Vuelta, riding consistently well in both races. I've developed and matured since then, so I know I can do it.


"But I'm no robot and neither is any rider. I haven't got a Superman cape with an S on it. You can't always be up there in every race and people know how busy I was after winning the Giro."

- Vincenzo Nibali talking to Gazzetta dello Sport

These guys are going to be motivated and fit and will fight down to the wire. This is why we love La Vuelta.