When biking, it's important to make sure you've got the correct gear with you out on the road.
There's nothing worse than being stuck with a flat tire, a broken chain or being so hungry you are planning on eating the grass on the side of the road and not being able to do anything about it.
Over my years riding, I've put together a kit that I take with me on every ride. It's definitely helped me out, hopefully it's helpful for you too!


---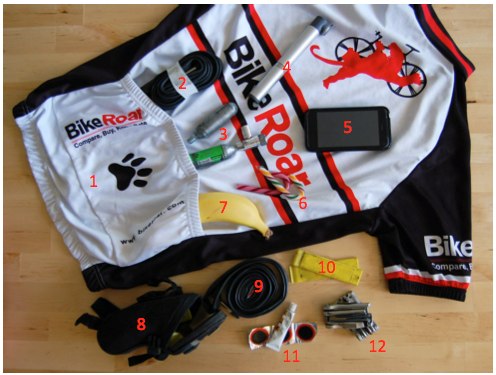 ---
BikeRoar Jersey. Moisture wicking technical fabric with three separated jersey pockets. Race cut, with elasticated sleeves and waist. Perfect road cycling top.


Spare tube. I always carry an extra in my jersey, just in case.


Mini pump. This is my tiny Topeak alloy pump. Rated to 100 psi+ although I haven't had to use it yet, touch wood.


CO2. With spare 16g cartridge. These are so small that I carry one plus a mini pump. Takes the hard work out of pumping a tyre to road pressures.


Mobile phone. Handy for emergencies, although I usually ignore it if someone calls while I'm out riding! Useful when running GPS apps like Strava.


Lollies. These candy canes are probably the WORST thing to take riding, but it is still close to Xmas so there you go. A muesli bar is probably a better bet! 


Banana. My staple road riding food. Did God create these purely for use by cyclists? He's an ideas man, he is..


Wedge bag. Fits under the saddle for all the other stuff. Many sizes available depending on how much gear you want to carry. 


Spare Tube No. 2. You never know.


Tyre Levers. I like these Michelin levers. Try getting a road tyre off without a tyre lever...hard work.


Puncture repair kit. Patches and cement. Phone coverage is dismal where I ride, so best be self sufficient.


Mini Tool. A must have for any decent riding. Make sure your tool covers all the basics, plus a chain breaker is handy and also a large allen key for things like crank bolts.
---
Anything else that you take in your kit? Please share in the comments below: