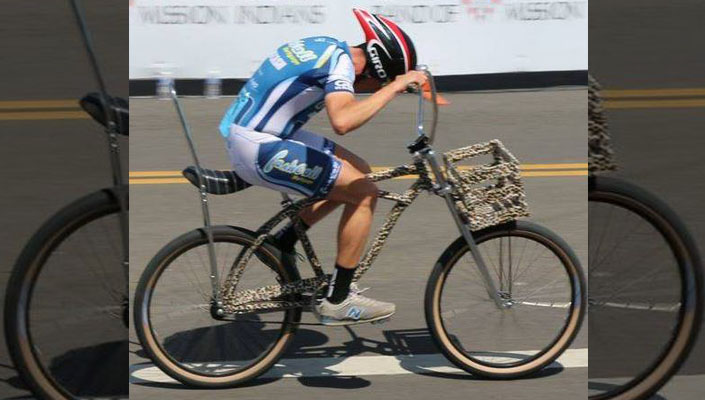 Chuck D - Stingray Crit Racer
Marketing gurus and social media think-tanks spend big money and lots of time trying to figure out what makes us click. They try to predict viewing trends, breaking down their potential online visitors by spending power, age group, gender and other demographics. Then along comes a guy riding a leopard-print Stingray cruiser and blows all that research out of the water by getting 130,000 Facebook hits in 3 days.
Charles "Chuck" Dykes raced the Criterium on the final day of the Redlands Classic stage race in California on April 12 on the now-famous leopard Stingray cruiser bike and became an instant crowd (and internet) favourite.
"Let's be clear", Chuck says with a grin. "I didn't race the crit, I rode it. Last year I raced it, even though it's supposed to be a fun event and only a schmuck would take it too seriously. But that's what I did," (he finished second in 2014) "and so to make up for it this year I decided to have some fun. I got together with two buddies and we decided to ride our cruiser bikes and go in fancy dress. But because the event was split into age categories we didn't get to ride together, so I was out there on my own!"
An experienced Cat 5 racer, Chuck and his Stingray managed to hang in for 3½ laps before his frantically spinning legs finally gave out on him.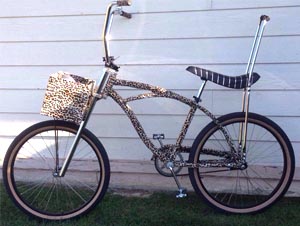 "Next year I'm converting this baby to 3-speed... and I'm gonna wear a bunny costume", he promised.
He is adamant that the leopard print - which gets its unique three-dimensional visual appeal by virtue of the fact that it is glued-on fabric rather than paint - is here to stay.
"And so is the basket. I've got this Stingray down to a racing weight of 40lbs!"
Well-known in the Redlands area for his bicycle antics, Chuck is nonetheless surprised at his internet fame.
"It's pretty cool when you consider it's only about an 8-second video," he says. "I think people like the idea of somebody just goofing off and having fun on their bike. It's a sport where some people - including me sometimes - take it way too seriously. It's only a bike race; we're not curing cancer here."
Maybe not, but through his association with the Inland Empire Bicycle Alliance Chuck is helping to make riding safer for everyone. The IEBA is a California-based advocacy group that helps fund and repair bike paths, identify bicycle "black spots" and prosecute hit-and-run drivers.
"They're a good bunch of guys, and they're doing some really important work," Chuck says. "I'm glad some of this exposure has rubbed off on them - their website and Facebook page have got plenty of hits in the last couple of weeks. But that wasn't part of the plan. In fact, there was no plan: I just got dressed up and went and rode my bike. Maybe the popularity of the clip has something to do with the fact that I wasn't trying to make a viral video - whenever that happens it seems to be pretty transparent. I just got caught on camera acting like a clown."
Another rider's view of Chuck D and the Stingray race

Racing your first criterium can be quite an exciting landmark in your cycling whatever level you choose to ride at. Unlike road racing, criterium racing is actually quite adrenalin filled - right from the gun. This adrenalin is added to by...
READ MORE