One of the things I loved about working in a bike shop was being able to help people out with bicycle related issues that may have resulted in them giving up on riding altogether. Contact point issues are common; hands, feet and most importantly, bottom.
In fact one of our largest selling accessories were comfort saddles, to the point that we acquired a special seat with gel-like memory foam (I like to call this the assometer) which we used to measure the width of a person's ischial tuberosities, or sit bones, and thereby confidently recommend the correct width saddle.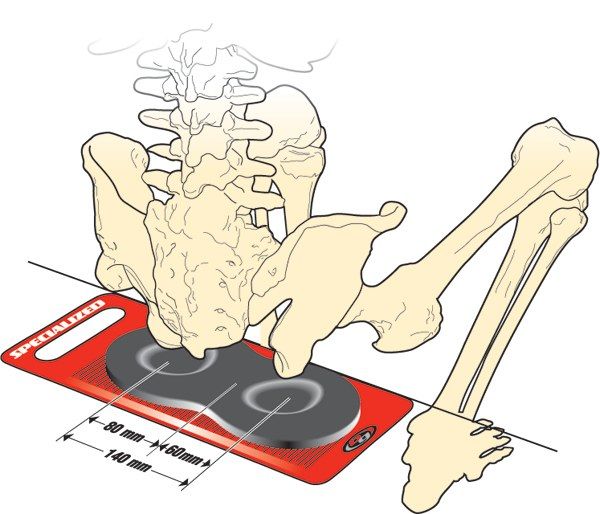 ---
Riding a bike is no fun if it is done in pain! So here are some points about bike saddle types which may help:
Comfort and recreational saddles:
The common misconception regarding saddles is that width and padding equals more comfort. This is true to a point. 
Recreational, comfort bikes and cruisers are often equipped with wide, padded and comfortable saddles because the people buying these bikes will only be doing very short rides and probably quite infrequently. 
They are designed for an upright sitting position. The extra padding and springs help as most of your body weight will be pushing directly down onto the saddle. In other words: the saddle will often end up supporting the rider's body.
It is assumed that the cyclist using these saddles will not be wearing knicks or padded bicycle shorts.
Gender specific saddles are available, which usually means: A wider rear section and shorter nose for women specific saddles, and a perennial cut-out for men. 
---
Performance road and mountain bike saddles: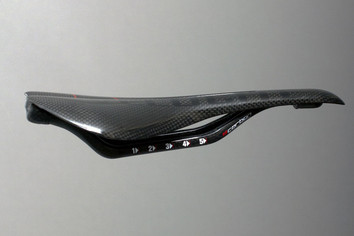 I used to love watching the reaction of people wincing when confronted with a road bike saddle. Have you seen the carbon fibre saddles, which are ONLY carbon and nothing else? Often the question: How is that comfortable?
The truth is that a cyclist who is in the saddle for five hours a day, everyday, will use a very narrow, minimally padded saddle. They are in fact a total necessity when riding frequently and over greater distances.
First and foremost, performance road bike saddles are designed to be used while wearing knicks or padded bike shorts. Pity those unaware of this fact.
Their minimal nature and narrowness is designed to lessen the contact area, giving good clearance for the legs to do their job and prevent chafing. The small amount of padding present with these saddles will not deform and move into areas you would rather not have it.
On a road bike the body position is very different and as a result your weight isn't being supported by the saddle alone (as often the case with cruiser or recreational bikes).
Perennial cut-outs are common as they help move the pressure points away from soft tissue and onto the sit bones.
Road and mountain bike saddles are quite similar, although mountain bike saddles may have a shorter nose (for greater freedom of movement in and out of the saddle), and also be equipped with scuff proof corners for greater longevity.
---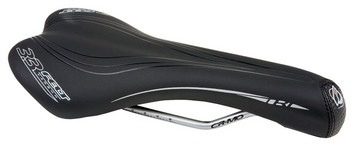 Just briefly: Triathlon saddles are recognisable by their extra wide nose. Once again, the sitting position is reflected in the design. When riding triathlons or time trialling, a rider will typically be perched on the front of the saddle in order to maintain power through bigger gears and keep in an aero tuck position.
---

These are basic guidelines. Saddle choice is not only dependant on what you perceive as comfort, but also aligned with the purpose of the bike and rider. Perceived short term benefits like cushioning and width can lead to crippling pain when associated with an incorrect style of riding.
If you are confused check out different bikes at a bike shop or online. The manufacturer's choice of saddle for a given bike can indicate what that particular bike is designed for, and if purchasing, whether a good set of knicks is an appropriate bargaining point!
Choosing a saddle can be a very personal decision. If unsure, always consult your local bike shop for advice and even to test different types.


---
Below are a few interesting takes on saddles. Almost anything is rideable!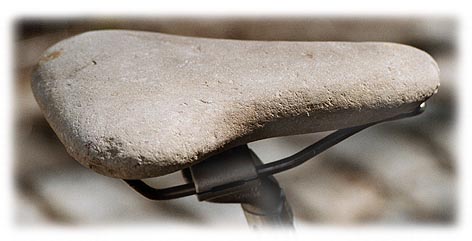 ---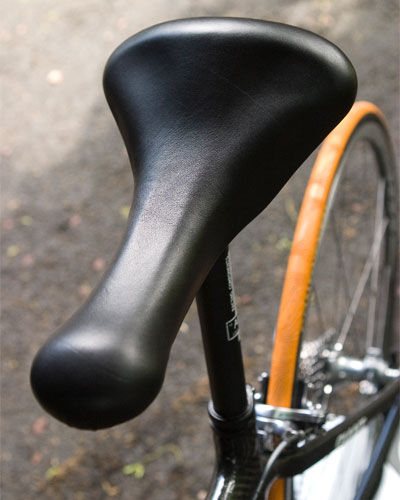 ---