I thought the Robbie McEwen Gran Fondo was going to be a solo adventure for me, and so it was when I turned up at Emerald Lakes alone, with the threat of showers and rain in the sky.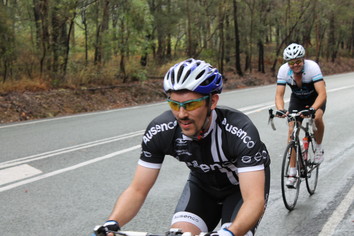 This is late spring in the subtropics and thunderstorms are regular as evidenced by last night's dramatic weather. The lightning so bright that as I lay in bed, nervous about the upcoming event and trying to sleep, it strobed across my vision as if in a night club…and my eyes were closed!
But, anyway, here I am. The other riders all seem a little subdued as if the threat of difficult, wet conditions lay heavily upon us all. Well, apart from one chap who was describing in great detail and excitement his new Trek Di2, and proclaiming to us how cables are now obsolete. (I'm not sure if he realised that everyone within cooee had cabled bikes. It probably wouldn't have deterred his constant, embellished monologue). There's always one…
At the start line riders were leaving in waves of one hundred, (apparently close to one thousand all told), and I found myself in the third wave. A fine position, close to the action, but with the intention to let the people who average more than my measly 150km/week the chance to motor on from go. My training K's are low, but the little I did I made up for in quality…lots of hills and climbing and intervals. I really hoped it would be enough.
The course featured two major lumps: Tamborine Mtn. (Tambo to locals), and Beechmont, on a course just over one hundred kilometres (60 miles). A fairly short distance for me, but the climbs are diabolically steep, and I predicted a few DNF's. The Beechmont climb is timed with individual transponders and kudos are on offer for the King of the Mountain (KOM).
And we're off! The rain had held off, but the road was still wet and puddled from the storm. The first thirty kilometres are flat and undulating and pose no major problems. The real effort begins on a smallish ascent just before dipping down to the beginning of the Tamborine climb proper.
It was here my solo adventure became a team effort for a time. The friend who was supposed to be riding with me said he would come out and take some photos. "On the first climb get on the front and keep to the left" were his instructions. So I did. I pushed the pace up and soon found myself clear of the rest of the bunch. It was here that I decided to try one of the energy bars from my race pack…not a great idea…it was so bitsy and seedy that by the time I reached my mate with the camera I was struggling to swallow let alone breathe or even smile for the shot. And so there is now another photo of a grimacing cyclist!
Over the other side it was a prudent decision to wait for the group again and rest before the real Tamborine climb. The road dips down to the left and then it begins with a wall at about 10% gradient (I think?…it could be more). At this precise moment a small group of Orica GreenEdge riders fly past, (I forgot to mention there were some of the team present in each wave). I latched onto the group that formed around them and tried to hold on! Until my excitement got the better of me…
With my mate now in his car driving behind the group and yelling out my name "WOODY!!" with his camera in one hand, steering wheel in the other, I thought this is my time, MY moment, I'll show these pro's how we ride around here.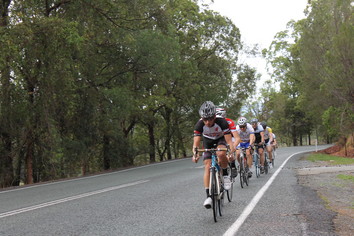 So I attacked the bunch, straight past Stuart O'Grady and his team mates (who really ought to be shown more respect, really), then I moved back in and positioned myself several metres ahead of the pack.
It is hard to describe how tough this climb is. You know those ramps that are so steep you go from feeling great and unstoppable, to a sudden world of hurt and a longing to be home and as far away from your present predicament as possible? Well, after my attack that was it. GreenEdge motored past keeping a steady, sustainable tempo and I was left to suffer alone and in silence, apart from the air tearing in and out of my lungs…even my mate had left, (he had the kids in the car, and they got bored).
This road wasn't new to me, but my experience is only from riding the opposite way…downhill. It is a crazy high speed descent; a measure of courage, balls and stupidity; the immediate question is: when do I brake into the rapidly approaching corners? At the bottom a mad giggle erupts uncontrollably "did you see me overtake that car on the left hander?!"
Not quite the same experience today, I must say.
To be honest, as much as I suffered, I faired a lot better than many and still felt strong on attaining the summit. It was a humbling experience pulling in to grab some water and a banana, surrounded by Stuart O'Grady, Robbie McEwen, Cam Meyer, Matt Rogers (a Gold Coast footy star on a bike). I shyly nicked a banana in front of Cameron Meyer and really hoped I didn't come across as being arrogant or aloof…just a bit nervous!!
From here on, (halfway), it rained on and off. The descent from Tamborine to the next climb was absolutely treacherous and I was glad of the bike handling skills gained from many years as a fat tyre dude.
For the Beechmont KOM climb I was fortunate enough to link up with some guys for whom this was a regular training ride. I am a Gold Coast local, but my roads are in the south, not here in the north. I have descended this climb as well, in a mad and reckless fashion, but it is a different beast going up.
The small bunch of five or six blokes slowly whittled down to three of us. Our tempo was high, very high in fact, and I was surprised how well my legs responded to such a relentless pace. We overtook everyone as if riding on the flat. I nosed myself in between the other two guys, and was absolutely determined to keep my front wheel glued there.
It was only now I realised that one bloke was spinning a 27 tooth cassette, I called him something rude and offensive (in jest) and he laughed. A smart man. Earlier I scoffed at the suggestion of changing out my 25 and was quick to recommend a cup of cement to anyone wanting to use a compact; "harden up" I would say, but geez, after these hours of climbing just to spin would be so wonderful.
At the top of the climb, local knowledge won out and they accelerated away with fifty metres to go. I came in fiftieth overall (including the dozen or so GreenEdge pro's), so very happy.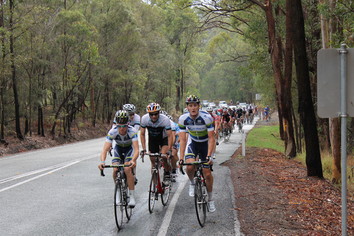 The road to the finish line was relatively uneventful. The storm debris spread across the bitumen made the going cautious, and I was a bit bummed out not being able to tear up the Beechmont descent, with its many tight right handers and swooping corners …one of those descents where a car has no chance against a determined, experienced cyclist. On the final short, sharp climb, a few kilometres from the finish, my legs started to twinge with the early onset of cramp, but thankfully I was able to put it in the 'dog' on the flat and power home. That's when it's good to have a 53 and not a wussy compact!
A great day out. No flats, thank goodness, but a very dirty bike and a brilliant feeling of putting it all out there, on the road…
Thanks to Robbie McEwen and Orica GreenEdge for making a great day out even more special.