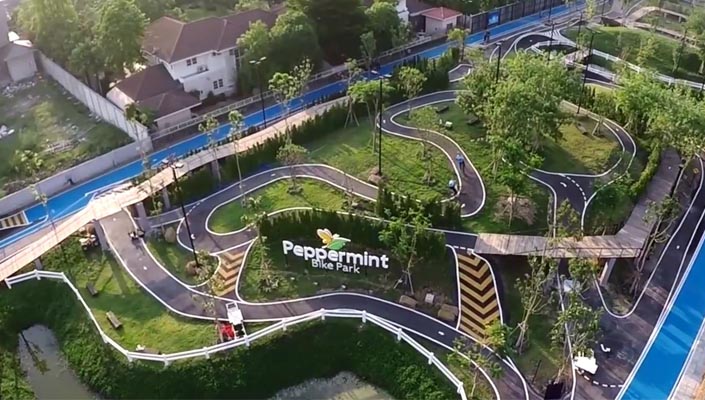 You may have seen a video gone semi-viral in the past few months - Peppermint Bike Park - an urban mountain bike park in Bangkok, Thailand. With wooden bridges, berms, jumps and drop-offs, it seems to have everything one could want outside of the forest or singletrack.
You can see from their promotional videos (like the one below) and some of the 1,000 GoPro videos uploaded since its opening that it has a variety of pathway options depending on what type of bike you're riding and how confident you are.
Some of my favourite quotes from the video, filled with adorable "almost there" English, highlight where the dream for the bike park came from:
"Rush city life leads to time constraint for exercise that they always crave for. If mountain biking is your choice for exercise, your time management will always be effective here."
Right you are. By all accounts, the park can be used just as easily to increase your general cycling skills such as cornering, braking, and consistent pedalling, as hitting some jumps and drop-offs for those with dual suspension mountain bikes.
But whose brilliant idea was it? Mrs. Suwanna Eiampikul was recently interviewed by the Bicycles United Magazine in Thailand. She said about cycling in Thailand, "there is no real protection and the two most worrying factor is cars and dogs on the roads."
To find out more, I chatted with Dr. Thanaporn Thanarojpradit, Director of Corporate and Branding Communications at Peppermint Bike Park, to find out how things have been going since opening in early May.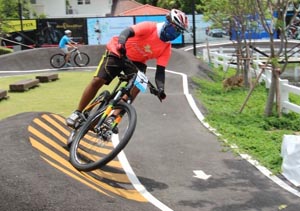 Me: How popular is the park with the public and were there any challenges in the building of it?
Dr T: The main challenge in building Peppermint Bike Park was that there was no blueprint. The design, as it is seen, came to us as it was built. This also means there was no fixed budget. But the most important thing in building this park is the passion of the owner, Mrs. Suwanna Eiampikul, CEO of Bertram Chemicals, which manufactures aromatic medicated oil and inhalant products under two brands, Peppermint Field and Siang Pure.
Me: Was the Grand Opening a success?
Dr T: We consider the grand opening successful as expected. There are more than 20 media came to the grand opening. And all together about 300 guests came, including those from cycling business sectors, celebs and others.
Media? Celebrities? Sounds good to us. So, how much does it cost?
An annual membership fee costs less than $8. To ride in the day, members will get change from $4 and at night, a slightly steeper $6 from 6pm until 10pm on the fully flood lit track. Non-members pay $6 during the day and $8 for a night ride until 10pm.

NOTE:
Since opening, the park has changed its operating hours: Day Bike 2:30-5:30 PM and Night Bike 6:00-10:00 PM, starting from June 15. The park is closed on Mondays.
Me: Why the operating hours change?
Dr T: Weather conditions. It is so hot and humid here, especially in the summer time!
And with an average temperature of 37 deg C for the next week, you can see why.
Me: What do you think makes the park so popular?
Dr T: Mrs. Suwanna personally loves cycling and does it regularly in her leisure time. It was her vision to have a place where people can bike in a safe place - both day time and night time. Equally, she wanted people to have a place to train for biking in the mountainous terrains where you can enjoy nature. All the curves and hills and wooden bridges make the tracks so challenging for the cyclists. Moreover, this park is designed as an alternative way of exercise for urbanites.
Also in the teaser videos, Peppermint Bike Park is being marketed as a wedding venue, a place for team building sessions, a dog and pet competition arena, and a place for jogging. We can only hope the two latter options take place at a different time than the mountain biking. If you've ever had the experience of running into hikers and dog walkers on singletrack, you'll understand what I mean.
Me: I saw the park is also for many other events such as weddings and dog shows! Have you been very busy with events such as this?
Dr T: Not as busy yet because we just opened to the public three weeks ago. But in the future, we expect it will be.
Peppermint Bike Park - an urban mountain biker's paradise and potential place to sneak in a cheeky wedding if you are lucky enough to have an MTB loving spouse.
For more information, visit Peppermint Bike Park on Facebook.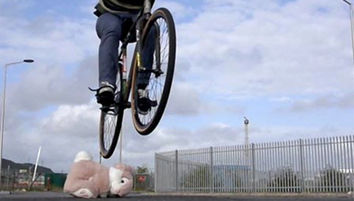 When it comes to improving the performance of your bike, very rarely is the term 'affordable' used. You may well be looking at thousands of schmackaroos for your new groupset, or in this instance, under $1,000 for a new set of upgraded wheels. This only applies to...
READ MORE