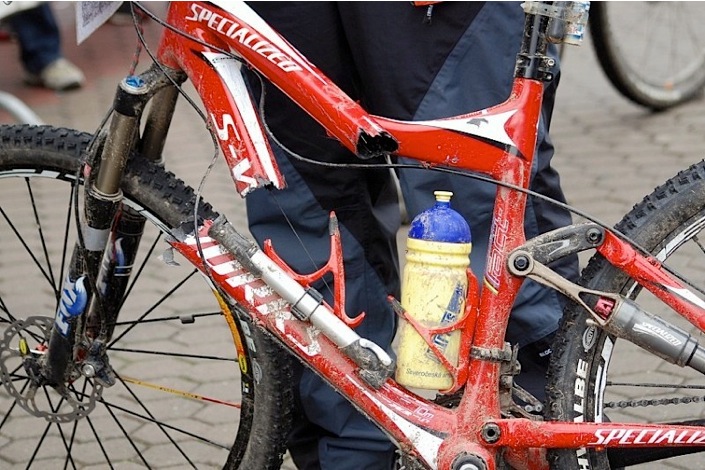 So, is carbon fiber a good idea on a mountain bike? There can be a tendency to think that a "Tupperware" bike has no place on a real MTB trail, and that it will crack, snap and ultimately lead to the demise of an innocent mountain biker.
I'm not going to go deeply into the qualities of bike frame materials; we've done that with "Frame materials and what to buy", yet it is important to trust in our equipment, especially when we rely on it during extreme activities and conditions.
Personally I went from a Reynolds cromo hardtail to a lightweight carbon dual-suspension bike, and would wince everytime I heard a stone ping off the down tube. I was convinced there would be a huge hole in the frame, but on inspection I have yet to see where a rock has hit.
It took a while to truly believe my new bike was up to the extreme rigors of the rocky, technical trails we often ride. It may sound like plastic when you tap it, but carbon fiber has immense tensile strength; all those tiny fibers act like the individual strands in a steel cable, except they are held together with glue! In fact carbon's only relative weakness is from clamping or crushing forces going against, or perpendicular to, the grain of the fibers.
---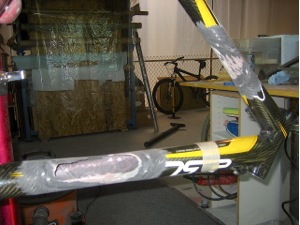 Photo: carbonframerepair.com
Carbon is repairable
One of the great benefits of carbon fiber is that it is repairable. I have talked with people who do exactly that by cutting away the damaged tube area, bevelling the edges, filling the tube with foam which allows them to shape the repair, and then sanding. Once painted it is impossible to tell the transition from the original section of frame to the repaired section.
This could negate the need to buy a whole new frame as the result of damage to a small section of tubing.

DID YOU KNOW? The lightweight game. Carbon fiber is super strong, but it is also possible to stretch its qualities to the extreme. Bike manufacturers have been known to go a little too far in the race to create the lightest bike out there, and this isn't only with road bikes. I know many people who have cracked their carbon frame, not from trail debris or impact, but from the typical forces generated when riding a decent mountain bike trail. Bike technology is funded by marketing and sales and sometimes a few too many grams are shaved!
---
Ride qualities
The different ride characteristics of frame materials has been mentioned before, but how does this translate to your MTB? Carbon is the perfect material for a hardtail mountain bike. It is strong, light and can be manipulated to create a very stiff frame with good riding manners. This is especially true with hardtails as an amount of "compliance" can be engineered into the frame itself. This means great power delivery and control coupled with a reduction in harshness and vibration.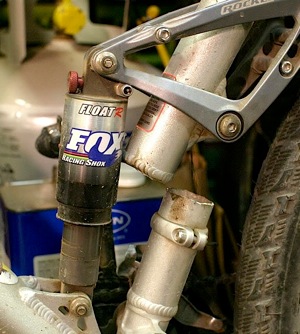 Photo: LiquidMantis / gamerswithjobs.com
On dual suspension bikes, notably those with big travel, the advantages are not as clear. Weight is not such an issue on these bikes and the amount of suspension makes compliance a bit of a joke! It is truly up to the individual taste whether to pay out big dollars for carbon fiber, or stick with the more affordable alloys in this application.
The bottom line is that if they make aircraft from carbon fibre, surely it is strong enough for a mountain bike? Although I know people who have cracked their frames, carbon remains in my mind a super strong, lightweight material perfect for constructing all kinds of bicycles, mountain bikes included. Sure, the manufacturers make the odd mistake, but do you remember the magnesium Merida bikes from 10 years ago? Or the Cannondale nickname when they pushed aluminium a little too far? Don't only blame the carbon!